Southern Insurgency: The Coming of the Global Working Class (Wildcat) (Hardcover)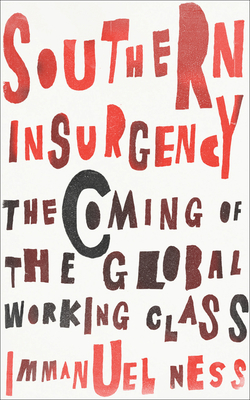 $136.85

Ships from warehouse to store in 3-6 business days
(NOTE: This book cannot be returned and may not be eligible for discounts.)
Description
---
Even as labor in the developed world seems to be in retreat, industrial struggle continues elsewhere—and with particular force in the Global South. In Southern Insurgency, Immanuel Ness provides a thorough and expert perspective of three key countries where workers are fighting the spread of unchecked industrial capitalism: China, India, and South Africa. In each case, he considers the broader historical forces in play, such as the effects of imperialism, the decline of the international union movement, class struggle, and the growing reserve of available labor. He then narrows his focus in each case on the specifics of the current grassroots insurgency: the militancy of miners in South Africa, new labor organizations in India, and the rise of worker insurgencies in China.
 
The product of extensive firsthand field research, Southern Insurgency paints a picture of the new industrial proletariat in the Global South—a group that lives a precarious, frightening existence yet at the same time offers hope for new approaches to solidarity and the anti-capitalist struggle.
About the Author
---
Immanuel Ness is professor of political science at the City University of New York.
Praise For…
---
"Ness...has written an ambitious book that is impossible to ignore. Having traveled to [China, India, and South Africa] while writing Southern Insurgency, Ness is not merely mapping the flow of capital's power. At the center of this book is a close analysis of how workers are rejecting established unions and pluralist parliamentary activism in order to deploy their tactical leverage to disrupt the capital accumulation process at its most vulnerable choke points."
— Z Magazine

"With the rise of a working class rooted in the global South comes worker militancy in the same geographies....Workers in the South are developing new forms of resistance, and are now an integral part of a global working class, under-appreciated developments brought to vivid life in Southern Insurgency: The Coming of the Global Working Class. This latest book by Ness is a needed corrective to the false idea that resignation to neoliberalism is universal, and the examples of militancy that he presents are not simply a necessary corrective but demonstrate that improvements are only possible with organized, self-directed actions. In a world more globalized then ever, workers of the world truly do need to unite—a global working class can only liberate itself through a global struggle."
— Counterpunch

"By tapping into an extensive network of leftist sources in the countries experiencing this new labor militancy, Ness is able to provide a valuable on-the-ground picture of how these heroic and transformative labor struggles may point the way to a more just, and possibly more productive, future society."
— Choice

"Seminal and distinctive."
— Arup Kumar Sen, Serampore College, India

"Southern Insurgency richly reports a qualitatively different practice evolving in India, China, and South Africa. It is horizontal rather than vertical. At this living moment all over our globe, workers are reaching out hands, first to their workmates, then to other workers everywhere."
— Staughton Lynd, historian, activist, author of Intellectual Origins of American Radicalism

"Southern Insurgency illuminates the most important questions of our time: can the democratic and transformative currents which inspired the movements of the past re-emerge today?"
— Frances Fox Piven, Graduate Center, City University of New York

"Essential reading for anyone who wants to understand the present form of militant unionism in the Global South."
— Gregory Wilpert, director, teleSUR English

"Immanuel Ness provides dramatic case studies of worker resistance to corporate exploitation and state violence, through the formation of militant organizations in factories and within their communities."
— Bill Fletcher, Jr., activist and author or Solidarity Divided

"Southern Insurgency is the first book to theorize and examine the present and future shape of global class struggles. Analytically brilliant and empirically sound, it is a must-read for all who wish to grasp and understand the emerging working class in India, China, and South Africa. A superb portrait of the trajectory of the independent workers' struggle."
— Sushovan Dhar, National Trade Union Initiative

"Southern Insurgency offers insights on global labor struggles in an era when familiar unions seem exhausted, or at least too weak to make a concerted effort—with concrete examples of workers forming independent unions in the Global South."
— Paul Buhle, Brown University

"After reading this work, the question that haunts the liberal mind is 'Why is this unprecedented intolerance of capitalism occurring at a mature stage of its development?' This book is most likely to throw challenges to the conventional economics of collective bargaining."
— Debdas Banerjee, Central University of Bihar, author of Labour, Globalization and the State

"Southern Insurgency vividly describes what workers in India, China, and South Africa have done to make their unions more effective. Let's hope that these compelling case studies of rank-and-file struggle and bottom-up change lead to more of the same where it's needed the most."
— Steve Early, author of Save Our Unions: Dispatches from a Movement in Distress

"This book provides the most crucial case studies of alternative worker organizing in the major centers of industrial production in China, India, and South Africa—where workers recognize their power and act to end exploitation."
— Mary Wong, Globalization Monitor
Free Media Mail shipping on U.S. orders over $75