Journeys Through the Akashic Records: Accessing Other Realms of Consciousness for Healing and Transformation (Paperback)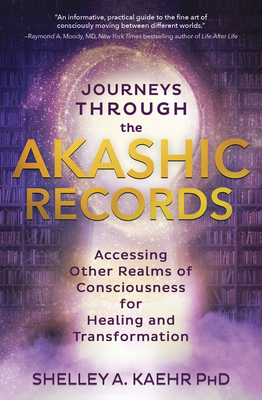 $16.99

Ships from warehouse to store in 3-6 business days
Description
---
Guide Your Soul's Path with the Invisible Library of Ultimate Knowledge
Journey into the divine depths of the Akashic Records and access your unique soul information. Packed with hands-on exercises--including past-life healing, psychic protection, and meeting otherworldly guides--this groundbreaking book empowers you to find meaningful answers to life's most important questions. The Akashic Records consist of all thoughts, deeds, and actions that have ever been created in the past, present, or future. Since her near-death experience in 2000, Shelley A. Kaehr, PhD, has accessed this cosmic storehouse frequently. Now she teaches you how to enter the records for yourself and shares historical examples, client stories, insights from famous seers, and more. This phenomenal book helps you heal past-life issues, reveal your soul purpose, and enjoy greater awareness and peace.
About the Author
---
For two decades, Shelley A. Kaehr, PhD (Dallas, TX) has worked with thousands of people around the world helping them achieve greater peace and happiness in their lives. A world-renowned past-life regressionist, Dr. Shelley's method of combining energy work with hypnosis has been endorsed by numerous leaders in the field of consciousness, including near-death experience pioneer Dr. Raymond Moody and Dr. Brian Weiss. She received her Doctorate of Philosophy in Parapsychic Science from the American Institute of Holistic Theology in 2001. Connect with Dr. Shelley Kaehr via her online school, Facebook, Instagram, Twitter, and YouTube.
Free Media Mail shipping on U.S. orders over $50
Christmas ordering guidelines
"Ships from warehouse" items to be shipped: Order by Monday, 12/5
"Ships from warehouse" items to be picked-up in store: Order by Monday, 12/12
On hand items: We'll pull items in order of orders received, so keep them coming!