FREE Media Mail shipping on eligible items! We are open for browsing by appointment from 10am-7pm M-S and 10am-6pm Sundays. Email books@quailridgebooks.com for a reservation. Phones may not be answered due to high volume of calls.
The War Before the War: Fugitive Slaves and the Struggle for America's Soul from the Revolution to the Civil War (Paperback)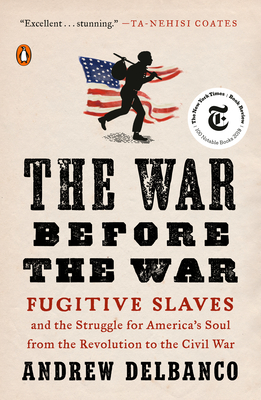 Description
---
A New York Times Notable Book Selection 

Winner of the Mark Lynton History Prize 

Winner of the Anisfield-Wolf Book Award

Winner of the Lionel Trilling Book Award 

A New York Times Critics' Best Book

"Excellent... stunning."—Ta-Nehisi Coates

This book tells the story of America's original sin—slavery—through politics, law, literature, and above all, through the eyes of enslavedblack people who risked their lives to flee from bondage, thereby forcing the nation to confront the truth about itself. The struggle over slavery divided not only the American nation but also the hearts and minds of individual citizens faced with the timeless problem of when to submit to unjust laws and when to resist. The War Before the War illuminates what brought us to war with ourselves and the terrible legacies of slavery that are with us still.

About the Author
---
Andrew Delbanco is the Alexander Hamilton Professor of American Studies at Columbia University.  Author of many notable books, including College, Melville, The Death of Satan, Required Reading, The Real American Dream, and The Puritan Ordeal, he was recently appointed president of the Teagle Foundation, which supports liberal education for college students of all backgrounds.  Winner of the Great Teacher Award from the Society of Columbia Graduates, he is an elected member of the American Academy of Arts and Sciences and the American Philosophical Society. In 2001, Andrew Delbanco was named by Time as "America's Best Social Critic." In 2012, President Barack Obama presented him with the National Humanities Medal.
Praise For…
---
"[A] sweeping and fascinating book . . . a long, festering story of political disunion, mapped through many voices. . . . Delbanco writes lyrically . . . and with a genuine sense of tragedy….The War Before the War presents a clear narrative of the legal and political history of [how], self-tortured by the slavery question, a 'nation' descended into disunion." —David Blight, New York Review of Books

"A valuable book, reflective as well as jarring . . . Delbanco, an eminent and prolific scholar of American literature, is well suited to recounting . . . the most violent and enduring conflict in American history."—Sean Wilentz, New York Times Book Review

"Delbanco . . . excavates the past in ways that illuminate the present.  He lucidly shows [how] in the name of avoiding conflict  . . . the nation was brought to the brink and into the breach. This is a story about compromises—and a riveting, unsettling one at that."—Jennifer Szalai, New York Times
 
"Sweeping . . . stirring . . . Delbanco relates many thrilling escape-and-rescue episodes. . . . Well worth reading...for those interested in exploring the roots of today's social problems and learning about early efforts to resolve them."—David Reynolds, Wall Street Journal
 
"A compelling, elegantly written account of how fugitive slave laws laid bare 'the moral crisis' in the hearts and minds of antebellum Americans."—Minneapolis Star-Tribune
 
"In The War Before the War, Andrew Delbanco narrates this history in lucid prose and with a moral clarity that is best described as terrifying. . . One of the most admirable features of this truly great book is the subtlety with which Delbanco considers his story's applicability to our own moment."–Alan Jacobs, The Weekly Standard
 
"Many present-day historians dealing with issues of race and slavery tend to approach the past as prosecuting attorneys eager to bring all those culprits in the past to justice. They indict some in the antebellum period for their timidity and caution because they feared a war and did not know what to do, and applaud others who turned out to guess right about the course of events. Delbanco has too subtle a sensibility, too fine an appreciation of the tragedy of life, for that crude kind of history writing. Although he describes the brutality of slavery with force and clarity, and his feelings about slavery are never in doubt, he nevertheless displays a compassion for all the people, slaveholders included, caught up in circumstances they could scarcely control or even fully comprehend."—Gordon Wood, The New Republic

"[Delbanco] has performed a remarkable service in producing this deeply researched and heavily documented book. His literary style is flowing and graceful, well-balanced…This is truly an important book, and well-worth the time and effort to educate oneself in the source of a human tragedy whose far-reaching fingers still scratch upon our conscience."—Richard Raymond, The Roanoke Times

"Cogently argued, meticulously researched, and compulsively readable, The War Before the War sheds new light not only on American history, but on America's present story, and its struggles with race."—Read it Forward
 
"Andrew Delbanco's latest book, The War Before the War: Fugitive Slaves and the Struggle for America's Soul from the Revolution to the Civil War, is a richly detailed, thought-provoking and compelling chronicle of the role fugitive slaves played in widening the gap between America's two distinct societies. . . Andrew Delbanco, who is a Columbia University professor, has written an engaging and most valuable account of America's original sin." — Christian Science Monitor

"Provocative, sweeping study of America's original sin—slavery—in the late 18th and early 19th centuries… Essential background reading for anyone seeking to understand the history of the early republic and the Civil War." — Kirkus, starred review

"Superb…A paramount contribution to the U.S. middle period historiography." — Library Journal, starred review

"This well-documented and valuable work makes clear how slavery shaped the early American experience with effects that reverberate today." — Publisher's Weekly

"Andrew Delbanco is one of our generation's most gifted scholars and discerning, public intellectuals. In his astonishing new work, The War Before the War, he transforms the figure of the fugitive slave from the margins of American history to its dynamic center, demonstrating how their plight exposed the paradoxes in the soul of a nation torn between freedom and slavery, as it propelled to its greatest reckoning.  By rendering in such gripping detail that defining struggle of the 18th and 19th centuries, Delbanco reminds us of the stakes of moral testing in every generation, and how the agents of moral change often begin their journeys under the most desperate circumstances.  The result is not only a brilliant historical analysis; it is also a source of strength for the road ahead—a long, hard road that stretches back to the founding of our great Republic. This delightfully readable book is thronged with stories of heroes whose names may escape us, but whose flights from bondage helped to revolutionize the country we are called upon to defend today."  –Henry Louis Gates Jr., director of the Hutchins Center for African and African-American Research at Harvard and author of Stony the Road
 
"The great value of Andrew Delbanco's interpretively edifying The War Before the War is in centering the cause of the great irrepressible conflict of 1860 in the many hearts-and-minds of otherwise indifferent, sympathetic, uncertain northern men and women who finally found enforced complicity in the South's 'peculiar institution' intolerable and a war for human ideals inescapable." –David Levering Lewis, Pulitzer Prize-winning author of W. E. B. Du Bois: A Biography
 
"In The War Before the War, one of America's most eloquent scholars draws readers into the compelling story of how the North-South struggle over runaway slaves prepared the way for the Civil War.  From the making of the Constitution to the bloodbath that began at Fort Sumter, Andrew Delbanco captures the experience of escaped slaves as they forced white Americans to confront the cruelties of slavery.  This is a political, legal, and above all, human, story with powerful resonance today."—Dan Carter, author of Scottsboro: A Tragedy of the American South  
 
"Timely, incisive, deeply researched, The War Before the War tells the vital story of fugitive slaves, whose courageous defiance forced the young nation to reckon with its primal horror. Delbanco's swift-moving yet powerfully nuanced narrative offers insights into the institution of slavery and the political maneuvering that led up to the Civil War. This book is essential reading today, at a historical moment that demands unflinching reflection on founding truths."--Elizabeth D. Samet, author of Soldier's Heart and editor of the Annotated Memoirs of Ulysses S. Grant
 
"The War Before the War is a beautifully researched work of scholarship and one of the best examinations of the bleak, complex, macabre world of American slavery that I've read. Everything about the Peculiar Institution is here in vivid detail, but especially the crisis caused by a Fugitive Slave Act that tore this nation asunder. And if that were not enough, Andrew Delbanco makes us aware of how the past is painfully present today in our social, racial and political dilemmas that "rhyme" with those of our nineteenth century predecessors. This is a work every American needs to read."—Charles Johnson, National Book Award-winning author of Middle Passage


"With a rare combination of in-depth historical research and an unmatched command of nineteenth-century American literature, Andrew Delbanco tells the story of the coming of the Civil War and emancipation.  He highlights the role of fugitive slaves in forcing the slavery issue onto the centerstage of politics, but manages to treat all the protagonists in the long struggle over human bondage with compassion and insight. The result is an original rendering of the nation's greatest crisis."—Eric Foner, DeWitt Clinton Professor of History at Columbia University and Pulitzer Prize Winning author of Reconstruction and The Fiery Trial

"Wherever slavery existed, so did runaway slaves. Now Andrew Delbanco places those fugitives—and the laws that tried to stop them—at the center of the coming of the Civil War. In this surprising and dramatic history, we follow courageous slaves, outraged masters, righteous and self-righteous politicians, and agonized citizens, as they collide with the Constitution of the United States. Taking us to barbarous plantations and bustling city streets, into raucous courtrooms and the restive halls of Congress, Delbanco brilliantly reveals parallels with the humanitarian crises and cultural clashes of our own times."—Martha Hodes, author of Mourning Lincoln