The Lincoln Highway: A Novel (Hardcover)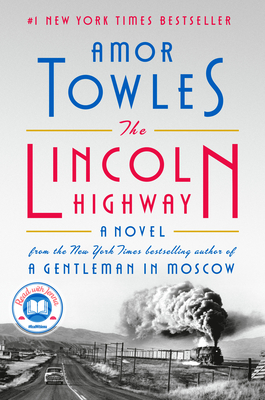 Staff Reviews
---
If you're a fan of A Gentleman in Moscow (and is there anyone who read and didn't love it?), you will relish Amor Towles's new novel, The Lincoln Highway. While the setting and time are very different, the characters are as unique and delightful as those in "Gentleman" and the plot is equally compelling. Towles takes us on a road and rail trip across America in 1954, following a cast of characters that includes a precocious 8 year old, a Korean war vet, prison escapees, an eccentric professor and many others who bring that period in America vividly to life.  If you mash together Huckleberry Finn, The Great Gatsby, O Brother Where Art Thou?, Cool Hand Luke, and The Wizard of Oz with the cliff-hanging pacing of a Dickens' newspaper serial, you will get a flavor of The Lincoln Highway. And, please, hurry up and read - I can't wait to discuss the ending.
— Sarah
October 2021 Indie Next List
---
"Fabulous storytelling, impeccable style, interesting and relatable characters, humor, mystery, and a tremendous understanding of humanity and its foibles. Lincoln Highway is a road trip not to be missed!"
— Trish Brown, One More Page Books, Arlington, VA
Description
---
#1 NEW YORK TIMES BESTSELLER

More than ONE MILLION copies sold

A TODAY Show Read with Jenna Book Club Pick

A New York Times Notable Book, and Chosen by Oprah Daily, Time, NPR, The Washington Post and Barack Obama as a Best Book of the Year

"Wise and wildly entertaining . . . permeated with light, wit, youth." —The New York Times Book Review
 
"A classic that we will read for years to come." —Jenna Bush Hager, Read with Jenna book club
 
"A real joyride . . . elegantly constructed and compulsively readable." – NPR

The bestselling author of A Gentleman in Moscow and Rules of Civility and master of absorbing, sophisticated fiction returns with a stylish and propulsive novel set in 1950s America

In June, 1954, eighteen-year-old Emmett Watson is driven home to Nebraska by the warden of the juvenile work farm where he has just served fifteen months for involuntary manslaughter. His mother long gone, his father recently deceased, and the family farm foreclosed upon by the bank, Emmett's intention is to pick up his eight-year-old brother, Billy, and head to California where they can start their lives anew. But when the warden drives away, Emmett discovers that two friends from the work farm have hidden themselves in the trunk of the warden's car. Together, they have hatched an altogether different plan for Emmett's future, one that will take them all on a fateful journey in the opposite direction—to the City of New York.

Spanning just ten days and told from multiple points of view, Towles's third novel will satisfy fans of his multi-layered literary styling while providing them an array of new and richly imagined settings, characters, and themes.
About the Author
---
Amor Towles is the author of the New York Times bestsellers Rules of Civility and A Gentleman in Moscow. The two novels have collectively sold more than four million copies and have been translated into more than thirty languages. Towles lives in Manhattan with his wife and two children.
Praise For…
---
Praise for The Lincoln Highway:

"[A] mischievous, wise and wildly entertaining novel . . . Towles goes all in on the kind of episodic, exuberant narrative haywire found in myth or Homeric epic . . . Each [character], Towles implies, is the central protagonist of an ongoing adventure that is both unique and universal . . . remarkably buoyant . . . permeated with light, wit, youth . . . Towles has snipped off a minuscule strand of existence—10 wayward days—and when we look through his lens we see that this brief interstice teems with stories, grand as legends." —Chris Batcheldor, New York Times Book Review

"Not only is it one of the most beautifully written books I have ever picked up, it's a story about hope, friendship and companionship in a time when we need it so much . . . Towles brilliantly captures the inner reality of each [character] with profound and poetic prose. All eight of them are incredible forces in literature . . . Amor Towles is one of those authors that I think will become a Steinbeck of our generation and [...] I think The Lincoln Highway will be a classic that we will read for years to come." —Jenna Bush Hager, Read With Jenna book club

"[A] real joyride . . . hitch onto this delightful tour de force and you'll be pulled straight through to the end, helpless against the inventive exuberance of Towles' storytelling . . . The Lincoln Highway is elegantly constructed and compulsively readable . . . action-packed . . . There's so much to enjoy in this generous novel packed with fantastic characters [...] and filled with digressions, magic tricks, sorry sagas, retributions, and the messy business of balancing accounts." —NPR.org

"Gorgeously crafted . . . Towles binds the novel with compassion and scrupulous detail . . . Towles draws a line between the social maladies of then and now, connecting the yearnings of his characters with our own volatile era. He does it with stylish, sophisticated storytelling . . . The novel embraces the contradictions of our character with a skillful hand, guiding the reader forward with 'a sensation of floating – like one who's being carried down a wide river on a warm summer day.'" —Washington Post

"The astonishingly versatile author of Rules of Civility and A Gentleman in Moscow returns with an American picaresque destined to become a classic . . . adventures and memorable characters abound. Using multiple points-of-view and shifting from comedy to tragedy and back again, Towles enthralls." —O Quarterly

"[A] captivating piece of historical fiction . . . transporting . . . a rollicking cross-country adventure, rife with unforgettable characters, vivid scenery and suspense that will keep readers flying through the pages." —TIME

"[The] notion of American openness, of ever-fractalizing free will, coming up against the fickle realities of fate is the tension that powers Towles' exciting, entertaining […] picaresque . . . Stories can bring us back to ourselves, Towles seems to say, if only we are open to receiving their power . . . Anyone who follows The Lincoln Highway will relish the trip." —Los Angeles Times

[E]xhilarating . . . this multiperspective story offers an abundance of surprising detours and run-ins." —Gregory Cowles, The New York Times Book Review

"Welcome to the enormous pleasure that is The Lincoln Highway, a big book of camaraderie and adventure in which the miles fly by and the pages turn fast.  Set over the course of ten riveting days, the story of these four boys unfolds, refolds, tears, and is taped back together.  When you aren't actually reading the book, you'll be worrying about the characters, so you might as well stay in your chair and keep reading." —Ann Patchett, author of The Dutch House

"Captivating . . . The Lincoln Highway has suspense, humor, philosophy, and a strong sense of time and place, moving quickly and surely toward a satisfying conclusion . . . Like the intercontinental route that it is named for, The Lincoln Highway is long and filled with intriguing detours. In the hands of a master wordsmith like Towles, it is definitely worth the trip." —St. Louis Post-Dispatch

"An enthralling odyssey." —People

"Absorbing." —USA Today

"[A] reason to rejoice." —The Millions 

"A wild ride through Americana." —Buzzfeed

"An absolute beauty of a book. Every character is a gem, the many locations spring to vivid life, the book is an intricate and moving exploration of journeys and the infinite unexpected turns they can take—and somehow Towles makes it all seem effortless. As soon as I finished it, I wanted to read it again." —Tana French, bestselling author of The Searcher

"[A] bracing, heroic adventure . . . Towles plays stylishly with elements of the picaresque, the coming-of-age novel and the epic quest . . . The indelible final scene, which I did not see coming, perfectly encapsulates the theme of inheritance, and what choices the characters make about what they are given, to determine their own fates." —Seattle Times

"[The Lincoln Highway] loses none of the author's trademark wit or style . . . a cross-country adventure packed with unexpected twists and unforgettable action." —Town & Country

"The Lincoln Highway is a road novel that celebrates the mythos of an era via a cross-country highway . . . Readers [...] will delight in this travelogue's touchstones." —Star-Tribune

"History [and] adventure collide in The Lincoln Highway . . . The pace is fast and writing concise, making it a digestible read whether in bed or at a loud coffee shop." —Associated Press

"Magnificent . . . Towles is a supreme storyteller, and this one-of-a-kind kind of novel isn't to be missed." —Publishers Weekly (starred)

"Towles' third novel is even more entertaining than his much-acclaimed A Gentleman in Moscow . . . A remarkable blend of sweetness and doom, [The Lincoln Highway] is packed with revelations about the American myth, the art of storytelling, and the unrelenting pull of history. An exhilarating ride through Americana." —Kirkus Reviews (starred)

"Packed with drama . . . Towles' fans will be rewarded with many of the same pleasures they've come to expect from him: a multitude of stories told at a leisurely pace (the novel clocks in at 592 pages); numerous endearing and sometimes maddening characters; and pitch-perfect plotting with surprises at every turn . . . Towles has created another winning novel whose pages are destined to be turned—and occasionally tattered—by gratified readers." —BookPage (starred)

"[A] playfully thought-provoking novel . . . [Towles] juggles the pieces of his plot deftly, shifting from voice to voice, skirting sentimentality and quirkiness with a touch of wistful regret, and leading up to an ending that is bound to provoke discussion." —Booklist (starred)

"[The Lincoln Highway] is reason to rejoice for Towles's millions of fans, who made his first two novels, Rules of Civility and A Gentleman in Moscow, runaway international bestsellers." —The Millions