The Unsettlers: In Search of the Good Life in Today's America (Paperback)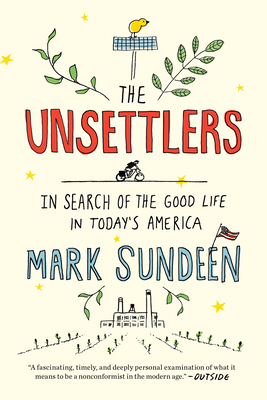 Description
---
"An in-depth and compelling account of diverse Americans living off the grid." —Los Angeles Times

The radical search for the simple life in today's America.

On a frigid April night, a classically trained opera singer, five months pregnant, and her husband, a former marine biologist, disembark an Amtrak train in La Plata, Missouri, assemble two bikes, and pedal off into the night, bound for a homestead they've purchased, sight unseen. Meanwhile, a horticulturist, heir to the Great Migration that brought masses of African Americans to Detroit, and her husband, a product of the white flight from it, have turned to urban farming to revitalize the blighted city they both love. And near Missoula, Montana, a couple who have been at the forefront of organic farming for decades navigate what it means to live and raise a family ethically.   

A work of immersive journalism steeped in a distinctively American social history and sparked by a personal quest, The Unsettlers traces the search for the simple life through the stories of these new pioneers and what inspired each of them to look for -- or create -- a better existence. Captivating and clear-eyed, it dares us to imagine what a sustainable, ethical, authentic future might actually look like.
About the Author
---
Mark Sundeen is the author of several books, including The Man Who Quit Money and the coauthor of North by Northwestern, which was a New York Times and Wall Street Journal bestseller. He has taught fiction and nonfiction in the MFA creative writing programs at the University of New Mexico and Southern New Hampshire University. He and his wife divide their time between Fort Collins, Colorado, and Moab, Utah.
Praise For…
---
"You say you want a revolution? These stories of "unsettlers" striving to lead more simple lives are an inspiration as well as a dose of reality on how difficult that can be. This is an important book."
—Yvon Chouinard, founder of Patagonia 

"A fascinating, timely, and deeply personal examination of what it means to be a non-conformist in the modern age."—Outside
 
"If talk of politics makes you pine for a life away from Twitter and cable news and the rest, Mark Sundeen's The Unsettlers offers a few tips for how to build a sustainable future." —The New York Times Book Review

"In-depth and compelling…These homesteaders show us how the other other half lives." —Los Angeles Times 

"An enlightening read... [and] exceptional reporting on a topic that we'd all be wise to familiarize ourselves with." —Paris Review
 
"A well-crafted, intimate portrait…Sundeen is a sympathetic, self-deprecating, imperfect Virgil, and thus a perfect, humorous, yet earnest guide on a foray into uncompromising outposts where people are striving for purity in a deeply compromised world."—San Francisco Chronicle
 
"[A] deftly written study."—Nature

"In this deft, impeccably reported book, Sundeen offers a fresh look at the recurrent American urge for the 'simple' life ... gain[ing] personal insights that feel honest and weighty." —Los Angeles Review of Books

"This fallen world has quite enough wannabe farmers, and long may they thrive. But it's frankly hard to imagine the bunch of carrots, however lovingly husbanded, that would be more nourishing than the body of work Sundeen is building." —Missoula Independent
 
"A mix of social history and well-crafted journalism." —USA Today's Green Living 
 
"A seriously fascinating and inspiring read. It's a book for anyone who has ever wondered how to live more sustainably, more consciously, and also a bit more crazily (in a wow-how-can-they-live-without-the-internet? kind of way). Mark is a terrific writer and I was absorbed by every page of this deep, insightful examination of the lives of a handful of Americans who choose to live differently."—Cheryl Strayed

"Sundeen captures a balance between idealism and realism that leaves the reader feeling inspired, introspective and, at the very least, a little bit unsettled." —The Missoulian
 
"Pretty darn good. … Particularly interesting is the way Sundeen compares and contrasts the white, suburban mythology of "what happened to Detroit" with the urban, black perspective on the city's transformation. … Probably the best, fairest portrayal of the Motor City's postwar metamorphosis published since Scott Martelle's Detroit: A Biography." —The Detroit Metro Times

 "By framing the book as a search for answers, not arguments, Sundeen fills [The Unsettlers] with empathy and curiosity. Each section is distinguished by strong reporting, and Sundeen's admiration for his subjects is clear." —The Rumpus

"[A] carefully and affectionate­ly reported account of idealists working not to leave the real world behind, but to make it better."—BookPage

"A gorgeous new book that provides a contemporary twist on Wendell Berry's 1977 classic, The Unsettling of America.... Sundeen finds beauty in each of the couples' lives, he doesn't flatten them into human Instagrams….[they] are weird, stubborn and strong, and Sundeen provides a nuanced picture of their beliefs… Importantly, Sundeen also acknowledges that the "renunciation of privilege" can become "just another means of exercising it." —High Country News

"A mix of social history and well-crafted journalism, this book relays the deeply personal stories of today's pioneers."—Living Green
 
"Simplicity is a relative matter; there is no one path or goal in that quest, and the degrees of simplicity one might achieve vary widely from one person to another…Those who seek the simple life that Mark Sundeen presents in The Unsettlers reflect that diversity… Nothing is easy about riding a bicycle to La Plata in winter, or about coaxing food from the wastelands of Detroit. But all of these simplifiers have been roaring successes in one simple way: they have, through their devoted work, gained true joy in their lives." —Missouri Historical Review

"In captivating detail, [Sundeen] explores what it takes to live off the grid, survive without government intervention and live a sustainable life...Charming, self-deprecating and honest." —Coachella Valley Weekly

"Well researched, immediately engaging, immensely readable, and ultimately inspiring. This is the perfect read for DIY-types with dreams of saving the world, or at least their own backyards." —Booklist

"From dirt roads in rural Missouri to Detroit's foreclosed streets, Sundeen reports how people throughout the United States have chosen to live simple but never simply…these pages will leave any reader with a penchant for sustainability to question their own carbon footprint." —Library Journal

"Engaging, honest, and deeply personal… Provocative reading for anyone who has ever yearned for a life of radical simplicity." —Kirkus Reviews

"Sundeen…ask[s] important questions about technology, the economy, and the moral implications of being both critic and participant in our society." —Publisher's Weekly

"From a crop of orphaned garlic plants in Detroit to a tipi birth in Montana, Mark Sundeen's The Unsettlers is rigorously reported and utterly enthralling. With candor, wit, and live-voltage curiosity, Sundeen profiles pioneers who have developed better ways to live in our overdeveloped world. The Unsettlers isn't in the business of guilt or shame mongering, but it will certainly—if you have a pulse and a laptop, or even an electrical socket—make you question how you live in the world as well." 
—Leslie Jamison, author of The Empathy Exams

"With his chronicles of modern-day American visionaries and iconoclasts who have opted out of the mainstream culture, I've come to think of Mark Sundeen as our poet laureate of a new era of alternative lifestyles."
—Bob Shacochis, author of The Woman Who Lost Her Soul

"The Unsettlers portrait of six true-hearted heroes of husbandry pitted against the Corporate Person would put the fear of God in that monster if it had a pulse. Sundeen's opus combines fierce reasoning, romance, impeccable research, the narrative pull of a thriller, and the subliminal magic of some wondrous old myth as he takes the measure of America's betrayed yearning for a living, thriving earth."—David James Duncan, author of The River Why and The Brothers K 
Free Media Mail shipping on U.S. orders over $75