My Absolute Darling: A Novel (Hardcover)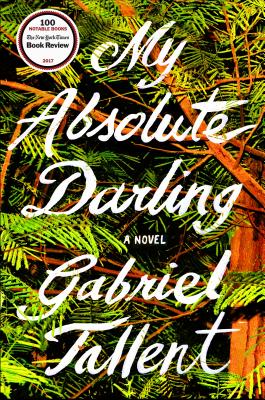 Email or call for price
Hard to find: allow 24 hours for information
Staff Reviews
---
My Absolute Darling is a novel that contains gorgeous descriptions of the natural world of the California coastal forest, compelling portraits of original and complex characters, and encounters with intimate, inescapable evil. 14- year-old Turtle Alveston is the hero and she and her father are individuals you will not be able to forget, or perhaps even get out of your mind, for some time. Some readers will be repulsed by My Absolute Darling while others will find it, as I did, a disturbing, authentic, and suspenseful account of the worst and best that can coincide in the world.
— Sarah
September 2017 Indie Next List
---
"I believe in great American novels, but not the Great American Novel. This is a Great American Novel: exquisitely lush language of the natural world; startlingly vivid characters; a global understanding of social context, in a particular place; and, in this case, steel-wire narrative tension stringing through the beautiful prose like piano wire. It is the book this year that I feel every American should read, because of its greatness and also because of its deep wrestling with issues of class, complacency, climate change, culture, and especially gender."
— John Evans (M), DIESEL, A Bookstore, Oakland, CA
Description
---
INSTANT NEW YORK TIMES BESTSELLER 
LA TIMES BOOK PRIZE FINALIST
NBCC JOHN LEONARD PRIZE FINALIST
ONE OF THE NEW YORK TIMES'S MOST NOTABLE BOOKS OF 2017
ONE OF THE WASHINGTON POST'S MOST NOTABLE BOOKS OF 2017
ONE OF NPR'S 'GREAT READS' OF 2017
A USA TODAY BEST BOOK OF THE YEAR
AN AMAZON.COM BEST BOOK OF THE YEAR
A BUSINESS INSIDER BEST BOOK OF THE YEAR

"Impossible to put down." —NPR

"A novel that readers will gulp down, gasping." —The Washington Post
 
"The word 'masterpiece' has been cheapened by too many blurbs, but My Absolute Darling absolutely is one." —Stephen King

A brilliant and immersive, all-consuming read about one fourteen-year-old girl's heart-stopping fight for her own soul.

Turtle Alveston is a survivor. At fourteen, she roams the woods along the northern California coast. The creeks, tide pools, and rocky islands are her haunts and her hiding grounds, and she is known to wander for miles. But while her physical world is expansive, her personal one is small and treacherous: Turtle has grown up isolated since the death of her mother, in the thrall of her tortured and charismatic father, Martin. Her social existence is confined to the middle school (where she fends off the interest of anyone, student or teacher, who might penetrate her shell) and to her life with her father.

Then Turtle meets Jacob, a high-school boy who tells jokes, lives in a big clean house, and looks at Turtle as if she is the sunrise. And for the first time, the larger world begins to come into focus: her life with Martin is neither safe nor sustainable. Motivated by her first experience with real friendship and a teenage crush, Turtle starts to imagine escape, using the very survival skills her father devoted himself to teaching her. What follows is a harrowing story of bravery and redemption. With Turtle's escalating acts of physical and emotional courage, the reader watches, heart in throat, as this teenage girl struggles to become her own hero—and in the process, becomes ours as well.

Shot through with striking language in a fierce natural setting, My Absolute Darling is an urgently told, profoundly moving read that marks the debut of an extraordinary new writer.
About the Author
---
Gabriel Tallent was born in New Mexico and raised on the Mendocino coast by two mothers. He received his B.A. from Willamette University in 2010, and after graduation spent two seasons leading youth trail crews in the backcountry of the Pacific Northwest. Tallent lives in Salt Lake City.
Praise For…
---
"My Absolute Darling is a novel that readers will gulp down, gasping…Tallent [is a] prodigiously talented new writer." —The Washington Post

"A searing story of abuse and damaged people, but also about resilience, strength and survival. Much recommended." —Nicholas Kristof in The New York Times

"With its unconventional heroine and unflinching portrayal of an abused girl's fight to save herself, My Absolute Darling seems poised to become the breakout debut of the year." —The New York Times

"My Absolute Darling is Gabriel Tallent's first novel, and no less than Stephen King has called it a "masterpiece" to rank with To Kill A Mockingbird and Catch-22." —NPR

"Our generation's next beloved literary heroine....this is one of the most important books you'll pick up this decade." —Harper's Bazaar

"A gripping introduction to a seriously brave little girl... My Absolute Darling is an affecting read but also an important one." —USA Today

"Impressively, this is…a novel of great beauty, filled with lush evocations of the woods." —Wall Street Journal

"Make some time to read Gabriel Tallent's My Absolute Darling…The sentences are beautiful, the language spare and tough." —Sam Sifton in The New York Times

"A gripping read, written in beautiful, brutal prose ... My Absolute Darling is a Great American Novel for the increasingly isolationist, fractionalised and disenchanted contemporary era." –Financial Times 

"A stunningly poetic psychological thriller." —O, The Oprah Magazine

"There's no shortage of things to admire in My Absolute Darling —it's a devastating and powerful debut from a writer who's almost certain to have a wonderful career ahead of him." —NPR.org

"An unputdownable coming-of-age novel." —Entertainment Weekly

"The best drop-everything debut…if you loved To Kill A Mockingbird's Scout Finch, you'll be into Turtle Alveston." –Glamour 

"A brilliant and haunting debut." —People

"Lush and vivid. You'll read it with your stomach in your shoes, rooting for [Turtle] the whole time." —Marie Claire

"[An] engrossing read." —InStyle

"Captures a compelling young heroine." —Vanity Fair

"A major American debut that incorporates psychological realism of the highest order, juxtaposed with nature writing that at times is so lyrical, you might as well be reading poetry." —The Houston Chronicle

"Stunning … contemplative and heart-wrenching." –Los Angeles Review of Books

"Extraordinarily unsettling and ambitious…an amazing debut." —The San Francisco Chronicle

"Brilliant and terrifying, told in expansive, wild and bold prose…Reading this book is like watching an electrical storm, both beautiful and dangerous." —The Minneapolis Star-Tribune

"[A] glaring, gorgeous book… My Absolute Darling sounds primal alarms with an urgent contemporary voice." –Pittsburgh Post-Gazette 

"Beautifully written and emotionally gripping… My Absolute Darling is a strange hybrid of a book, part gorgeous nature writing, part psychologically astute family drama." —Tampa Bay Times

"Explosive…There are many elements of this story we would rather not believe — all so convincingly rendered that we can't help but believe them." —The Boston Globe

"With its excellent prose and fast-paced plot, it is a spirited debut." —Dallas News

"My Absolute Darling is an absolute triumph." —The National

"Loved every minute." —Newsday

"The year's must-read novel...Tallent in this debut makes an old story — the drama of coming of age — feel original and full of youthful power." —The Times (London)

"An incandescent novel with an extraordinary, unforgettable heroine, both deeply contemplative and utterly thrilling." —The Guardian

"Ferocious, heart-breaking …Tallent combines gorgeous passages about the wilderness Turtle knows well and a steady beat of dramatic tension in this smashing debut." —BBC

"[A] gripping, vivid debut…Readers will root for Turtle as she sets out to escape and be absorbed by Tallent's stunning descriptions of nature." —RealSimple

"The cinematic pace of My Absolute Darling will have you physically reacting...as you barrel to the end of this incredibly redemptive, satisfying book." —goop

"Easily one of my favorite debut novels of the past decade." —LitHub

"Gabriel Tallent showcases incredible emotional empathy and nature writing in this novel about a young woman named Turtle, who's my new favorite character in all of fiction." –Outside Online

"To read [My Absolute Darling] is to become an evangelist for it." —The Millions

"Philosophical but without pretense, the novel proves a fascinating examination of personal strength… by allowing Turtle to define her own reality." —Paste

"Cathartic and spine-tingling as hell." —Vox

"Turtle is the strong, resilient heroine we didn't know we needed, and you'll fall head over heels in love with My Absolute Darling." —HelloGiggles

"A fearless adventure tale that's as savvy about internal emotional storms as it is about wrangling with family and nature… A powerful, well-turned story about abuse, its consequences, and what it takes to survive it." —Kirkus, starred review

"Lucidly written, both heartbreaking and heartfelt, this book is ultimately affirmative without the slightest sentimentality, and it's remarkable." –Library Journal, starred review

"Remarkable not only for its characterization but also for its minute examination of the natural world that Turtle inhabits. So vivid is the gorgeously realized setting that it becomes itself a major character in a novel that lingers in the mind long after the final page." –Booklist, starred review 

"Emotionally fraught… Turtle's story is harrowingly visceral." —Publishers Weekly

"There are books we like well enough to recommend, but there are a very few... that we remember forever. To my own shortlist I can now add My Absolute Darling, by Gabriel Tallent...This book is ugly, beautiful, horrifying, and uplifting." —Stephen King

"Every scene in this astonishing novel packs so much tension, so much insight, such beautiful prose and such masterful handling of detail, I simply could not stop reading." —Phil Klay, National Book Award-winning author of Redeployment 
Coverage from NPR