A Pregnancy Devotional- I'm Praying for You: 40 Weeks of Scripture, Prayer and Reflection for Your Developing Baby (Hardcover)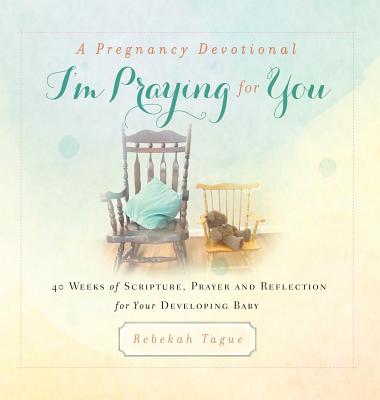 $31.30

Ships from warehouse to store in 3-6 business days
Description
---
PLEASE NOTE: The content of this book compared to the other books in the Prayer Legacy Book titles intentionally overlaps. These books are not intended to sequel each other instead, similar verse and prayer content is modified to fit specific life seasons. However, the reflection writing prompts throughout each book are unique. Some people choose to purchase different Prayer Legacy Books for different seasons. For example, someone may purchase this book for their developing baby then a couple years later purchase the "Son you are esteemed and loved" book for their growing son. In this case, the unborn baby has been born, years have passed, and the parents now want to pray for their 4 year old child so they purchased a different version. If you have any questions whatsoever or need more clarity please feel free to email prayerlegacybooks@gmail.com.
This hardcover and full color book is a great resource as you surround your developing baby in prayer during pregnancy. This book contains 40 different weekly themes to pray for representing each of the 40 weeks of pregnancy. Each day consists of a short verse and prayer that corresponds to the weekly theme. Also, there are many opportunities throughout the book to reflect, include pictures and write down special notes and memories.
This book can be presented to your child as a heirloom gift when they are older as it holds your thoughts and prayers for them during your pregnancy. You can begin this book at any time during pregnancy. Just start at your current week and continue to pray through the 40 weeks even after your baby is born.
Peek inside and take a look at www.prayerlegacybooks.com
Examples of personalized note prompts, as you pray for your baby through pregnancy, include:
"This week I am thinking about..."
"God, some of your promises I'm trusting in now are..."
"Thoughts about the first trimester..."
"All about prenatal visits" (and there is space for ultrasound pictures)
"We are getting the nursery ready for you..."
"Even though we haven't met yet I love you because..."
"Some people who want to meet you include..."
"All about the delivery..."
"Your name was chosen because..."
and many more
Check out these other similar titles
A Grandparent's Devotional- I'm Praying for You: 40 Weeks of Scripture, Prayer and Reflection for Your Developing Grandbaby
A Grandparent's Devotional- Close to My Heart: 40 Weeks of Scripture, Prayer and Reflection for Your Grandchild
Daughter, You are Treasured and Loved: 40 Weeks of Scripture, Prayer and Reflection for My Cherished Daughter
Son, You are Esteemed and Loved: 40 Weeks of Scripture, Prayer and Reflection for My Incredible Son
Free Media Mail shipping on U.S. orders over $50