Thank You, Sarah: The Woman Who Saved Thanksgiving (Paperback)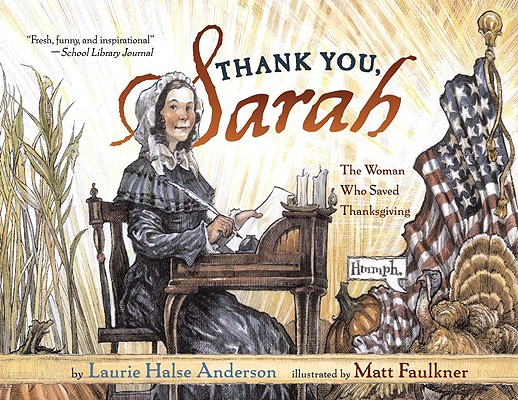 $7.99

Ships from warehouse to store in 1-5 business days
Description
---
From the author of Speak and Fever, 1793, comes the never-before-told tale of Sarah Josepha Hale, the extraordinary "lady editor" who made Thanksgiving a national holiday!

Thanksgiving might have started with a jubilant feast on Plymouth's shore. But by the 1800s America's observance was waning. None of the presidents nor Congress sought to revive the holiday. And so one invincible "lady editor" name Sarah Hale took it upon herself to rewrite the recipe for Thanksgiving as we know it today. This is an inspirational, historical, all-out boisterous tale about perseverance and belief: In 1863 Hale's thirty-five years of petitioning and orations got Abraham Lincoln thinking. He signed the Thanksgiving Proclamation that very year, declaring it a national holiday. This story is a tribute to Hale, her fellow campaigners, and to the amendable government that affords citizens the power to make the world a better place!
About the Author
---
Laurie Halse Anderson is a New York Times bestselling author known for tackling tough subjects with humor and sensitivity. Her work has earned numerous ALA and state awards. Two of her books, Chains and Speak, were National Book Award finalists. Chains also received the 2009 Scott O'Dell Award for Historical Fiction, and Laurie was chosen for the 2009 Margaret A. Edwards Award. Mother of four and wife of one, Laurie lives in Pennsylvania, where she likes to watch the snow fall as she writes. You can follow her adventures on Twitter @HalseAnderson, or visit her at MadWomanintheForest.com.

Matt Faulkner is a talented and clever picture-book maker whose dazzling ink and watercolor illustrations have graced dozens of well-loved picture books. On his inspiration for A Taste of Colored Water, he says, "When I was a boy it would've surprised me to learn that the word COLORED hung over a water fountain didn't mean that this was a magical place where fruit-flavored water flowed on demand." This story has grown out of his lifelong exploration of race and societal intolerance and the questions these institutions raise. His more recent work features several titles that focus on United States history, including Thank You, Sarah by Laurie Halse Anderson and You're on Your Way, Teddy Roosevelt by Judith St. George. He lives in Oakland, California, with his son.