The Question of Palestine (Paperback)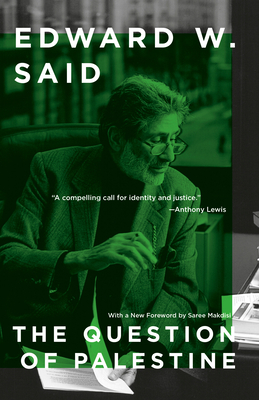 $18.00

Ships from warehouse to store in 3-6 business days
Description
---
This original and deeply provocative book was the first to make Palestine the subject of a serious debate--one that remains as critical as ever. With the rigorous scholarship he brought to his influential Orientalism and an exile's passion (he is Palestinian by birth), Edward W. Said traces the fatal collision between two peoples in the Middle East and its repercussions in the lives of both the occupier and the occupied--as well as in the conscience of the West. He has updated this landmark work to portray the changed status of Palestine and its people in light of such developments as the Israeli invasion of Lebanon, the intifada, the Gulf War, and the ongoing MIddle East peace initiative. For anyone interested in this region and its future, The Question of Palestine remains the most useful and authoritative account available.
About the Author
---
Edward W. Said was born in 1935 in Jerusalem, raised in Jerusalem and Cairo, and educated in the United States, where he attended Princeton (B.A. 1957) and Harvard (M.A. 1960; Ph.D. 1964). In 1963, he began teaching at Columbia University, where he was University Professor of English and Comparative Literature. He died in 2003 in New York City.

He is the author of twenty-two books which have been translated into 35 languages, including Orientalism (1978); The Question of Palestine (1979); Covering Islam (1980); The World, the Text, and the Critic (1983); Culture and Imperialism (1993); Peace and Its Discontents: Essays on Palestine and the Middle East Peace Process (1996); and Out of Place: A Memoir (1999). Besides his academic work, he wrote a twice-monthly column for Al-Hayat and Al-Ahram; was a regular contributor to newspapers in Europe, Asia, and the Middle East; and was the music critic for The Nation.
Praise For…
---
"A compelling call for identity and justice." --Anthony Lewis

"Books such as Mr. Said's need to be written and read in the hope that understanding will provide a better chance of survival." --The New York Times Book Review
Free Media Mail shipping on U.S. orders over $75