Anna Karenina (Everyman's Library Classics Series) (Hardcover)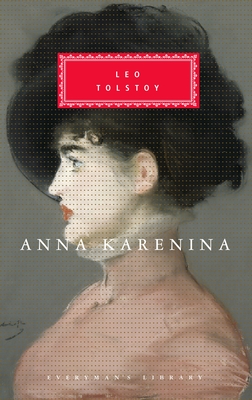 $27.00
Available from warehouse in 1-5 business days
Staff Reviews
---
A well respected translator of Russian fiction, Schwartz was determined to give us Anna Karenina as Tolstoy wrote it: In the simple, unadorned language he preferred. I found this translation immensely powerful - bringing me to tears at times.  It is also illuminating -revealing nuances in the characters I'd never before grasped. The cogent introduction by Gary Saul Morson,  which summarizes the novel's central themes, provides a great starting point for book club discussion. 
— Samantha
Description
---
A famous legend surrounding the creation of Anna Karenina tells us that Tolstoy began writing a cautionary tale about adultery and ended up falling in love with his magnificent heroine. It is rare to find a reader of the book who doesn't experience the same kind of emotional upheaval. Anna Karenina is filled with major and minor characters who exist in their own right and fully embody their mid-nineteenth-century Russian milieu, but it still belongs entirely to the woman whose name it bears, whose portrait is one of the truest ever made by a writer. Translated by Louise and Aylmer Maude.
About the Author
---
Count Leo Tolstoy (1828–1910) was born in central Russia. After serving in the Crimean War, he retired to his estate and devoted himself to writing, farming, and raising his large family. His novels and outspoken social polemics brought him world fame.
Praise For…
---
"In a novel as good and as spacious as Tolstoy's all things are possible. It must contain, as it does, the muddle and unpredictability of life, its refusal to supply endings or neat situations. And indeed this is where the greatness of the novel will be found to lie. Of all authors Tolstoy is the one whose art most contradicts his own views, and yet the one whose true personality is most revealed in his art. And what is Anna's 'true personality'? It remains to the end not an enigma, but a factor and a phenomenon that is infinitely variable, like life itself."
–from the Introduction by John Bayley