Early Riser: A Novel (Hardcover)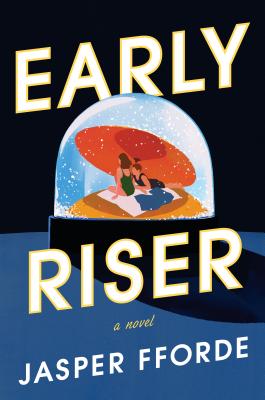 Jasper Fforde has always defied categorization. Speculative fiction, magic realism, fantasy, supernatural, science fiction, his works cover it all, and this book is no exception. Infused with his usual subtle humor, it is the story of Charlie Worthing, a novice Winter Consul who is experiencing his first winter awake. The Consuls are charged with the task of protecting the hibernating masses of humanity while they sleep through the winter. His first season will see him encountering murderous Villians, hungry Nightwalkers, and the mythical Wintervolk. Charlie has a steep learning curve that he must overcome in order to survive. This novel is Jasper Fforde at his Jasper Fforde-ist.  (Fforde visits QRB with the book on Tuesday, Feb. 19, 2019)
— Bill
Description
---
An instant New York Times bestseller

The latest standalone novel from Jasper Fforde, the bestselling author the Thursday Next series and the forthcoming standalone The Constant Rabbit

Every Winter, the human population hibernates.

During those bitterly cold four months, the nation is a snow-draped landscape of desolate loneliness, devoid of human activity.

Well, not quite.

Your name is Charlie Worthing and it's your first season with the Winter Consuls, the committed but mildly unhinged group of misfits who are responsible for ensuring the hibernatory safe passage of the sleeping masses.

You are investigating an outbreak of viral dreams which you dismiss as nonsense; nothing more than a quirky artefact born of the sleeping mind.

When the dreams start to kill people, it's unsettling.

When you get the dreams too, it's weird.

When they start to come true, you begin to doubt your sanity.

But teasing truth from the Winter is never easy: You have to avoid the Villains and their penchant for murder, kidnapping and stamp collecting; ensure you aren't eaten by Nightwalkers, whose thirst for human flesh can only be satisfied by comfort food; and sidestep the increasingly less-than-mythical WinterVolk.

But so long as you remember to wrap up warmly, you'll be fine.
About the Author
---
Jasper Fforde gave up his career in the fim industry when his novel The Eyre Affair debuted on the New York Times bestseller list in 2002. He is the author of the Thursday Next series, the Nursery Crimes series, and Shades of Grey. He lives and works in Wales.
Praise For…
---
"Early Riser has all of the elements and sensibility that have earned Fforde a sizable and devoted following. . . . Fforde writes witty, chewy sentences, full of morsels, and delivers them deadpan. . . . [Fforde's] relentless imagination and his affection for his characters are contagious and irresistible. . . . Every book of Fforde's seems to be a cause for celebration and a source of pleasure for many people, and for good reason."
—Charles Yu, The New York Times Book Review

"Charlie's journey . . . is so absorbing, and Fforde's wit so sharp, the reveal that the narrative is also a commentary on capitalism comes across as a brilliant twist. . . . Whip-smart, tremendous fun, and an utter delight from start to finish."
—Kirkus Reviews (starred review)

"Jasper Fforde is in fine form in his 14th novel, stringing along this adventure with wry wit."
—BookPage (starred review)

"In this richly detailed, dystopic novel from Fforde (the Thursday Next series), most of the population of Wales hibernates in huge Dormitoria through the unbearable Winter. . . . The sprightly characters, such as the murderous Villains maintaining the habits of English sophisticates, and the intimately feuding pair of Chief Consul Toccata and Aurora, the head of HiberTech security,  bring absurdity into the ambiance, but behave understandably enough to be credible. Charlie's confused but determined mundanity is a relatable anchor in this wild winter world, leavened by Fforde's surrealistic humor. Douglas Adams fans will enjoy the vibe."
—Publishers Weekly

"A wonderfully weird dystopian thriller. . . . As precisely built as an ice sculpture, Fforde's wintry nightmare glistens with mystery and menace. Though the zombie apocalypse elements spin a darker tale . . . plenty of pure Ffordian humor pops up."
—Shelf Awareness

"Readers familiar with Fforde's gleefully pun-heavy world building will relish this standalone novel, confident that everything will work out in the end for the underdog. Give it to fans of John Scalzi and Genevieve Cogman's Invisible Library series."
—Booklist

"Veiled commentary on corporate greed, sleep and dreaming, and twisted popular culture highlight why Fforde, perhaps best known for his "Thursday Next" series, is on par with authors such as Terry Pratchett and Douglas Adams."
—Library Journal

"Fans of Jasper Fforde's unique blend of comic dystopia and quirky British cosiness will not be disappointed with his first novel in six years, Early Riser. . . . Hilarious."
—The Guardian

"Addictively propulsive."
—The Times
 
"[Early Riser is] worth the wait . . . There are many laughs and wry smiles to be had from this genre-merging writing—a mad, clever, mix of fantasy, satire, parody and thriller. Well worth staying awake for."
—Oxford Mail

"If a cross between the monstrous winter of George R.R. Martin's A Song of Fire series and dream-heist film Inception sounds appealing then British author Jasper Fforde's standalone novel Early Riser is for you . . . Fforde is wildly innovative in his world-building . . . The novel builds to a thrilling climax that is worth staying up for."
—The Straits Times
 
"[Jasper Fforde] is one of our great comic writers, a man of seemingly boundless imagination."
—The Scotsman
 
"Endlessly imaginative and distinctively quirky, this is entertaining fun."
—Mail on Sunday


Praise for Jasper Fforde

"It's easy to be delighted by a writer who loves books so madly." —Janet Maslin, The New York Times

"Fforde's inventiveness remains a bookworm's delight." —Entertainment Weekly

"Mr. Fforde manages to bombard the reader with more bizarre detail than most writers would dare to fit in their entire oeuvre, yet he does so with . . . light prose and easy, confident wit." —The Wall Street Journal

"Like the best novels of Douglas Adams or Terry Pratchett, Fforde goes beyond his genre." —Los Angeles Times

"What captivates here is something that will appeal to any reader—and that's the feeling that there's something at stake in fiction, that characters created in books are every bit as real as the memory of a person." —John Freeman, Newsday

"Fforde [has a] head-spinning narrative ability." —Lloyd Rose, The Washington Post
We will be open on Memorial Day from 10 AM until 6 PM.
Free Media Mail shipping on U.S. orders over $50