***We are offering FREE media mail shipping on books. We are open from 10am-7pm Monday through Saturday and 10am-6pm Sunday. Phones may not be answered due to a high volume of calls.***
Bunny (Compact Disc)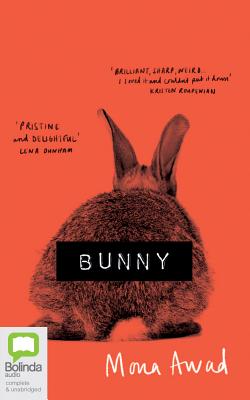 $39.99
Available from warehouse in 1-5 business days
Staff Reviews
---
This is my favorite book I've read so far this year! Part-comedy, part-horror, part-satire, and part-magical realism, this book will make you laugh and (almost) cry until the final twist you won't see coming.
Samantha Heather Mackey, a lonely scholarship student with a cliche (but painful) family history, feels out of place in her prestigious MFA writing program. The four other students in her fiction workshop call themselves "Bunnies." Wealthy, aggressively feminine, and embarrassingly childlike, the Bunnies alternately annoy and intrigue Samantha until suddenly, she is invited to becomea Bunny herself. Her reality quickly descends into Bunny chaos: a darkly funny mix of blood magic gone wrong, miniature cupcakes, and creative revenge. This is a sharply written, deliciously wicked, viciously hilarious read.
— Kiwi
June 2019 Indie Next List
---
"Mona Awad tells a harrowing story of a writer trying to overcome her writer's block while simultaneously refusing to look deeper into herself or acknowledge her own needs or desires. This lack of self-knowledge leads her to a friendship with a group of young MFA students who are always 'workshopping'…with disastrous consequences. The writing feels cinematic at times, moody and illustrative. Home, identity, love (both romantic and platonic), inner (and outer) demons, and academic elitism all play a part in this spectacle of creation and destruction. Awad creates a kind of magic that changes with the wind, a contemporary Prometheus tale."
— Katrina Feraco, The Toadstool Bookshop - Keene, Keene, NH
Description
---
The Vegetarian meets Heathers in this darkly funny, seductively strange novel about a lonely graduate student drawn into a clique of rich girls who seem to move and speak as one
"We were just these innocent girls in the night trying to make something beautiful. We nearly died. We very nearly did, didn't we?"
Samantha Heather Mackey couldn't be more of an outsider in her small, highly selective MFA program at New England's Warren University. A scholarship student who prefers the company of her dark imagination to that of most people, she is utterly repelled by the rest of her fiction writing cohort--a clique of unbearably twee rich girls who call each other "Bunny," and are often found entangled in a group hug so tight they become one.
But everything changes when Samantha receives an invitation to the Bunnies' fabled "Smut Salon," and finds herself inexplicably drawn to their front door--ditching her only friend, Ava, a caustic art school dropout, in the process. As Samantha plunges deeper and deeper into the sinister yet saccharine world of the Bunny cult and starts to take part in their ritualistic off-campus "Workshop" where they magically conjure their monstrous creations, the edges of reality begin to blur, and her friendships with Ava and the Bunnies are brought into deadly collision.
A spellbinding, down-the-rabbit-hole tale of loneliness and belonging, creativity and agency, and friendship and desire, Bunny is the dazzlingly original second book from an author whose work has been described as "honest, searing and necessary" (Elle).