The Children Of Húrin (Hardcover)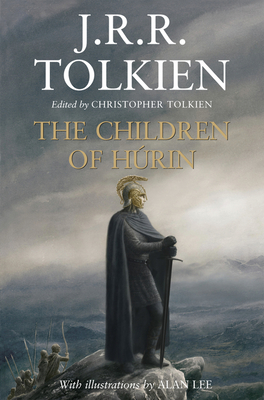 $30.00

Ships from warehouse to store in 3-6 business days
Description
---
One of the three 'Great Tales' of the Elder Days, J.R.R. Tolkien's The Children of Húrin takes place in Middle-earth thousands of years before the events of The Hobbit and The Lord of the Rings.
The Children of Húrin is the first complete book by Tolkien since the 1977 publication of The Silmarillion. Six thousand years before the One Ring is destroyed, Middle-earth lies under the shadow of the Dark Lord Morgoth. The greatest warriors among elves and men have perished, and all is in darkness and despair. But a deadly new leader rises, Túrin, son of Húrin, and with his grim band of outlaws begins to turn the tide in the war for Middle-earth—awaiting the day he confronts his destiny and the deadly curse laid upon him.
About the Author
---
John Ronald Reuel Tolkien (1892-1973) was a distinguished academic, though he is best known for writing The Hobbit, The Lord of the Rings, and The Silmarillion, plus other stories and essays. His books have been translated into over 60 languages and have sold many millions of copies worldwide.
ALAN LEE was born in Middlesex in 1947. His illustrated books include
Faeries
(with Brian Froud),
Castles and Merlin Dreams
, and the three 'Great Tales' of Middle-earth:
The Children of Húrin
,
Beren
and
Lúthien
, and
The Fall of Gondolin
. He has worked on such prestigious films as
Erik the Viking
(Terry Gilliam),
Legend
(Ridley Scott), and the acclaimed NBC miniseries
Merlin
. He is best known, however, for his work on the books
The Hobbit
and
The Lord of the Rings
, and now the film versions.
Free Media Mail shipping on U.S. orders over $75