The New Well-Tempered Sentence: A Punctuation Handbook for the Innocent, the Eager, and the Doomed (Paperback)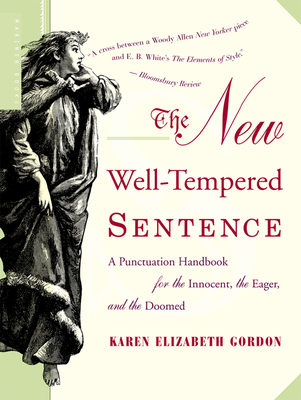 Description
---
In The New Well-Tempered Sentence: A Punctuation Handbook for the Innocent, the Eager, and the Doomed, Karen Elizabeth Gordon "manages to make the period, question mark, exclamation point, comma, and semicolon sound friendly instead of forbidding" (New York Times).

This essential guide to grammar rescues punctuation from the perils of boredom, with wholly original explanations of the rules, whimsical graphics, and utterly unforgettable characters. Gordon teaches you clearly and simply where to place a comma and how to use an apostrophe. Gradually, as you master the elusive slashes, dots, and dashes that give expression to our most perplexing thoughts, you will find yourself in the grip of a bizarre and bemusing comedy of manners.

Witty, saucy, and utterly unforgettable, The New Well-Tempered Sentence is a must-have for anyone who has ever despaired of opening a punctuation handbook but whose sentences despair without one.
About the Author
---
Karen Elizabeth Gordon is the author of the classic and comic reference books The Deluxe Transitive Vampire, The New Well-Tempered Sentence, and Torn Wings and Faux Pas. Her wanderlusting fiction includes The Ravenous Muse, The Red Shoes and Other Tattered Tales, and Paris Out of Hand. She lives in Berkeley, California and Paris.