Throw Your Tooth on the Roof: Tooth Traditions from Around the World (Paperback)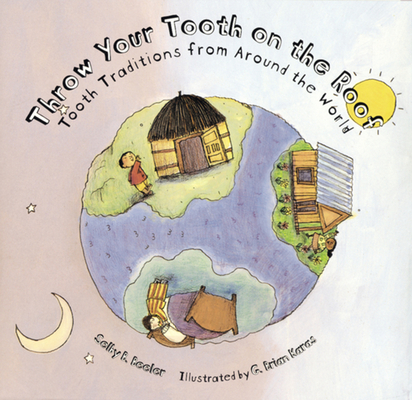 Description
---
What do you do when you lose a tooth? Delightful descriptions and cheerful art celebrate the surprising things that children do around the world when they lose a tooth.

When you lose a tooth, do you put it under your pillow and wait for the tooth fairy? In Botswana, children throw their teeth onto the roof. In Afghanistan they drop their teeth down mouse holes. From Egypt to Venezuela, Spain to Korea losing a tooth is an exciting milestone that's honored with unique traditions. Discover the variety of customs from every corner of the globe in this charming picture book by Selby B. Beeler with whimsical illustrations by G. Brian Karas.
 
About the Author
---
Selby B. Beeler first became interested in lost-tooth traditions in other countries when a friend from Brazil asked, "What's a Tooth Fairy?" Curious, Selby has been canvassing strangers ever since. This is her first book.
G. Brian Karas has illustrated more than thirty books for children, including Truman's Aunt Farm, by Jama Kim Rattigan, and Mr. Carey's Garden, by Jane Cutler.
Praise For…
---
"If children think a visit from the Tooth Fairy is the only way to trade in baby teeth, they're in for a surprise. Beeler's funny and intriguing sampling of lost-tooth traditions from around the world shows that teeth are every bit as likely to end up down a mouse hole, in the stomach of a dog, or on the roof of a house, as they are under a pillow. . . . Lots and lots of fun." Booklist, ALA

"The demands of the Tooth Fairy are almost as strenuous as those of Santa, but she has some help, because, as Beeler tells it, the customs about teeth vary around the world. . . . A charming debut." Kirkus Reviews

"This book describes a variety of rituals for the numerous occasions on which a child loses baby teeth. About a half-dozen countries in a broad geographic region are covered on each two-page spread. For each nation, an appealing youngster dressed in native attire provides one- or two-sentence summaries of local tooth customs. . . . A world map helps with the geography and a couple of appended dental diagrams give youngsters a simple oral overview. . . . A fun comparative study for the tooth-losing crowd." School Library Journal —
Free Media Mail shipping on U.S. orders over $75
"Ships from warehouse" books to be shipped: order by Wednesday, 12/6
"Ships from warehouse" books for pickup: order by Tuesday, 12/12