When We Were Birds: A Novel (Large Print / Paperback)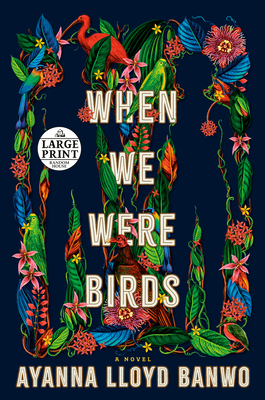 Staff Reviews
---
This book is incredible! It is a lush, mythic, and magical love story set on Trinidad & Tobago that follows Yejide, a young woman burdened with the secrets of her extraordinary family, and Darwin, a young man newly exiled from his Rastafarian faith. These two lost souls first meet within the gates of Fidelis, the city's oldest cemetery, amidst dangers both spiritual and concrete, and neither of them anticipate the reckoning with death and destiny that awaits them both. One of my favorites of 2022!
— Rebecca S.
March 2022 Indie Next List
---
"Ayanna Lloyd Banwo's powerful observations and her tender and mysterious writing on death reminded me of Steinbeck and Fresh Water for Flowers. Still, this book was wholly unique, breathtaking, and beautiful from start to finish."
— Andrea Jones, The Galaxy Bookshop, Hardwick, VT
Description
---
A mythic love story set in Trinidad, Ayanna Lloyd Banwo's radiant debut is a masterwork of lush imagination and exuberant storytelling—a spellbinding and hopeful novel about inheritance, loss, and love's seismic power to heal.

"Roots the reader in [Trinidad's] traditions and rituals [and] ... in the glorious matriarchy by which lineage is upheld. The result is a depiction of ordinary life that's full and breathtaking."—The New York Times Book Review

In the old house on a hill, where the city meets the rainforest, Yejide's mother is dying. She is leaving behind a legacy that now passes to Yejide: one St Bernard woman in every generation has the power to shepherd the city's souls into the afterlife. But after years of suffering her mother's neglect and bitterness, Yejide is looking for a way out.
 
Raised in the countryside by a devout Rastafarian mother, Darwin has always abided by the religious commandment not to interact with death. He has never been to a funeral, much less seen a dead body. But when the only job he can find is grave digging, he must betray the life his mother built for him in order to provide for them both. Newly shorn of his dreadlocks and his past, and determined to prove himself, Darwin finds himself adrift in a city electric with possibility and danger.
 
Yejide and Darwin will meet inside the gates of Fidelis, an ancient and sprawling cemetery, where the dead lie uneasy in their graves and a reckoning with fate beckons them both.
About the Author
---
AYANNA LLOYD BANWO is a writer from Trinidad & Tobago. Her work has been published in The Caribbean Writer, Moko Magazine, Small Axe, Poui, PREE, Callaloo and Anomaly. She is a graduate of the MA in Creative Writing from the University of East Anglia and is now a postgraduate researcher in Creative-Critical Writing at UEA. She is a contributor to Colonial Countryside: National Trust Houses Reinterpreted, forthcoming from Peepal Tree Press in 2021. When We Were Birds is her first novel.
Praise For…
---
A BEST BOOK OF THE YEAR: NPR, THE ECONOMIST

A Most Anticipated Book: Time, Harper's Bazaar, The Observer, Real Simple, Buzzfeed, Essence, Nylon, Good Housekeeping, Apartment Therapy Business Insider, NBC, Bustle, LitHub, BookRiot, Ms. Magazine, and more… 

"Mythic and captivating… Banwo roots the reader in [Trinidad's] traditions and rituals, in the sights and sounds and colors and smells of fruit vendors, fish vendors, street preachers and schoolchildren. In the glorious matriarchy by which lineage is upheld. The result is a depiction of ordinary life that's full and breathtaking."—New York Times Book Review

"[A] masterly debut novel. It announces an important new voice in fiction, at once grounded and mythic in its scope and carried by an incantatory prose style that recalls Arundhati Roy. . . Lloyd Banwo's literary gift lies in her capacity to transfigure [grief] – to conjure a cosmic landscape where the living coexist among the dead."—The Observer (Top 10 Debut Novel of 2022)

"A thoroughly original and emotionally rich examination of love, grief and inheritance… When We Were Birds is full of life .  . .The scenes it hosts are packed with drama, colour and tension, particularly in her gripping finale . . Her novel takes flight and soars."—The Economist

"When We Were Birds is an ode to the idea that broken traditions can lead to beautiful new beginnings."—Time Magazine

"What a great, fun, and complex book — part love story, part ghost story, all beautiful — and all the more impressive for being Ayanna Lloyd Banwo's debut!...I was so moved by this book and am sure you will be too" 
— Powell's Books (Best Books of 2022: Fiction)

"[A] spellbinding novel . . The poetic prose in Ayanna Lloyd Banwo's debut novel captivates from the start . . .When We Were Birds is a unique love story whose magical setting in Trinidad takes center stage."—Real Simple

"Lloyd Banwo conjures an aching sexual energy, places the lovers in deliciously paced jeopardy and takes the tale to an agreeably thundery climax . . .Lloyd Banwo has written a love letter for Trinidad, to remind all of us that yes, love is still very, very nice indeed."—The Guardian

"A fantastic romance that is nothing short of epic."--Buzzfeed

"This is one even people who don't usually read fantasy or magical realism will like. It will take you on a journey exploring family dynamics, magic, urban living, Caribbean mythologies, and characters who you root for."—BookRiot

"[Banwo's] craft is both ceremonial and immediate in this way, working on you like an ancient spell to which you know the words, and the ancient sounds beneath their language. [When We Were Birds] is both a love story and a genealogy of dispossession, a death diary folded into the pages of a magically real Trinidad." —Caribbean Beat

"Mysterious, atmospheric and richly painted."—Good Housekeeping

"[A] gorgeous debut novel."—Nylon

"[A] moving and mythic debut...Banwo's stunning lyricism offers a window into her characters as well as a view of the landscape...The otherworldly setting instantly pulls the reader in. This remarkable debut should not be missed." —Publishers Weekly *Starred Review*

"Ayanna Lloyd Banwo's When We Were Birds is crafted from the very essence of memory, the long memory, which can only be drawn from the mind and translated into the written word by someone with Banwo's lyrical mastery. Heartwarming and heartbreaking, fantastical and familiar, with characters that burrow their way into your heart and mind with their tragedies and triumphs, When We Were Birds more than sings, more than beams. It is the kind of story that makes you want to spread your arms open wide,  embrace the sky, and take flight in your own little way. It is glorious."—Robert Jones, Jr., New York Times bestselling author of The Prophets

"Combining the richness of myth with razor-sharp observation of contemporary life, When We Were Birds marks the emergence of a distinctive and powerful voice."—Pat Barker, Booker Prize-winning author of Women of Troy

"Uplifting, engaging, expansive: this was just the book I needed. In a voice infused with the rhythms of Trinidad and Tobago, Banwo has crafted the perfect love story, one that moves with deftness between the furies of urban poverty and the gentle infinities of the afterlife. The hard-won peace and redemptive love in this story are real, and something we need more of in the world."—Kawai Strong Washburn, author of Sharks in the Time of Saviors

"With an imaginative world and lush writing, this romantic fantasy is a must read." —Apartment Therapy

"[A] wonderfully original debut. . . Banwo has created a unique world expansive enough to contain a ghost story, a love story, a mysterious mythology, and a thoughtful examination of how family bonds keep us firmly rooted to our pasts. [She] makes you care deeply about the outcome and deftly weaves the realistic and the fantastic into a strange and compelling tapestry. With skill and heart, she has created a world readers will happily return to."—Kirkus Reviews

"Ayanna Lloyd Banwo's voice is haunting, and When We Were Birds is a novel of exquisite detail that opens up the liminal space between folklore and the world we inhabit."—Avni Doshi, author of Burnt Sugar

"Ayanna Lloyd Banwo comes from a lineage of high Caribbean Lit and it shows. This is an impressive debut about love, family, ancestry, the dead and the living.  Read this book for its magic and realism too, for its deft weaving together of lives from a city with a huge cemetery at its centre, where the dead lie restless and sometimes loosen from their graves. Ayanna Lloyd Banwo conjours old magic and yet she is a strong, new voice."—Monique Roffey, author of The Mermaid of Black Conch

"I love this book: the originality of its premise, the power and beauty of its prose; the depth of its explorations of what it means to love and be loved. When We Were Birds is about the silver cord of memory and blood, and history that bind a family of women even after death. An exceptional novel that delivers on its promise."—Jacob Ross, author of The Bone Readers

"A love story, a ghost story and a coming-of-age story, all masterfully woven into one. I loved it."—Claire Adam, author of The Golden Child


Free Media Mail shipping on U.S. orders over $75
"Ships from warehouse" books to be shipped: order by Wednesday, 12/6
"Ships from warehouse" books for pickup: order by Tuesday, 12/12