Emily Wilde's Encyclopaedia of Faeries: Book One of the Emily Wilde Series (Hardcover)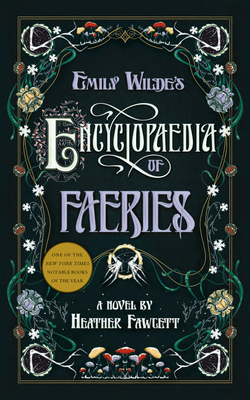 Staff Reviews
---
A prickly English folklorist travels to a small Scandinavian town to study the local faeries -- and also be driven mad by her irritating but handsome Irish colleague (who may or may not be human himself). This adventurous book is populated by socially awkward academics, changelings, brownies who can bake, ice kings, and a lovable cast of villagers. If you struggle to make small talk and should infinitely prefer a book (preferably a dissertation on obscure fairy-stories), you'll get on well with Emily Wilde.
— Kaley
January 2023 Indie Next List
---
"Featuring a savvy and brutally practical heroine on a mission to create a thorough compendium of all known faerie species, this historical fantasy is rife with magical mischief and bewitching bargains that might cost Emily everything."
— Heather Herbaugh, Mitzi's Books, Rapid City, SD
Description
---
NATIONAL BESTSELLER • A curmudgeonly professor journeys to a small town in the far north to study faerie folklore and discovers dark fae magic, friendship, and love in the start of a heartwarming and enchanting new fantasy series.

"So endlessly enchanting, so rich and complete and wise that you'll walk away half ensorcelled."—Melissa Albert, author of The Hazel Wood

Cambridge professor Emily Wilde is good at many things: She is the foremost expert on the study of faeries. She is a genius scholar and a meticulous researcher who is writing the world's first encyclopaedia of faerie lore. But Emily Wilde is not good at people. She could never make small talk at a party—or even get invited to one. And she prefers the company of her books, her dog, Shadow, and the Fair Folk to other people.

So when she arrives in the hardscrabble village of Hrafnsvik, Emily has no intention of befriending the gruff townsfolk. Nor does she care to spend time with another new arrival: her dashing and insufferably handsome academic rival Wendell Bambleby, who manages to charm the townsfolk, muddle Emily's research, and utterly confound and frustrate her.

But as Emily gets closer and closer to uncovering the secrets of the Hidden Ones—the most elusive of all faeries—lurking in the shadowy forest outside the town, she also finds herself on the trail of another mystery: Who is Wendell Bambleby, and what does he really want? To find the answer, she'll have to unlock the greatest mystery of all—her own heart.
About the Author
---
Heather Fawcett is the author of the middle-grade novels Ember and the Ice Dragons, The Language of Ghosts, and The School Between Winter and Fairyland, as well as the young adult series Even the Darkest Stars. She has a master's degree in English literature and has worked as an archaeologist, photographer, technical writer, and backstage assistant for a Shakespearean theater festival. She lives on Vancouver Island.
Praise For…
---
"A darkly gorgeous fantasy that sparkles with snow and magic, this book wholly enchanted me."—Sangu Mandanna, author of The Very Secret Society of Irregular Witches

"A book so vividly, endlessly enchanting . . . It pushed the real world aside in the way of all truly great fantasy novels, and I'm jealous of everyone who gets to read it for the first time."—Melissa Albert, The New York Times bestselling author of the Hazel Wood series

"Forget dark academia: Give me instead this kind of winter-sunshined, sharp-tongued, and footnoted academia, full of field trips and grumpy romance and malevolent faeries. Emily Wilde is a narrator I won't forget in a hurry, and this book was an invigorating balm for my heart and mind."—Freya Marske, author of A Marvellous Light

"A whimsical and enchanting romp that had me quite literally laughing out loud on every page. I enjoyed every word of this gorgeously written fairy tale featuring a grumpy heroine and an utterly charming love interest who constantly surprised me. A new favorite!"—Isabel Ibañez, author of Woven in Moonlight

"Emily Wilde's Encyclopaedia of Faeries charmed me more than any faerie king ever could. Take an imaginative world that perfectly balances the mundane with the fantastical, add the pitch-perfect voice of an intelligent and endearingly unsociable heroine, throw in an indolent yet adorable academic rival with a hidden agenda, and you have the ideal book to curl up with on a chilly winter's evening. This book is an absolute delight."—Megan Bannen, author of The Undertaking of Hart and Mercy

"Enchanting in every sense of the word, Emily Wilde's Encyclopaedia of Faeries is a delight of snow-laden forests and changelings, folklore and faerie kings, meticulous footnotes and academic rivalry and adventure. This book is real magic."—H. G. Parry, author of The Unlikely Escape of Uriah Heep

"Emily Wilde's Encyclopaedia of Faeries is a charmingly whimsical delight, saturated with faerie magic and the equally wonderful magic of humanity. This is going to be one of my regular rereads. Five dazzling, gladdening stars."—India Holton, author of The Wisteria Society of Lady Scoundrels

"Fawcett grabs readers' attention by drawing them into the folklore as well as the surrounding world. A great read for fans of Sarah J. Maas and Erin Morgenstern."—Library Journal (starred review)

"The full cast of characters, well-developed faerie lore, and pervasive sense of cold add depth to the delightful proceedings, which include scholarship, yes, but also danger and a hint of romance. Emily is an Amelia Peabody in snowshoes, and readers will be utterly charmed."—Booklist (starred review)
 
"Full of awe-inspiring shows of power and striking moments of humanity . . . Follow the lights into the woods and dance with the fae under Emily's careful guidance—just be sure not to get carried away."—BookPage
Free Media Mail shipping on U.S. orders over $50