Two Wrongs Make a Right (The Wilmot Sisters Series #1) (Paperback)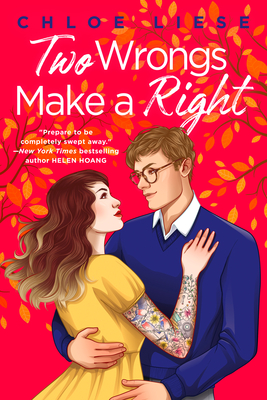 Other Books in Series
This is book number 1 in the The Wilmot Sisters Series series.
Staff Reviews
---
Enemies to lovers meets blind date meets fake dating in this swoony romance by Chloe Liese. Bea is an autistic erotic artist and Jamie is a pediatrician with anxiety and at least one change of (perfectly ironed) clothes on him at all times. The two could not be worse for each other, so convincing everyone they're dating should be a lot harder than it is. Swoony, funny, and sweet, it's safe to say this is one of my favorite romances of 2022.
— tee
Description
---
One of Amazon's Best Romances of 2022!

Opposites become allies to fool their matchmaking friends in this swoony reimagining of Shakespeare's beloved comedy, Much Ado About Nothing.
 
Jamie Westenberg and Bea Wilmot have nothing in common except a meet-disaster and the mutual understanding that they couldn't be more wrong for each other. But when the people closest to them play Cupid and trick them into going on a date, Jamie and Bea realize they have something else in common after all—an undeniable need for revenge.
 
Soon their plan is in place: Fake date obnoxiously and convince the meddlers they're madly in love. Then, break up spectacularly and dash everyone's hopes, putting an end to the matchmaking madness once and for all.
 
To convince everyone that they've fallen for each other, Jamie and Bea will have to nail the performance of their lives. But as their final act nears and playing lovers becomes easier than not, they begin to wonder: What if Cupid's arrow wasn't so off the mark? And what if two wrongs do make a right?
About the Author
---
Chloe Liese writes romances reflecting her belief that everyone deserves a love story. Her stories pack a punch of heat, heart, and humor, and often feature characters who are neurodivergent like herself. When not dreaming up her next book, Chloe spends her time wandering in nature, playing soccer, and most happily at home with her family and mischievous cats.

Praise For…
---
"Champagne and chocolate in book form. Prepare to be completely swept away."—Helen Hoang, New York Times bestselling author of The Heart Principle

"I am deeply in awe of Chloe Liese's spectacular talent for creating characters that make readers feel seen. Two Wrongs Make A Right is the perfect romcom: a stunning mix of hilarious tropes, swoony romance, and lovable, relatable characters. A must read for every romance lover!"—Ali Hazelwood, New York Times bestselling author of The Love Hypothesis

"Absolute romantic perfection! Two Wrongs Make A Right is sexy, and smart, and achingly sweet. I absolutely adored every word."—Christina Lauren, New York Times bestselling authors of The Unhoneymooners

"These two wrongs are so very right for each other. Equal parts smart and steamy, with razor-sharp wit and an elegant, playful rhythm that would make Shakespeare proud. There's no warmer hug than a Chloe Liese book."—Rachel Lynn Solomon, New York Times bestselling author of Weather Girl

"Exquisite tension, hilarious banter, steamy romance and a hero and heroine with personalities that burst from the pages. A top must-read of the year!"—Samantha Young, New York Times bestselling author of A Cosmic Kind of Love

"Two Wrongs Make A Right is an excellent addition to any contemporary romance lover's keeper shelf! Trope lovers will swoon as Bea and Jamie journey from annoyances fake dating to unlikely friends who fall in real love! Chloe Liese nails the fast-paced ensemble chemistry of the source material and delivers a sophisticated playfulness of prose that echoes Shakespeare himself."—Rosie Danan, author of The Roommate

"Two Wrongs Make a Right is a deeply tender romance that plays delightful music upon both the heartstrings and the funnybone. Full of charm, zest, and sensual heat, and with characters who are sure to join the ranks of readers' beloved favourites, it is the perfect book for anyone who loves love."—India Holton, national bestselling author of The Wisteria Society of Lady Scoundrels

"Two Wrongs Make a Right overflows with snappy banter, heartfelt emotion, and delicious swooniness and heat. Bea and Jamie's tenderness and care for one another shine on the page, and Liese's wit and humor undergird the entire story. This book is a true pleasure to read, sure to delight her many current fans even as it earns her many new ones."—Olivia Dade, national bestselling author of Spoiler Alert

"Two Wrongs Make a Right is like hot chocolate and a croissant. It's whimsically-patterned leggings on an autumn day. It's cozy, soft, sweet, and satisfying—Bea and Jamie are opposites-attract excellence; I loved their banter, and even more than that, how they evolve to become each other's unwavering pillar of support and protection. Jamebea forever!"—Sarah Hogle, author of You Deserve Each Other

"Reading a Chloe Liese novel is like taking a masterclass in rom-coms—every book is tender, sexy, and hilarious. With a delicious slow-burn, and divine payoff, Two Wrongs Make A Right became an instant favorite, and a story I'll cherish for years to come. Liese's autistic rep makes me feel so seen, and she's a pioneer in neurodiverse love stories. Words can't do justice to the impact her books have."—Mazey Eddings, author of A Brush with Love

"Chloe Liese's Two Wrongs Make a Right is both a high-heat romantic romp and a tender examination of what it means to find love on your own terms. Readers are sure to fall in love with Bea and Jamie as each comes into their own with the help of the last person they ever expected. Fun, feisty, and vulnerable, Liese does so much right in this irresistible opposites attract romance."—Sarah Grunder Ruiz, author of Love, Lists, and Fancy Ships

"Watching these two opposites gently fall in love is absolute magic! Two Wrongs Make a Right is the deliciously steamy, lovingly affirming, burst-of-joyful-romance my heart needed. Chloe Liese continues to reign as the master of steamy romance!"—Sarah Adams, author of The Cheat Sheet

"Lush, swoony contemporary take on Shakespeare's Much Ado About Nothing… Liese weaves in aspects of Benedick and Beatrice's love story (and famous dialogue exchanges) in winking, witty ways. It's the perfect acknowledgement of this endlessly intoxicating, sparring, enemies-to-lovers couple."—Entertainment Weekly

"Much Ado About Nothing gets a sexy contemporary spin in this fake-dating romance about an unlikely pair who attempt to get revenge on their matchmaking friends and family by pretending to fall in love and then dramatically break up."—Buzzfeed

"From a meet-cute that crackles with wit and humor to pages upon pages of scorching tension, Liese has crafted a warm, delightful novel that emphasizes acceptance, communication, and the self-worth we can discover by both daring to love and letting ourselves be loved…An effervescent reimagining of the Bard packaged in an opposites-attract romance."—Kirkus Reviews (starred review)

"In this lighthearted rom-com riff on Shakespeare's Much Ado About Nothing from Liese… the banter is easy and the heat level is high."—Publishers Weekly

"In this exceptionally smart and charming romance… Liese's writing is crisp and funny, the characters are fully engaging, and the story is delightful."—Booklist
 
"Liese (Everything for You) nods to Shakespeare's Much Ado About Nothing here, and readers will enjoy the snarky banter and other similarities to the play, along with the enemies-to-lovers plot, solid character development, and a little heat. Perfect for fans of The Hating Game by Sally Thorne."—Library Journal

"Chloe Liese's charming new novel, Two Wrongs Make A Right, offers a fresh take on the fake-dating theme… Bea and Jamie, whose stories play out through chapters from alternating viewpoints, are fresh and funny, and readers will be rooting for them all the way."—Book Reporter
Free Media Mail shipping on U.S. orders over $50