Best Men (Paperback)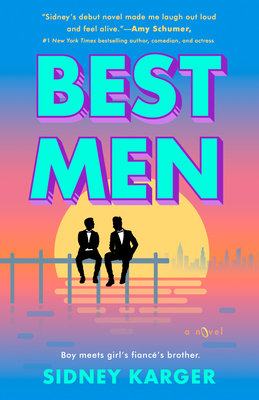 Description
---
"Bursting with laughs and so much love, Sidney Karger's debut novel delivers a truly refreshing spin on the romantic comedy…A big-hearted, feel-good summer escape."—Anderson Cooper, #1 New York Times bestselling author and journalist

When two best men in a wedding party fall for each other, they realize love isn't a piece of cake in this hilarious and heartfelt romantic comedy debut by screenwriter Sidney Karger.

Max Moody thought he had everything figured out. He's trying to live his best life in New York City and has the best friend a gay guy could ask for: Paige. She and Max grew up next door to each other in the suburbs of Chicago. She can light up any party. She finishes his sentences. She's always a reliable splunch (they don't like to use the word brunch) partner. But then Max's whole world is turned upside down when Paige suddenly announces some huge news: she's engaged and wants Max to be her man of honor. Max was always the romantic one who imagined he would get married before the unpredictable Paige and is shocked to hear she's ready to settle down. But it turns out there's not just one new man in Paige's life—there are two.

There's the groom, Austin, who's a perfectly nice guy. Then there's his charming, fun and ridiculously handsome gay younger brother, Chasten, who is Austin's best man. As Paige's wedding draws closer, Max, the introverted Midwesterner, and Chasten, the social butterfly East Coaster, realize they're like oil and water. Yet they still have to figure out how to coexist in Paige's life while not making her wedding festivities all about them. But can the tiny romantic spark between these two very different guys transform their best man supporting roles into the leading best men in each other's lives?
About the Author
---
Sidney Karger is an award-winning screenwriter for film and television. He is a former writer/director with Comedy Central, MTV and AMC, among other networks, and contributing writer for Saturday Night Live, Billy On The Street and McSweeney's. He currently lives in New York City with his partner and their Australian Labradoodle, Zelda. Best Men is his debut novel.
Praise For…
---
"Bursting with laughs and so much love, Sidney Karger's debut novel delivers a truly refreshing spin on the romantic comedy. It's full of funny, flawed and poignant characters, set in the dreamy, sharply-observed New York City that we love. Best Men is a big-hearted, feel-good summer escape."—Anderson Cooper, #1 New York Times bestselling author and journalist

"Sid's debut novel made me laugh out loud and feel alive."—Amy Schumer, #1 New York Times bestselling author, comedian, and actress

"There's so much to love about Sid's brilliantly hilarious debut book. With sharp-witted dialogue, charming, smart characters and tons of heart, Best Men is such a funny, clever, fresh take on modern romance. From start to finish, you won't stop laughing! I just loved it!!!!"—Molly Shannon, New York Times bestselling author, comedian, and actress

"Best Men takes the reins of the rom com and reinvents the genre in a thoroughly modern way. Karger's debut is inventive, hilarious, and satisfying; it's also a keenly-observed portrayal of love and friendship. This is a hilarious, heartfelt, charmer of a book."—Grant Ginder, author of Let's Not Do That Again and The People We Hate at the Wedding

"With an unforgettable voice, Best Men is all at once funny, tender, and wise. A sexy, swoony, summer love story to get lost in!"—Ashley Herring Blake, USA Today bestselling author of Astrid Parker Doesn't Fail

"This appealing debut...offers plenty to enjoy."—Publishers Weekly

"Karger's debut is laugh-out-loud funny, and Max is the epitome of millennial dry humor...Max and Paige's friendship is ultimately the star of the show, and readers will find their banter reminiscent of fan favorites like Amy Poehler and Tina Fey or Dan Levy and Annie Murphy."—Kirkus

"With a spot-on gift for writing dryly witty banter and a deliciously acerbic sense of humor in the Nora Ephron mode, Karger…makes his fiction debut. A fun and flirty rom-com that is the perfect addition to beach bags and suitcases."—Booklist

"The narrative voice is terrifically modern, punchy and enjoyable."—All About Romance
Free Media Mail shipping on U.S. orders over $75
"Ships from warehouse" books to be shipped: order by Wednesday, 12/6
"Ships from warehouse" books for pickup: order by Tuesday, 12/12