Silver Nitrate (Hardcover)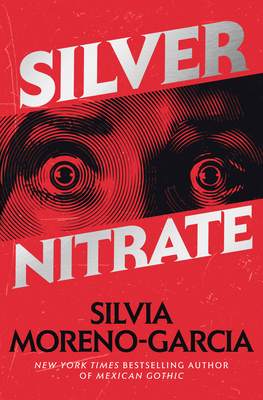 $28.00

Coming soon - PRE-ORDER NOW!
Description
---
From the New York Times bestselling author of The Daughter of Doctor Moreau and Mexican Gothic comes a fabulous meld of Mexican horror movies and Nazi occultism: a dark thriller about the curse that haunts a legendary lost film—and awakens one woman's hidden powers.

"No one punctures the skin of reality to reveal the lurking, sinister magic beneath better than Silvia Moreno-Garcia."—Kiersten White, #1 bestselling author of Hide

Montserrat has always been overlooked. She's a talented sound editor, but she's left out of the boys' club running the film industry in '90s Mexico City. And she's all but invisible to her best friend, Tristán, a charming if faded soap opera star, though she's been in love with him since childhood.

Then Tristán discovers his new neighbor is the cult horror director Abel Urueta, and the legendary auteur claims he can change their lives—even if his tale of a Nazi occultist imbuing magic into highly volatile silver nitrate stock sounds like sheer fantasy. The magic film was never finished, which is why, Urueta swears, his career vanished overnight. He is cursed.

Now the director wants Montserrat and Tristán to help him shoot the missing scene and lift the curse . . . but Montserrat soon notices a dark presence following her, and Tristán begins seeing the ghost of his ex-girlfriend.

As they work together to unravel the mystery of the film and the obscure occultist who once roamed their city, Montserrat and Tristán may find that sorcerers and magic are not only the stuff of movies.
About the Author
---
Silvia Moreno-Garcia is the author of the novels The Daughter of Dr. Moreau, Velvet Was the Night, Mexican Gothic, Gods of Jade and Shadow, and a bunch of other books. She has also edited several anthologies, including the World Fantasy Award–winning She Walks in Shadows (aka. Cthulhu's Daughters). She has won the British Fantasy Award and the Locus Award for her work as a novelist.
Praise For…
---
"Hip as hell, Silver Nitrate delivers a cinematic and exhilarating punch. Silvia Moreno-Garcia does it again with this creepy and unforgettable occult thriller, teeming with the decadence of old horror movies. It's Mexico City in the 1990s, where beepers, cigarettes, and the ghost of an ex-girlfriend come alive as if leaping from the page. I felt cooler just reading it."—Kali Fajardo-Anstine, bestselling author of Woman of Light and Sabrina & Corina

"I'd read hundreds of pages of just Montserrat and Tristán being cantankerously charming best friends, but add a cursed film and a secret society of sorcerers? Perfection. No one punctures the skin of reality to reveal the lurking, sinister magic beneath better than Silvia Moreno-Garcia."—Kiersten White, #1 New York Times bestselling author of Hide

"Silvia Moreno-Garcia is a treasure and Silver Nitrate is a gem: a chilling roller coaster of a tale that captures perfectly why we love horror movies, scary books, and things that go bump in the night."—Chris Bohjalian, New York Times bestselling author of The Lioness

"Silver Nitrate is a popcorn thrill ride into the underbelly of 1990s Mexican horror movies and occultism. Moreno-Garcia crafts a world so rich with details and history that you won't be able to look away. Beyond being a breakneck read, this book forces readers to reckon with the monsters that scare us, on screen and in the shadows."—Dana Schwartz, #1 New York Times bestselling author of Anatomy: A Love Story

"Moreno-Garcia takes readers behind the scenes of 1993 Mexico City's horror movie industry in this powerful and chilling thrill ride. . . . The narrative shifts effortlessly between fantasy, horror, and romance, helmed by a well-shaded cast. The complex female characters are particular standouts. This is a knockout."—Publishers Weekly (starred review)

"You don't just read this book, you live in it—and it will charm you, intrigue you, and scare the daylights out of you."—Tim Powers, World Fantasy Award–winning author of The Anubis Gates
We will be open on Memorial Day from 10 AM until 6 PM.
Free Media Mail shipping on U.S. orders over $50