Dial A for Aunties (Paperback)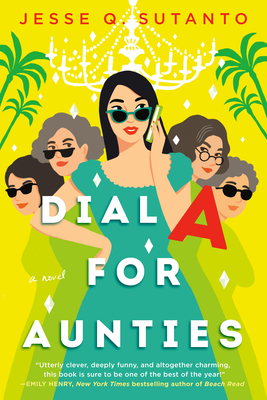 Staff Reviews
---
When Meddy goes on a blind date arranged by her mother in a mild catfishing situation, the worst she thinks could happen is she gets a free meal from a creepy guy. One thing leads to another, and now his body is in her aunt's freezer on a private island where her family is hosting the biggest wedding of their career. The chaos that ensues is nothing short of delightful, the characters are well developed and loveable, and the conclusion is satisfying. Finlay Donovan fans: your next great read is here!
— tee
Description
---
"Sutanto brilliantly infuses comedy and culture into the unpredictable rom-com/murder mystery mashup as Meddy navigates familial duty, possible arrest and a groomzilla. I laughed out loud and you will too."—USA Today (four-star review)

"A hilarious, heartfelt romp of a novel about—what else?—accidental murder and the bond of family. This book had me laughing aloud within its first five pages… Utterly clever, deeply funny, and altogether charming, this book is sure to be one of the best of the year!"—Emily Henry, New York Times bestselling author of Beach Read

One of NPR's Best Books of 2021!

One of PopSugar's "42 Books Everyone Will Be Talking About in 2021"!


What happens when you mix 1 (accidental) murder with 2 thousand wedding guests, and then toss in a possible curse on 3 generations of an immigrant Chinese-Indonesian family? 

You get 4 meddling Asian aunties coming to the rescue! 


When Meddelin Chan ends up accidentally killing her blind date, her meddlesome mother calls for her even more meddlesome aunties to help get rid of the body. Unfortunately, a dead body proves to be a lot more challenging to dispose of than one might anticipate, especially when it is inadvertently shipped in a cake cooler to the over-the-top billionaire wedding Meddy, her Ma, and aunties are working at an island resort on the California coastline. It's the biggest job yet for the family wedding business—"Don't leave your big day to chance, leave it to the Chans!"—and nothing, not even an unsavory corpse, will get in the way of her auntie's perfect buttercream flowers.

But things go from inconvenient to downright torturous when Meddy's great college love—and biggest heartbreak—makes a surprise appearance amid the wedding chaos. Is it possible to escape murder charges, charm her ex back into her life, and pull off a stunning wedding all in one weekend?
About the Author
---
Jesse Q Sutanto grew up shuttling back and forth between Indonesia, Singapore, and Oxford, and considers all three places her home. She has a Masters from Oxford University, but she has yet to figure out how to say that without sounding obnoxious. Jesse has forty-two first cousins and thirty aunties and uncles, many of whom live just down the road. When she's not writing, she's gaming with her husband (mostly FPS), or making a mess in the kitchen with her two daughters.
Praise For…
---
One of PopSugar's "42 Books Everyone Will Be Talking About in 2021" and "Best New Books of April 2021"!

"Jesse Q. Sutanto's Dial A for Aunties is a hilarious, heartfelt romp of a novel about—what else?—accidental murder and the bond of family. This book had me laughing aloud within its first five pages, and kept me bouncing between anxiety and delight until its very last. Utterly clever, deeply funny, and altogether charming, this book is sure to be one of the best of the year!"—Emily Henry, New York Times bestselling author of Beach Read

"Sutanto brilliantly infuses comedy and culture into the unpredictable rom-com/murder mystery mashup as Meddy navigates familial duty, possible arrest and a groomzilla. I laughed out loud and you will too."—USA Today (four-star review)

"I LOVED it. Whip-smart, original and so funny. I found it impossible to put down and lost count of the number of times I laughed out loud."—Beth O'Leary, Sunday Times bestselling author of The Switch

"It's a high-wire act of comic timing, misunderstandings, romantic foibles and possibly foiled heists…The glue is Meddeline, endearing, capable and in full thrall to her elders, who are all absolute hoots to keep company with."—The New York Times Book Review

"If you loved Crazy Rich Asians and all the comedic family drama, you'll definitely get a kick out of this story."—PopSugar

"Part thriller, part rom-com, Jesse Q. Sutanto's Dial A for Aunties will give you the good laugh we could all use these days."—Marie Claire

"Comparisons to Crazy Rich Asians are apt, as the author details the wild spending and luxurious lifestyles of the superrich. But this story is filled with mistaken identity, a gaggle of intoxicated groomsmen, five lovably hilarious sisters, and slapstick humor that leans more toward the film Clue. Readers will die for the delightfully absurd hijinks in this dark comedy."—Kirkus Reviews

"Wrap a romcom with a crime novel, sprinkle in Weekend At Bernie's, and you get this deliciously fun, big-hearted book…. If you love romcoms (this is PERFECT for adaptation) do not miss this 2021 gem of a release."—BookRiot

"Dial A for Aunties is a hilariously quirky novel that is equal parts murder mystery, rom-com, and a celebration of mothers and daughters as well as a deep dive into Chinese-Indonesian culture."—Library Journal

"The best parts are Sutanto's portrayal of the bantering, interfering aunties (" 'How could you set Meddy up with such a douchebag?' Fourth Aunt snaps at Ma"), who excel at wreaking havoc. There's plenty of light entertainment here..."—Publishers Weekly

"Murder is never funny, except when it is. In Sutanto's rollicking debut, which she describes in a "Dear reader" foreword as "a love letter to my family—a ridiculously large bunch with a long history of immigration," a fatal accident begets family reconciliation, true love at second sight, and happy beginnings all around."—Booklist

"A tightly-plotted, highly comic romp, Dial A for Aunties keeps you guessing till the very last twist. A+!"—Lauren Ho, author of Last Tang Standing

"This laugh-out-loud tale is part crime novel, part romantic comedy, part immigration story, and full of heart."—BookBub

"Dial A for Aunties has redefined what 'page-turner' means to me...If you're in the mood for laugh-out-loud humor, unprecedented mayhem (involving meddlesome family members and over-the-top drama), and delightful twists and turns at every corner, I highly recommend Dial A for Aunties."—Buzzfeed

"A tantalizing blend of romantic mishaps, quirky relatives, and a behind-the-scenes look at the wedding industry, Dial A for Aunties is proof of a promising new writer."—Mystery Scene Magazine

"A delicious and devourable read."—E! Online

"Dial A for Aunties is a warm, hilarious book that deftly straddles genres to tell a story of romance, murder, and the joys of having a family full of strong women."—PopSugar

"Meddy Chan didn't mean to kill her terrible blind date. And she definitely didn't mean for the body to end up at the island resort where she and her aunties are working as planners for a billionaire's wedding...the same resort her college boyfriend apparently owns. To say that hilarious hijinks ensue would be an understatement."—Good Housekeeping

"You know when you just want to read a hilarious, murder mystery, romcom? Well, here it is! Sutanto is serving wedding weirdness, ex exigence and Auntie antics for the win. "—Ms. Magazine

"A quirky novel that's as fun as a rom-com and as nail-biting as a murder mystery."—The Tempest

"If you're looking for something uplifting with dark humor, spontaneity, and a bit of romance sprinkled in, this may be a good choice for your next read."—The Young Folks

"Genuinely hilarious, romantic and sweet, Dial A for Aunties is brilliantly crafted and compulsively fun to read."—BookReporter.com
Free Media Mail shipping on U.S. orders over $50