Still Life (Paperback)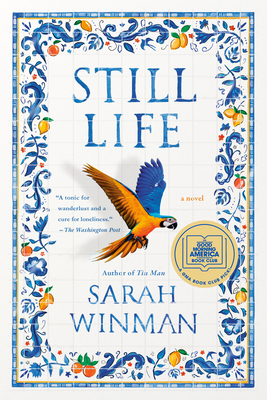 Staff Reviews
---
I want to crawl inside this book and live there. I adored all of these strange, funny characters, (including the Shakespeare-quoting parrot) and the rich descriptions of Florence made me feel like I was right there in the piazza.
— Lily
November 2021 Indie Next List
---
"This is one of those books that captured my heart and would not let go — the characters will stay with you for a long time. A makeshift family story covering several decades is beautifully developed and oh so funny and tender."
— Jude Sales, Readers' Books, Sonoma, CA
Description
---
A Good Morning America Book Club Pick

A captivating, bighearted, richly tapestried story of people brought together by love, war, art, flood, and the ghost of E. M. Forster, by the celebrated author of Tin Man.

Tuscany, 1944: As Allied troops advance and bombs sink villages, a young English soldier, Ulysses Temper, finds himself in the wine cellar of a deserted villa. There, he has a chance encounter with Evelyn Skinner, a middle-aged art historian intent on salvaging paintings from the ruins. In each other, Ulysses and Evelyn find a kindred spirit amidst the rubble of war-torn Italy, and paint a course of events that will shape Ulysses's life for the next four decades.

Returning home to London, Ulysses reimmerses himself in his crew at The Stoat and Parot—a motley mix of pub crawlers and eccentrics—all the while carrying with him his Italian evocations. So, when an unexpected inheritance brings him back to where it all began, Ulysses knows better than to tempt fate: he must return to the Tuscan hills.

With beautiful prose, extraordinary tenderness, and bursts of humor and light, Still Life is a sweeping portrait of unforgettable individuals who come together to make a family, and a deeply drawn celebration of beauty and love in all its forms.

About the Author
---
Sarah Winman is the author of three previous novels, Tin Man, A Year of Marvelous Ways, and When God Was a Rabbit. She lives in London.
Praise For…
---
Winner of the InWords Literary Award

A Good Morning America Book Club Pick
A Veranda Magazine Book Club Pick
A Parade Best Book of the Year

One of:
The Millions's Most Anticipated Books of 2021
Bookbub's The Best Historical Fiction to Read This Fall
Parade's 25 Books We've Loved Reading This Fall
Parade's Best Book of the Year
Veranda's 25 Best New Books for Fall 2021
Lit Hub's Best Books of the Week November

"A tonic for wanderlust and a cure for loneliness. It's that rare, affectionate novel that makes one feel grateful to have been carried along. Unfurling with no more hurry than a Saturday night among old friends, the story celebrates the myriad ways love is expressed and families are formed….Endlessly charming...The novel never feels anything less than captivating because Winman creates such a flawless illusion of spontaneity, an atmosphere capable of sustaining these characters' macabre wit, comedy of manners and poignant longing." —The Washington Post


"The incredible storytelling, lovable characters, and sweeping settings make this novel an absolute delight, proving that serious fiction does not have to be only dark and depressing."—Real Simple

"[A] winsome, large-hearted novel . . . [Still Life] pulses from the page." —Entertainment Weekly

"A World War II novel that feels fresh is a rare commodity. . . . Constant literary surprises abound." —Entertainment Weekly

"Sarah Winman's sweeping Still Life is a parade of small stories, intimate connections and complex characters whose lives illuminate the tedium and cataclysms of the 20th century. . . . The real magic of Still Life is the elevation of the ordinary, the unabashed consecration of human experiences. . . . Sentence after sentence, character by character, Still Life becomes poetry." —New York Times Book Review

"In a novel as rich and alluring as a glass of Chianti—and there's a lot of Chianti in this novel—Evelyn, a middle-aged art historian, and Ulysses, a soldier, hunker down in Tuscany near the end of World War II, crossing paths with E.M. Forster and other Italophiles. The legacy of their unexpected friendship highlights Winman's grand theme: Art is the torch we carry in darkness." –Oprah Daily

"This sweeping, historical tale brings together an unlikely group of friends – a young English soldier, an aging art historian, a pub owner, a pianist and more – in an epic set against the backdrop of mid-to-late-20th-century Florence." –USA Today

"In this thoroughly warm, witty, entertaining, and character-driven novel spanning decades, Winman shares bighearted ideas about friendship, love, art, and community….It is hard to envision a reader who won't be smitten by Winman's characters and their banter, like old Cressy, who takes his advice from a tree, and Claude, the blue parrot who may be Shakespeare reincarnated. These lives may not be the stuff of legend, but they are still life." —Booklist (starred review)

"An epic about a family of friends who make the city of Florence their home in the mid-to-late 20th century . . . [The] narrative feels almost breathless at times . . . which makes it feel as if the unknown narrator is relating a long story deep into the night....An unexpected treatise on the many forms love and beauty can take, set against the backdrop of Florence." —Kirkus Reviews (starred review)

"Still Life is, ultimately, a celebration of Italy, with loving descriptions of its buildings and countryside, of old women gossiping on stone benches. . . . Light yet satisfying." —BookPage (starred review)

"Lush. . . Many rich sections about art, relationships and the transcendent beauty of Tuscany. . . Readers will enjoy this paean to the power of love and art." —Publishers Weekly

"Spanning decades and bringing readers from London to Italy, Still Life is a moving look at love and friendship as well as the power of art." —Bookbub

"Still Life is a lot of things—a history of Italy in the post-war years, an ode to chosen families, a homage to A Room with a View by E.M. Forster, a reminder of the importance of art and art history—but most of all, it's just a really good story." —Hey Alma

"[A] book full of wonder and love and terrific writing. . .The writing in this book is so vivid that you laugh on one page and cry on the next. The characters offer insights that resonate in all of us." —Fredericksburg Free Lance-Star

"The kind of story that makes your heart full.  I fell so in love with these characters that it felt as if they were my dearest friends, and that's the best sort of book to fall into." –Jenny Lawson, author of Broken and Let's Pretend This Never Happened

"Still Life is simultaneously expansive and intimate, a heady brew of disasters, both natural and manmade, of death and life, of the power of great art and, most especially, the resonance of those loves we carry for a lifetime. A truly spectacular achievement. I've never read anything quite like it." —Karen Joy Fowler, author of We Are All Completely Beside Ourselves
 
"From its opening pages Still Life embodies the full generosity of the human spirit. This vast, ambitious, galloping bear-hug of a book unashamedly celebrates love in all its many forms. Love of art, love of strangers, love of a good glass of Italian wine and a bowl of pasta cooked with enough salt to taste like the sea. Love of stories. Love of love." —Rachel Joyce, author of The Unlikely Pilgrimage of Harold Fry
 
"The sheer joy in [Winman's] storytelling is completely infectious. I've loved spending time with this unforgettable cast of characters in extraordinary times and places." —Graham Norton
 
"Still Life is a playful, Maupinesque exploration of the elective family and its possibilities. Four-course nourishment for all Winman fans, it harnesses big-hearted storytelling to a dizzying historical sweep to celebrate love in all the available colors." —Patrick Gale, author of Take Nothing With You
 
"I loved this extraordinary, astonishing, and exquisite novel. The story of damaged characters restored and repaired by the truth and beauty of Tuscany, as Florence itself is restored and repaired post-war and post-flood, is beautifully told. A joy and a pleasure, my book of the year." —Liz Nugent, author of Little Cruelties
 
"An utterly beautiful story, so generous, rich, deeply moving, and filled with hope. Sarah Winman is a genius and one of the greatest storytellers of our time." —Joanna Cannon, author of The Trouble with Goats and Sheep
 
"This book saved my soul during these very strange times. I loved every word, every sentence, every beat. It's about love and our defining moments, and it is utterly beautiful. The characters and places now live in my own memory—to be cherished forever." —Favel Parrett, author of Past the Shallows

"Readers will want to prolong the pleasure of Sarah Winman's beautiful novel Still Life for as long as possible. It is a book to get lost in, the kind of story that bolsters the heart and soul. I loved it." —Donal Ryan, author of From a Low and Quiet Sea
Free Media Mail shipping on U.S. orders over $75