Wastelands: The True Story of Farm Country on Trial (Hardcover)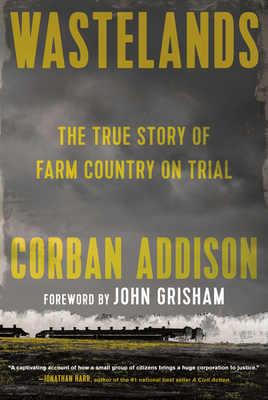 $30.00

Ships from warehouse to store in 3-6 business days
Staff Reviews
---
Corban Addison takes us on an intimate, compelling journey from the woods and hog farms of Eastern North Carolina, to a courageous law office in Salisbury, through research labs at UNC-Chapel Hill and legislative offices in Raleigh, to the Fourth Circuit Court of Appeals in Richmond, Virginia. Spanning the years 1958 to 2020, Wastelands is, simultaneously, an edge-of-your seat thriller, a manifesto against corporate hubris and greed, and an inspiring tale of heroes who risked their birthright or livelihoods for justice and the right to inhabit the land they love. That Addison could take such a complex case, with so many legal twists and turns, make it understandable, and bring every character, hero or villain, to life, attests to his tremendous storytelling talents.  It's no wonder that John Grisham says, "Wastelands is a story I wish I had written." This is a true tale, beautifully told, that every North Carolinian should read.
— Sarah G.
Description
---
"Beautifully written, impeccably researched, and told with the air of suspense that few writers can handle, Wastelands is a story I wish I had written." —From the Foreword by John Grisham
 
The once idyllic coastal plain of North Carolina is home to a close-knit, rural community that for more than a generation has battled the polluting practices of large-scale farming taking place in its own backyard. After years of frustration and futility, an impassioned cadre of local residents, led by a team of intrepid and dedicated lawyers, filed a lawsuit against one of the world's most powerful companies—and, miraculously, they won.

As vivid and fast-paced as a thriller, Wastelands takes us into the heart of a legal battle over the future of America's farmland and into the lives of the people who found the courage to fight.

There is Elsie Herring, the most outspoken of the neighbors, who has endured racial slurs and the threat of a restraining order to tell the story of the waste raining down on her rooftop from the hog operation next door. There is Don Webb, a larger-than-life hog farmer turned grassroots crusader, and Rick Dove, a riverkeeper and erstwhile military judge who has pioneered the use of aerial photography to document the scale of the pollution. There is Woodell McGowan, a quiet man whose quest to redeem his family's ancestral land encourages him to become a better neighbor, and Dr. Steve Wing, a groundbreaking epidemiologist whose work on the health effects of hog waste exposure translates the neighbors' stories into the argot of science. And there is Tom Butler, an environmental savant and hog industry insider whose whistleblowing testimony electrifies the jury.

Fighting alongside them in the courtroom is Mona Lisa Wallace, who broke the gender barrier in her small southern town and built a storied legal career out of vanquishing corporate giants, and Mike Kaeske, whose trial skills are second to none.

With journalistic rigor and a novelist's instinct for story, Corban Addison's Wastelands captures the inspiring struggle to bring a modern-day monopoly to its knees, to force a once-invincible corporation to change, and to preserve the rights—and restore the heritage—of a long-suffering community.
About the Author
---
CORBAN ADDISON is the internationally best-selling author of four novels, A Walk Across the Sun, The Garden of Burning Sand, The Tears of Dark Water (winner of the inaugural Wilbur Smith Adventure Writing Prize), and A Harvest of Thorns, all of which address some of today's most pressing human rights issues. An attorney, activist, and world traveler, he lives with his wife and children in Virginia.
Praise For…
---
"[Addison's] skills at storytelling are evident here . . . His research is rigorous and he builds the story to a fascinating denouement worthy of a suspense novel – a good suspense novel."
—Minneapolis StarTribune
 
"In Wastelands, Corban Addison tells the extraordinary story of how some North Carolina residents stood up to a meatpacking company polluting their communities … [A] legal thriller, full of energy and compassion … [and] a damning portrait of how we feed ourselves …"
—Eric Schlosser, The New York Times Book Review

"[F]illed with charismatic, colorful characters … lovingly and sincerely wrought … [T]he satisfaction of a book like Wastelands lies in a truly rare kind of redemption. Goliath is slain. The good guys win. And Addison has the pleasure of being the verdict's messenger."
—Leslie Pariseau, The Los Angeles Times   

"Wastelands is the true story of an epic battle of power and justice, good and evil, with heroes to remind us that there is virtue in the world."
—Miwa Messer, Barnes & Noble Poured Over Podcast  

"In this book, Addison turns a novelist's eye to the thorny complexities of a real legal case. The prose is lyrical, the cast of characters jump to life on the page, and the result is a captivating account of how a small group of citizens bring a huge corporation to justice."
—Jonathan Harr, author of the #1 national bestseller A Civil Action

"Gripping . . . Corban Addison chronicles a grassroots effort in North Carolina to push back against the environmental damage done by large-scale farming . . . For anyone concerned with the natural world."
—InsideHook

"Deeply researched and crafted like a legal thriller . . . Corban Addison turns to nonfiction to tell this harrowing story of a large-scale, industrial hog farm with a long history of polluting a community on the coast of North Carolina and the heroic efforts individuals in the community."
—The Atlanta Journal-Constitution

"Inspiring. . . absorbing. . . in this page-turning exposé of corporate malfeasance, . . . [Addison] strikingly underscores why American courts are so often a last resort for those wronged by structural economic injustice."
—Kirkus Reviews [starred review]

"Exceptional. . . heartbreaking. . .Addison reveals how a cadre of dedicated lawyers and long-suffering North Carolina families fought, and won, against Big Pork. . .This high-stakes legal saga is a must-read."
—Publishers Weekly [starred review]

"[Wastelands] reads like a novel, which had it been fiction would be hardly believable. Seldom does life offer such clear examples of sheer maleficence . . . You'll not believe this could happen here."
—Decatur Daily
Free Media Mail shipping on U.S. orders over $50