Miss Julia Happily Ever After: A Novel (Hardcover)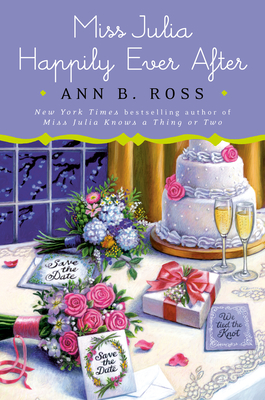 Other Books in Series
This is book number 22 in the Miss Julia series.
Description
---
The delightful final installment of the beloved and New York Times bestselling Miss Julia series

Wedding fever hits Abbotsville and several of Miss Julia's friends have plans to tie the knot. But, as usual, nothing is so simple. Christy Hargrove suddenly gives up a lifelong dream and drops out of medical school to marry, Helen Stroud and Thurlow Jones decide to change their commercial arrangement into a marital one, and, to Miss Julia's consternation, Lillian, her housekeeper and closest companion, is considering a less-than-romantic offer to wed a local businessman who turns courting into a job interview. And then there's LuAnne who just wants to be married, and Janelle who doesn't.

Miss Julia wants to properly celebrate each ceremony, insofar as anyone will let her. But Helen wants a private, even secretive, wedding; Christy's fiancé wants a destination wedding, and Lillian can't decide if she wants a wedding at all. In the middle of it all, a strange figure keeps showing up in town, streaking across lawns and vandalizing the gardens of Miss Julia's neighbors. Abbotsville's liveliest resident finds herself trying to solve it all---matters of the heart and petty crime alike---and once again save the day.
About the Author
---
Ann B. Ross is the author of more than a dozen novels featuring the popular Southern heroine Miss Julia, as well as Etta Mae's Worst Bad-Luck Day, a novel about one of Abbotsville's other most outspoken residents: Etta Mae Wiggins. Ross holds a doctorate in English from the University of North Carolina at Chapel Hill, and has taught literature at the University of North Carolina at Asheville. She lives in Hendersonville, North Carolina
Praise For…
---
Praise for Ann B. Ross and the Miss Julia series:

"A charming, fun adventure with new relatives, old secrets and a will putting Miss Julia and the Abbotsville regulars in a true Southern mess. I loved it!" —Duffy Brown, bestselling author of the Consignment Shop Mystery Series

"Ann B. Ross develops characters so expertly, through quirks, names, and mannerisms, that they easily feel familiar as the reader is gently immersed into the world Miss Ross has created. . . . A delightful read." —Winston-Salem Journal

"Miss Julia is one of the most delightful characters to come along in years. Ann B. Ross has created what is sure to become a classic Southern comic novel. Hooray for Miss Julia, I could not have liked it more." —Fannie Flagg, author of The All-Girl Filling Station's Last Reunion

"Yes, Miss Julia is back, and I, for one, am one happy camper." —J.A. Jance, author of Cold Betrayal

"Ross has a gift for elevating such everyday matters as marital strife and the hazards of middle age to high comedy, while painting her beautifully drawn characters with wit and sympathy." —Publishers Weekly
Free Media Mail shipping on U.S. orders over $50
Christmas ordering guidelines
"Ships from warehouse" items to be shipped: Order by Monday, 12/5
"Ships from warehouse" items to be picked-up in store: Order by Monday, 12/12
On hand items: We'll pull items in order of orders received, so keep them coming!