7: An Experimental Mutiny Against Excess (Updated and Revised) (Paperback)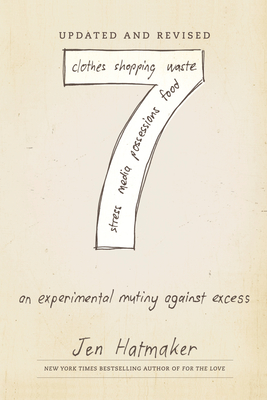 Description
---
Why do we pursue more when we'd be happier with less? This is the story of how New York Times bestselling author Jen Hatmaker and her family tried to combat overindulgence—and what they learned about living a truly meaningful life along the way.

Do you feel trapped in the machine of excess? Jen Hatmaker was. Her friends were. And some might say that our culture is. Jen once considered herself unmotivated by the lure of prosperity, but after she was called "rich" by an undeniably poor child, evidence to the contrary mounted and a social experiment turned spiritual journey was born.
 
7 is the true story of how Jen (along with her husband and her children) took seven months, identified seven areas of excess, and made seven simple choices to fight back against the modern-day diseases of materialism and overindulgence: food, clothes, possessions, media and technology, spending, waste, and stress.
 
So, what's the payoff from living a deeply reduced life? It's the discovery of a greatly
 increased God—a call toward Christ-like simplicity and generosity that transcends a social experiment to become a radically better life. Revised and updated to reflect newer challenges of modern life, 7 is funny, raw, and not a guilt trip in the making, so come along and consider what Jesus' version of rich, blessed, and generous might look like in your life.
About the Author
---
Jen Hatmaker is the author of the New York Times bestsellers For the Love and Fierce, Free, and Full of Fire. She hosts the award-winning For the Love podcast, is the delighted curator of the Jen Hatmaker Book Club, and leads a tightly knit online community, reaching millions of people each week. Hatmaker is a co-founder of Legacy Collective, a giving community that grants millions of dollars around the world. She is a mom to five kids and lives happily just outside Austin, Texas, in a 1908 farmhouse with questionable plumbing.
Free Media Mail shipping on U.S. orders over $75