Millionaires for the Month (Hardcover)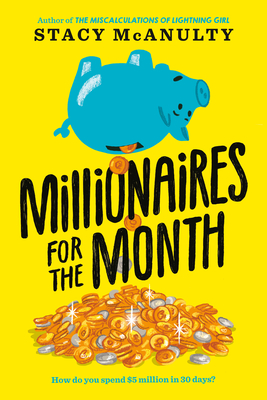 How would you spend 5 million dollars in 30 days? Felix Rannels and Benji Porter are challenged by a millionaire to spend this crazy amount. This challenge may seem easy, but there are specific rules that cause the game to become increasingly difficult.
As a huge fan of Stacy McAnulty's novels, I was extremely surprised because I think this is now my favorite that she has ever written! I have never read a book before with such a unique concept, which leads me to believe that this will be an amazing crowd pleaser!
— Laurel
Description
---
How would you spend five million dollars in 30 days? A billionaire's wallet, a bizarre challenge, and an unlikely friendship send two kids on a wild adventure. From the author of The Miscalculations of Lightning Girl.

Felix Rannells and Benji Porter were never supposed to be field-trip partners. Felix is a rule follower. Benji is a rule bender. They're not friends. And they don't have anything to talk about. Until . . .

They find a wallet. A wallet that belongs to tech billionaire Laura Friendly. They're totally going to return it-but not before Benji "borrows" twenty dollars to buy hot dogs. Because twenty dollars is like a penny to a billionaire, right?

But a penny has value. A penny doubled every day for thirty days is $5,368,709.12! So that's exactly how much money Laura Friendly challenges Felix and Benji to spend. They have thirty days. They can't tell anyone. And there are LOTS of other rules. But if they succeed, they each get ten million dollars to spend however they want.

Challenge accepted! They rent cool cars, go to Disney World, buy pizza for the whole school-and that's just the beginning! But money can't buy everything or fix every problem. And spending it isn't always as easy and fun as they thought it would be. . . .

As smart as it is entertaining, Millionaires for the Month is a thought-provoking story about friendship, privilege, and the value of a penny.
About the Author
---
Stacy McAnulty is the author of many books for young readers, including The Miscalculations of Lightning Girl, The World Ends in April, chapter book series The Dino Files and GoldieBlox, and picture books including Excellent Ed,101 Reasons Why I'm NOT Taking a Bath, and Beautiful. A former mechanical engineer, Stacy writes about math and science with authority. Visit her online at stacymcanulty.com or follow her on social media at:

Twitter: @stacymcanulty
Instagram: StacyMcAnulty
Facebook: StacyMcAnultyAuthor
Praise For…
---
"The absorbing spending spree reads like a fun family film, gleefully stuffed with the very opulence it warns against.... Cinematic, over-the-top decadence, a tense race against time, and lessons on what's truly valuable." –Kirkus Reviews

"The realities of middle school are well wrought, with crushes and crushing embarrassment alike.... The final message about money rings true." –Publishers Weekly