Foundation and Earth (Paperback)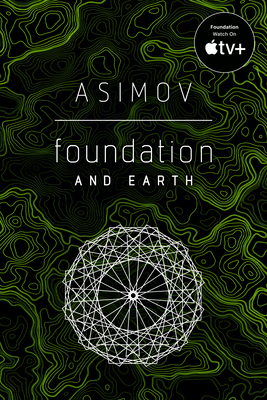 List Price: $18.00
Our Price: $17.00
(Save: $1.00 6%)
Ships from warehouse to store in 3-6 business days
Description
---
The fifth novel in Isaac Asimov's classic science-fiction masterpiece, the Foundation series

THE EPIC SAGA THAT INSPIRED THE APPLE TV+ SERIES FOUNDATION

Golan Trevize, former Councilman of the First Foundation, has chosen the future, and it is Gaia. A superorganism, Gaia is a holistic planet with a common consciousness so intensely united that every dewdrop, every pebble, every being, can speak for all—and feel for all. It is a realm in which privacy is not only undesirable, it is incomprehensible.

But is it the right choice for the destiny of mankind? While Trevize feels it is, that is not enough. He must know.

Trevize believes the answer lies at the site of humanity's roots: fabled Earth . . . if it still exists. For no one is sure where the planet of Gaia's first settlers is to be found in the immense wilderness of the Galaxy. Nor can anyone explain why no record of Earth has been preserved, no mention of it made anywhere in Gaia's vast world-memory. It is an enigma Trevize is determined to resolve, and a quest he is determined to undertake, at any cost.
About the Author
---
Isaac Asimov began his Foundation series at the age of 21, not realizing that it would one day be considered a cornerstone of science fiction. During his legendary career, Asimov penned over 470 books on subjects ranging from science to Shakespeare to history, though he was most loved for his award-winning science fiction sagas, which include the Robot, Empire, and Foundation series. Named a Grand Master of Science Fiction by the Science Fiction and Fantasy Writers of America, Asimov entertained and educated readers of all ages for close to five decades. He died, at the age 72, in April 1992.
Free Media Mail shipping on U.S. orders over $50