Under a White Sky: The Nature of the Future (Paperback)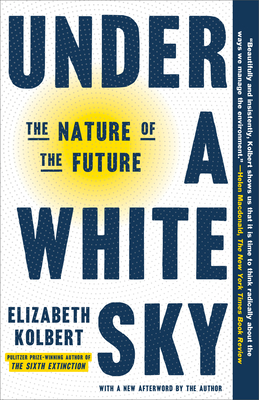 Description
---
NATIONAL BESTSELLER • The Pulitzer Prize–winning author of The Sixth Extinction returns to humanity's transformative impact on the environment, now asking: After doing so much damage, can we change nature, this time to save it?

RECOMMENDED BY PRESIDENT OBAMA AND BILL GATES • SHORTLISTED FOR THE WAINWRIGHT PRIZE FOR WRITING • ONE OF THE TEN BEST BOOKS OF THE YEAR: The Washington Post • ONE OF THE BEST BOOKS OF THE YEAR: Time, Esquire, Publishers Weekly, Kirkus Reviews • "Beautifully and insistently, Kolbert shows us that it is time to think radically about the ways we manage the environment."—Helen Macdonald, The New York Times  

With a new afterword by the author

That man should have dominion "over all the earth, and over every creeping thing that creepeth upon the earth" is a prophecy that has hardened into fact. So pervasive are human impacts on the planet that it's said we live in a new geological epoch: the Anthropocene.
 
In Under a White Sky, Elizabeth Kolbert takes a hard look at the new world we are creating. Along the way, she meets biologists who are trying to preserve the world's rarest fish, which lives in a single tiny pool in the middle of the Mojave; engineers who are turning carbon emissions to stone in Iceland; Australian researchers who are trying to develop a "super coral" that can survive on a hotter globe; and physicists who are contemplating shooting tiny diamonds into the stratosphere to cool the earth.

One way to look at human civilization, says Kolbert, is as a ten-thousand-year exercise in defying nature. In The Sixth Extinction, she explored the ways in which our capacity for destruction has reshaped the natural world. Now she examines how the very sorts of interventions that have imperiled our planet are increasingly seen as the only hope for its salvation. By turns inspiring, terrifying, and darkly comic, Under a White Sky is an utterly original examination of the challenges we face.
About the Author
---
Elizabeth Kolbert is the author of Field Notes from a Catastrophe: Man, Nature, and Climate Change and The Sixth Extinction, for which she won the Pulitzer Prize. For her work at The New Yorker, where she's a staff writer, she has received two National Magazine Awards and the Blake-Dodd Prize from the American Academy of Arts and Letters. She lives in Williamstown, Massachusetts, with her husband and children.
Praise For…
---
"Riveting . . . Under a White Sky expertly mixes travelogue, science reporting and explanatory journalism."—The Washington Post

"To be a well-informed citizen of Planet Earth, you need to read Elizabeth Kolbert. . . . It's a tribute to Kolbert's skills as a storyteller that she transforms the quest to deal with the climate crisis into a darkly comic tale of human hubris and imagination that could either end in flames or in a new vision of Paradise."—Jeff Goodell, Rolling Stone

"A superb and honest reflection of our extraordinary time."—Nature

"[Under a White Sky] exhibits Kolbert's sculptor-like skill for making climate change feel tangible, happening before our eyes and beneath our fingers."—Wired

"What makes Under A White Sky so valuable and such a compelling read is Kolbert tells by showing. Without beating the reader over the head, she makes it clear how far we already are from a world of undisturbed, perfectly balanced nature—and how far we must still go to find a new balance for the planet's future that still has us humans in it."—NPR
 
"From the Mojave to lava fields in Iceland, Kolbert takes readers on a globe-spanning journey to explore these projects while weighing their pros, cons, and ethical implications."—The Nation

"Pulitzer Prize winner Elizabeth Kolbert's beat is examining the impact of humans on the environment and she does it better than basically everyone."—Lit Hub
 
"An eye-opening—and at times terrifying—examination of just how far scientists have already gone in their attempts to re-engineer the planet."—Gizmodo

"If you like your apocalit with a side of humor, she will have you laughing while Rome burns."—MIT Technology Review

"Brilliantly executed and urgently necessary."—Publishers Weekly (starred review)

"A master elucidator, Kolbert is gratifyingly direct as she assesses our predicament between a rock and a hard place, creating a clarion and invaluable 'book about people trying to solve problems created by people trying to solve problems.'"—Booklist (starred review)

"Every paragraph of Kolbert's books has a mountain of reading and reporting behind it . . . Urgent, absolutely necessary reading as a portrait of our devastated planet."—Kirkus Reviews (starred review)

"A tale not of magic-bullet remedies where maybe this time things will be different when we intervene in nature, but rather of deploying a panoply of strategies big and small in hopes that there is still time to make a difference and atone for our past. A sobering and realistic look at humankind's perhaps misplaced faith that technology can work with nature to produce a more livable planet."—Library Journal (starred review)
We will be open on Memorial Day from 10 AM until 6 PM.
Free Media Mail shipping on U.S. orders over $50