Oaths of Legacy: Book Two of The Bloodright Trilogy (Hardcover)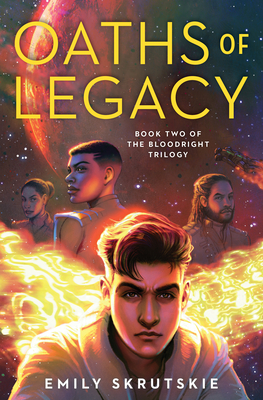 Other Books in Series
This is book number 2 in the The Bloodright Trilogy series.
Description
---
Torn between loyalty and love, a young prince will learn how much he's willing to sacrifice as he tries to destroy the rebellion that threatens his throne in the exhilarating sequel to Bonds of Brass.

"A knockout."—Publishers Weekly (starred review)
 
Gal's destiny has always been clear: Complete his training at the military academy, prove his worth as a royal successor, and ascend to the galactic throne. When a failed assassination plot against Gal sends him and Ettian—his infuriatingly enticing roommate—on a mad dash through the stars, Gal's plans are momentarily disrupted. But he was born to rule the Umber Empire, and with Ettian by his side, nothing will stop him from returning home and crushing the growing insurgency threatening his family's power.

Yet nothing is ever that simple in war—or in love. Gal is captured by the rebellion during a skirmish and faces public execution, his grand fate cut short. To save Gal's life, Ettian does the unthinkable: He reveals himself as the secret heir to the fallen Archon Empire and rightful leader of the rebellion . . . and, therefore, Gal's sworn enemy. Now a political hostage in this newly reignited conflict, Gal must use his limited resources to sabotage the rebellion from within, concoct an escape plan, and return to the empire he's destined to lead. And if that means taking down the man he thought he loved?

All the better.
About the Author
---
Emily Skrutskie was born in Massachusetts, raised in Virginia, and forged in the mountains above Boulder, Colorado. She attended Cornell University and now lives and works in Los Angeles. Skrutskie is the author of Bonds of Brass, Hullmetal Girls, The Abyss Surrounds Us, and The Edge of the Abyss.
Praise For…
---
Praise for Oaths of Legacy

"Oaths of Legacy is a wildly thrilling and fast-paced sci-fi adventure, and equal parts a heart-wrenching romance torn asunder by bloodrights and galactic war."—Your Money Geek

"Skrutskie is a master of perspective."—But Why Tho?

"Skrutskie's breathless, brilliantly written action sequences and tear-jerking quieter moments will keep readers enthralled. [Oaths of Legacy] is a knockout."—Publishers Weekly (starred review)

"Gays. In. Space!!"—Sam Maggs, author of Tell No Tales: Pirates of the Southern Seas

"Skrutskie sets her characters' competing political and personal motivations against stellar battle scenes. . . . An engaging narrative that should satisfy existing fans and new readers alike. Recommended for fans of anime-inspired space opera and readers looking for queer relationships in their sf sagas."—Booklist
 

Praise for Bonds of Brass

"A fast-paced space opera with heart and style, Bonds of Brass had me screaming KISS ALREADY on every page."—Delilah S. Dawson, New York Times bestselling author of Star Wars: Phasma

"Fast ships, quick decisions, a new friend who likes to blow stuff up, and a love story with empires at stake: This story's got it all."—Kevin Hearne, New York Times bestselling author of A Plague of Giants and the Iron Druid Chronicles

"Thrilling and unpredictable, this book kept me on the edge of my seat all the way to an end that I did not see coming. All I can say now is . . . wait for it . . . wait for it."—Mindee Arnett, author of Onyx & Ivory

"Bonds of Brass is an action-packed, incisively clever, and unapologetically queer space opera."—Tordotcom

"Fun and refreshing. I LOVED this book."—Smart Bitches, Trashy Books

"Bonds of Brass is a riveting space story full of adventure."—FanFiAddict

"Phenomenal . . . 5/5 stars!"—Superstardrifter

"A gripping tale of romance and galactic intrigue that snared me from the first chapter and never released its hold. With lovable, memorable characters, an exciting web of empires and freedom fighters, and dangerous secrets, this book will keep you breathless to the last page!"—S. J. Kincaid, New York Times bestselling author of The Diabolic
We will be open on Memorial Day from 10 AM until 6 PM.
Free Media Mail shipping on U.S. orders over $50