Bonds of Brass: Book One of The Bloodright Trilogy (Hardcover)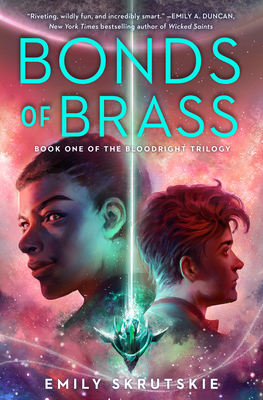 Other Books in Series
This is book number 1 in the The Bloodright Trilogy series.
Description
---
A young pilot risks everything to save his best friend—the man he trusts most and might even love—only to learn that his friend is secretly the heir to a brutal galactic empire.
 
"An exciting space opera full of action and adventure that explores the bonds of loyalty and love, and what happens when they are stretched to their limits."—Rebecca Roanhorse, Nebula and Hugo award–winning author of Trail of Lightning
 
Ettian's life was shattered when the merciless Umber Empire invaded his world. He's spent seven years putting himself back together under its rule, joining an Umber military academy and becoming the best pilot in his class. Even better, he's met Gal—his exasperating and infuriatingly enticing roommate who's made the academy feel like a new home.
 
But when dozens of classmates spring an assassination plot on Gal, a devastating secret comes to light: Gal is the heir to the Umber Empire. Ettian barely manages to save his best friend and flee the compromised academy unscathed, rattled that Gal stands to inherit the empire that broke him, and that there are still people willing to fight back against Umber rule. 
 
As they piece together a way to deliver Gal safely to his throne, Ettian finds himself torn in half by an impossible choice. Does he save the man who's won his heart and trust that Gal's goodness could transform the empire? Or does he throw his lot in with the brewing rebellion and fight to take back what's rightfully theirs?

Praise for Bonds of Brass

"Skrutskie's Bonds of Brass is a high-octane galactic adventure replete with heart, drama, and a keen edge of pain."—Caitlin Starling, author of The Luminous Dead

"Full of breathless action and dazzling characters, Bonds of Brass is space opera at its most exciting."—Adam Christopher, author of Stranger Things: Darkness on the Edge of Town

About the Author
---
Emily Skrutskie was born in Massachusetts, raised in Virginia, and forged in the mountains above Boulder, Colorado. She attended Cornell University and now lives and works in Los Angeles. Skrutskie is the author of Hullmetal Girls, The Abyss Surrounds Us, and The Edge of the Abyss.
Praise For…
---
"A fast-paced space opera with heart and style, Bonds of Brass had me screaming KISS ALREADY on every page."—Delilah S. Dawson, New York Times bestselling author of Star Wars: Phasma

"Fast ships, quick decisions, a new friend who likes to blow stuff up, and a love story with empires at stake: This story's got it all."—Kevin Hearne, New York Times bestselling author of A Plague of Giants and the Iron Druid Chronicles

"Thrilling and unpredictable, this book kept me on the edge of my seat all the way to an end that I did not see coming. All I can say now is . . . wait for it . . . wait for it."—Mindee Arnett, author of Onyx & Ivory

"Bonds of Brass is an action-packed, incisively clever, and unapologetically queer space opera."—Tordotcom

"Fun and refreshing. I LOVED this book."—Smart Bitches, Trashy Books

"Bonds of Brass is a riveting space story full of adventure."—FanFiAddict

"Phenomenal . . . 5/5 stars!"—Superstardrifter

"Cheeky dialogue, straightforward rollicking plot, and intelligent storytelling make [Bonds of Brass] a captivating page-turner."—Your Money Geek

"A gripping tale of romance and galactic intrigue that snared me from the first chapter and never released its hold. With lovable, memorable characters, an exciting web of empires and freedom fighters, and dangerous secrets, this book will keep you breathless to the last page!"—S. J. Kincaid, New York Times bestselling author of The Diabolic

"Bonds of Brass is straight out of your sci-fi fanfic dreams; every trope is lovingly acknowledged and turned on its head, making it impossible to put this book down. Fast-paced and flirty, I've fallen in love with the flyboys in Skrutskie's novel."—Sam Maggs, bestselling author of The Fangirl's Guide to the Galaxy

"Lush, atmospheric, and tense, Skrutskie captivates, setting a near-impeccable foundation for a devastatingly brilliant trilogy in Bonds of Brass. A must-read space opera."—Paperback Paris

"An impeccably paced, character-driven SF novel."—Kirkus Reviews

"Skrutskie's sympathetic characters, perfectly tuned pop-culture references, and harsh glimpses into the realities of empire and war keep the pages turning. This inspired tale will please fantasy fans and has crossover YA appeal."—Publishers Weekly
We will be open on Memorial Day from 10 AM until 6 PM.
Free Media Mail shipping on U.S. orders over $50