Lunatics: A Novel (Paperback)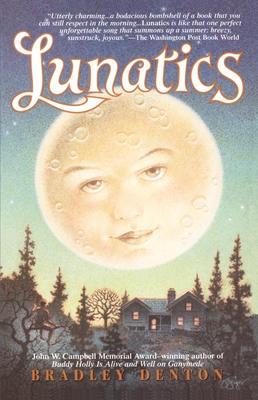 $19.00

Ships from warehouse to store in 3-6 business days
Description
---
Jack has been widowed for close to a year, and his behavior has his friends worried. Arrested for public indecency, Jack insists that he was meeting a moon goddess of desire named Lily. Furthermore, he claims that she can only find him if he waits outside, naked under a full moon. To prevent further troubles with the law, Jack's friends begin taking him to a cabin in the woods each full moon.  But one at a time, they are each touched by Lily and forced to deal with their desires before they can truly know their hearts.
About the Author
---
Bradley Denton is a science fiction novelist whose works include Blackburn, Laughin' Boy, and Buddy Holly Is Alive and Well on Ganymede. He received his BA and MA from the University of Kansas and resides in Austin, Texas.
We will be open on Memorial Day from 10 AM until 6 PM.
Free Media Mail shipping on U.S. orders over $50