We are offering FREE media mail shipping on books. We are open from 10am-7pm Monday through Saturday and 10am-6pm Sunday. Phones may not be answered due to a high volume of calls.
Anna Karenina (Mass Market)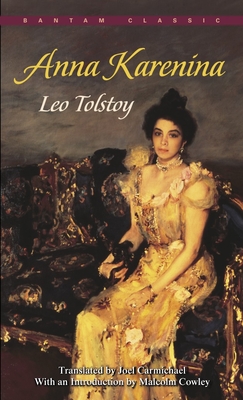 Staff Reviews
---
A well respected translator of Russian fiction, Schwartz was determined to give us Anna Karenina as Tolstoy wrote it: In the simple, unadorned language he preferred. I found this translation immensely powerful - bringing me to tears at times.  It is also illuminating -revealing nuances in the characters I'd never before grasped. The cogent introduction by Gary Saul Morson,  which summarizes the novel's central themes, provides a great starting point for book club discussion. 
— Samantha
Description
---
A magnificent drama of vengeance, infidelity, and retribution, Anna Karenina portrays the moving story of people whose emotions conflict with the dominant social mores of their time.  

Sensual, rebellious Anna falls deeply and passionately in love with the handsome Count Vronsky. When she refuses to conduct the discreet affair that her cold, ambitious husband (and Russian high society) would condone, she is doomed. Set against the tragic love of Anna and Vronsky, the plight of the melancholy nobleman Konstantine Levin unfolds.  

In doubt about the meaning of life, haunted by thoughts of suicide, Levin's struggles echo Tolstoy's own spiritual crisis.  But Anna's inner turmoil mirrors the own emotional imprisonment and mental disintegration of a woman who dares to transgress the strictures of a patriarchal world.  

In Anna Karenina, Leo Tolstoy brought to perfection the novel of social realism and created a masterpiece that bared the Russian soul.
About the Author
---
The Modern Library has played a significant role in American cultural life for the better part of a century. The series was founded in 1917 by the publishers Boni and Liveright and eight years later acquired by Bennett Cerf and Donald Klopfer. It provided the foundation for their next publishing venture, Random House. The Modern Library has been a staple of the American book trade, providing readers with affordable hardbound editions of important works of literature and thought. For the Modern Library's seventy-fifth anniversary, Random House redesigned the series, restoring as its emblem the running torch-bearer created by Lucian Bernhard in 1925 and refurbishing jackets, bindings, and type, as well as inaugurating a new program of selecting titles. The Modern Library continues to provide the world's best books, at the best prices.
Praise For…
---
"One of the greatest love stories in world literature."
--Vladimir Nabokov