Mississippi Bridge (Logan Family Saga) (Paperback)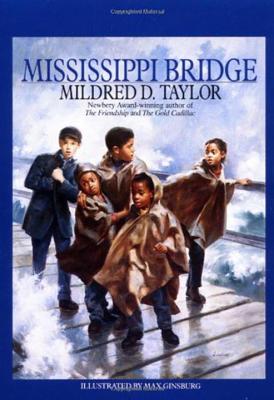 Description
---
Another powerful story in the Logan Family Saga and companion to Mildred D. Taylor's Newbery Award-winning Roll of Thunder, Hear My Cry.

A day of conflict and tragedy.

Jeremy Simms watches from the porch of the general store as the weekly bus from Jackson comes through his town. His neighbor Stacey Logan and Stacey's brothers and sister are there to see their grandmother off on a trip. Jeremy's friend Josias Williams is taking the bus to his new job. But Josias and the Logans are black, and in Mississippi in the 1930s, black people can't ride the bus if that means there won't be enough room for white people to ride. When several white passengers arrive at the last minute, the driver sends Josias and Stacey's grandmother off the bus. Then comes a terrifying moment that unites all the townspeople in a nightmare that will change their lives forever.


"Well written and thought provoking, this book will haunt readers and generate much discussion."—School Library Journal

About the Author
---
"I do not know how old I was when the daydreams became more than that, and I decided to write them down, but by the time I entered high school, I was confident that I would one day be a writer." -- Mildred D. Taylor


Newbery Award-winning author, Mildred D. Taylor, was born in Jackson, Mississippi, and grew up in Toledo, Ohio. After graduating from the University of Toledo, she spent two years in Ethiopia with the Peace Corps teaching English and history. Returning to the United States, Ms. Taylor entered the University of Colorado's School of Journalism, from which she received her Master of Arts degree. As a member of the Black Student Alliance, she worked with students and University officials in structuring a Black Studies program at the University. She currently lives in Colorado.


"From as far back as I can remember, my father taught me a different history from the one I learned in school. By the fireside in our Ohio home and in Mississippi, where I was born and where my father's family had lived since the days of slavery, I had heard about our past. It was not an organized history beginning in a certain year, but one told through stories--stories about great-grandparents and aunts and uncles and others that stretched back through the years of slavery and beyond. It was a history of ordinary people, some brave, some not so brave, but basically people who had done nothing more spectacular than survive in a society designed for their destruction."
Free Media Mail shipping on U.S. orders over $75
"Ships from warehouse" books to be shipped: order by Wednesday, 12/6
"Ships from warehouse" books for pickup: order by Tuesday, 12/12