Imperfections (Hardcover)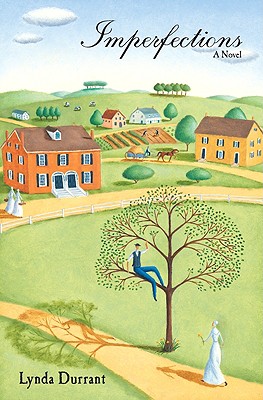 Description
---
Rosemary Elizabeth likes Pleasant Hill. Unlike her former home, the Kentucky Shaker community is serene and full of beautiful things. The food is plentiful and delicious, and she dresses in spotless white garments. Above all, she and her younger siblings are safe there---from their drunken, often violent, father, and from the war between the Union and the Confederacy, which is said to be drawing closer every day.
Perfection is the goal at Pleasant Hill, and Rosemary Elizabeth vows to be perfect so she'll be allowed to stay. As time passes, however, she finds herself more and more at odds with the Shaker path, the rules that are supposed to govern everything she says and does and even what she dreams. If she eliminates all the imperfections the Shakers find in her, will anything remain? Carefully researched, Imperfections takes the reader inside a Shaker community in the 1860s and tells the story of a spirited young woman determined to be herself.
About the Author
---
Lynda Durrant is the author of five well-received historical novels for Clarion, several of which have been named to state children's choice awards lists. She lives in Bath, Ohio, with her family and a horse named Irish.
Praise For…
---
"For 14-year-old Rosemary, her little brother Isaac, and her baby sister, Anne, the Shaker village of Pleasant Hill, Ky., is a clean haven and welcome refuge from their father's abuse and the violence of the Civil War. It's also the prison to which their mother has abandoned them. Shakers believe they live in Heaven on earth, where humans must submit to perfect order. Rosemary—now Sister Bess—must sleep on her back, hands folded across her chest; she must always walk with her right foot first and take everything with her right hand. While Isaac's anxiety leads him to embrace every Shaker rule, Rosemary fights back, making artistic but imperfect brooms and arguing that kittens should be allowed in the barns, narrating her rebellion in a homespun, present-tense voice. Gradually, as she campaigns for her own imperfections, she begins to see the Shakers as individuals, too, all trying to cover the imperfections that are the essence of their humanity; in doing so, she makes peace with her place in the Shaker village and her future outside it. Lovely and thought-provoking."--Kirkus Reviews "When Rosemary Elizabeth's mother deposits her three children at the Shaker community of Pleasant Hill, Kentucky, the 14-year-old thinks she might have found heaven on earth. Safe from her violent, alcoholic father and the Civil War raging around her, she struggles to walk the Shaker path, holding on to the hope of her mother's return. It is hard, she discovers, to attain Shaker perfection and keep your sense of self. This carefully crafted novel lovingly details the strengths of the Shaker world: attention to cleanliness; delicious, abundant food; simplicity and utility in all its designs; the way hard work keeps a mind occupied. However, in spite of these attractions, the strongly independent Rosemary Elizabeth is constantly at odds with the Shaker ideals; imperfections are part of what makes an individual unique. Built around a historical incident—a visit by the soldiers of Morgan's Raiders to Pleasant Hill in 1862—this fine coming-of-age novel rewards readers with an unusual glimpse into a rarely portrayed religion as well as different perspective on the Civil War."--Booklist "Desperate to remove her children far from the abuse of her drunken husband, Mrs. Lipking brings daughter Rosemary Elizabeth, son Isaac, and baby Anne to the Shaker community at Pleasant Hill, Kentucky. At first, Rosemary Elizabeth, now called Sister Bess, basks in the peace, cleanliness, and comforting routine of the Shakers, and even when she discovers that her mother has left the community, she resolves to conform to their religious expectations until Mrs. Lipking returns. But as the months pass, Rosemary Elizabeth realizes that Ma is not coming back, that Isaac has grown apart from his family, that baby Anne is thriving in the care of the Sisters who tend her, and that she herself has too strong an independent streak to commit permanently to Shaker life. The copious amounts of information make this more a portrait of nineteenth-century Shaker life than a compelling human story. Still, Rosemary Elizabeth's evolving attitude toward the people that shelter and educate her is thoughtful and realistic, the based-in-fact appearance of Confederate and Union soldiers seeking rest and food in the community adds interest, and the hint of a coming romance with a furniture-maker who's clearly not cut out for Shakerism either may keep readers engaged."--The Bulletin of the Center for Children's Books "Durrant has created a strong, determined, and likable character to tell of the hardships of Shaker life. . . . The story is interesting, and the theme of finding oneself will resonate with many teens."--School Library Journal —
Free Media Mail shipping on U.S. orders over $75