Come Homengus (Hardcover)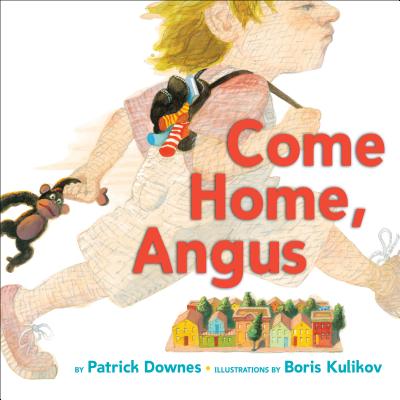 Description
---
In the spirit of Where the Wild Things Are, readers will journey with Angus and understand that whether you are grumpy, angry, or mad, there is no place better than home with your loved ones.Angus woke up mad and knew today was not his day. His dachshund, Clive, walked too slowly. His canary, Pennycake, was too loud. And to top it off, his breakfast pancakes were way too skinny.Angus was in a bad mood, and he decided to run away. He walked two blocks, three blocks, five blocks, then suddenly everything seemed scary and dark. When his mother found Angus, he realized he was better off with her and at home. The touching story by Patrick Downes and the bold illustrations by Boris Kulikov will comfort young children. It will show them that even when they are angry or frustrated or dealing with other emotions, everything is going to be all right.
About the Author
---
Patrick Downes is the author of the young adult novel Fell of Dark. This is his first picture book.

Boris Kulikov is the illustrator of the Max's Words series, The Boy Who Cried Wolf, and Sandy's Circus. He lives in Brooklyn, New York. Visit him online at boriskulikov.com.
Praise For…
---
Praise for Max's Words by Kate Banks and illustrated by Boris Kulikov:* "Imaginative, softly colored illustrations." -- School Library Journal, starred review"Kulikov's clever illustrations feature Max's hundreds of words in different colors and fonts, sprinkled across the pages like confetti." -- Publishers WeeklyPraise for The Boy Who Cried Wolf by B. G. Hennessy and illustrated by Boris Kulikov:"[Kulikov] uses a variety of perspectives, a couple of which almost put the boy in the reader's lap, and his watercolor-and-gouache artwork teases many laughs." -- BooklistPraise for The Castle on Hester Street by Linda Heller and illustrated by Boris Kulikov:"Kulikov's illustrations are beguiling, witty and filled with enough details for dozens of readings.... Kulikov never fails to amuse." -- Publishers Weekly

Praise for Max's Words by Kate Banks and illustrated by Boris Kulikov:* "Imaginative, softly colored illustrations." -- School Library Journal, starred review"Kulikov's clever illustrations feature Max's hundreds of words in different colors and fonts, sprinkled across the pages like confetti." -- Publishers WeeklyPraise for The Boy Who Cried Wolf by B. G. Hennessy and illustrated by Boris Kulikov:"[Kulikov] uses a variety of perspectives, a couple of which almost put the boy in the reader's lap, and his watercolor-and-gouache artwork teases many laughs." -- BooklistPraise for The Castle on Hester Street by Linda Heller and illustrated by Boris Kulikov:"Kulikov's illustrations are beguiling, witty and filled with enough details for dozens of readings.... Kulikov never fails to amuse." -- Publishers Weekly
Free Media Mail shipping on U.S. orders over $75