Forever (Shiver, Book 3) (Hardcover)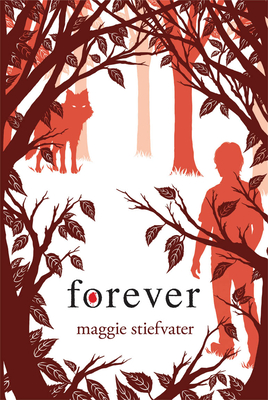 $17.99
Ships from warehouse to store in 1-5 business days
Other Books in Series
This is book number 3 in the Shiver series.
Description
---
The thrilling conclusion to #1 bestselling Shiver trilogy from Maggie StievaterIn Maggie Stiefvater's SHIVER, Grace and Sam found each other. In LINGER, they fought to be together. Now, in FOREVER, the stakes are even higher than before. Wolves are being hunted. Lives are being threatened. And love is harder and harder to hold on to as death comes closing in.
About the Author
---
Maggie Stiefvater is the #1 New York Times bestselling author of the novels Shiver, Linger, Forever, and Sinner. Her novel The Scorpio Races was named a Michael L. Printz Honor Book by the American Library Association. The first book in The Raven Cycle, The Raven Boys, was a Publishers Weekly Best Book of the Year and the second book, The Dream Thieves, was an ALA Best Book for Young Adults. She is also an artist and musician. She lives in Virginia with her husband and their two children. You can visit her online at www.maggiestiefvater.com.
Praise For…
---
Praise for Shiver
#1 New York Times Bestseller
"A lyrical tale of alienated werewolves and first love... Stiefvater skillfully increases the tension throughout; her take on werewolves is interesting and original while her characters are refreshingly willing to use their brains to deal with the challenges they face." — Publishers Weekly, starred review
"This novel is perfect for Twilight fans or a Romeo and Juliet list. It is sensuous, intense, riveting, and so very satisfying." — Voice of Youth Advocates
"Readers will be able to enjoy Stiefvater's fast-paced storytelling and dedication to the old-fashioned art of creating a believable and enduring romance. Shiver is beautifully written, even poetic at times, and a perfect indulgence for readers of all ages." — Bookpage.com
Praise for Linger
#1 New York Times Bestseller
"This sequel's poetic prose skillfully captures the four teens' longings for love, forgetting, remembering, righting wrongs and life itself. The riveting ending will leave readers panting for the next sequel." — Kirkus Reviews
"This riveting narrative, impossible to put down, is not only an excellent addition to the current fangs and fur craze, but is also a beautifully written romance that, along with Shiver, will have teens clamoring for the third and final entry." — Voice of Youth Advocates
"Leaves readers hanging in anticipation for the next installment." — Booklist
Praise for Shiver
#1 New York Times Bestseller
"A lyrical tale of alienated werewolves and first love... Stiefvater skillfully increases the tension throughout; her take on werewolves is interesting and original while her characters are refreshingly willing to use their brains to deal with the challenges they face." — Publishers Weekly, starred review
"This novel is perfect for Twilight fans or a Romeo and Juliet list. It is sensuous, intense, riveting, and so very satisfying." — Voice of Youth Advocates
"Readers will be able to enjoy Stiefvater's fast-paced storytelling and dedication to the old-fashioned art of creating a believable and enduring romance. Shiver is beautifully written, even poetic at times, and a perfect indulgence for readers of all ages." — Bookpage.com
Praise for Linger
#1 New York Times Bestseller
"This sequel's poetic prose skillfully captures the four teens' longings for love, forgetting, remembering, righting wrongs and life itself. The riveting ending will leave readers panting for the next sequel." — Kirkus Reviews
"This riveting narrative, impossible to put down, is not only an excellent addition to the current fangs and fur craze, but is also a beautifully written romance that, along with Shiver, will have teens clamoring for the third and final entry." — Voice of Youth Advocates
"Leaves readers hanging in anticipation for the next installment." — Booklist