A Death-Struck Year (Hardcover)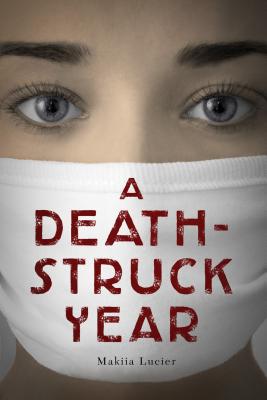 Email or call for price
Hard to find: allow 24 hours for information
Description
---
For Cleo Berry, the people dying of the Spanish Influenza in cities like New York and Philadelphia may as well be in another country—that's how far away they feel from the safety of Portland, Oregon. And then cases start being reported in the Pacific Northwest. Schools, churches, and theaters shut down. The entire city is thrust into survival mode—and into a panic. Headstrong and foolish, seventeen-year-old Cleo is determined to ride out the pandemic in the comfort of her own home, rather than in her quarantined boarding school dorms. But when the Red Cross pleads for volunteers, she can't ignore the call. As Cleo struggles to navigate the world around her, she is surprised by how much she finds herself caring about near-strangers. Strangers like Edmund, a handsome medical student and war vet. Strangers who could be gone tomorrow. And as the bodies begin to pile up, Cleo can't help but wonder: when will her own luck run out?
   Riveting and well-researched, A Death-Struck Year is based on the real-life pandemic considered the most devastating in recorded world history. Readers will be captured by the suspenseful storytelling and the lingering questions of: what would I do for a neighbor? At what risk to myself?
   An afterword explains the Spanish flu phenomenon, placing it within the historical context of the early 20th century. Source notes are extensive and interesting.

A Spring 2014 Indies Introduce New Voices selection
About the Author
---
Makiia Lucier grew up on the Pacific Island of Guam and holds degress in journalism and library studies from the University of Oregon and the University of Wisconsin–Milwaukee. She is the author of A Death-Struck Year, Isle of Blood and Stone, and Song of the Abyss.
makiialucier.com
Twitter: @makiialucier
Praise For…
---
"Readers will be swept up in the story as Cleo builds friendships and manages to find hope amid disease and death."
—Kirkus

"Highly sympathetic characters, a solid sense of place, and the transformation of a city under siege by an invisible assailant result in a powerful and disturbing reading experience."
—Publishers Weekly

"Lucier has done her research, creating a compelling work of historical fiction alongside a more timeless journey of self-discovery."
—Bulletin

* "The novel's strong voice intimately places readers directly into the dramatic plot right up to climactic ending. . . . Lucier's novel deserves a place in all high school collections."
—School Library Journal, starred review

"Lucier's debut details Cleo's loss of innocence, as she deals with gruesome deaths and emergency surgeries...supplying readers with a broad understanding of the era and the epidemic via a spirited and easy-to-relate-to protagonist."
—Booklist

"A rare window into another time and place, one that invites readers to draw parallels to their own lives in contemporary times."
—Horn Book Magazine