Hamnet (Hardcover)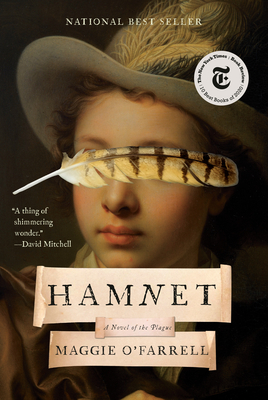 $26.95

Ships from warehouse to store in 3-6 business days
Staff Reviews
---
Give me a novel that transports me to another place and time, and when finished, causes me to dig deeper into the historical facts of where I've been. O'Farrell's Hamnet centers on Shakespeare's wife and children, and places you firmly in 16th Century England with all its beliefs, odors, struggles and universal human experience.
If you enjoy historical fiction or simply appreciate great storytelling, you are sure to love Hamnet. Beautifully written and imagined with a fabulous, satisfying conclusion.
— Peggy
August 2020 Indie Next List
---
"I loved Hamnet in very much the same way I loved Lincoln in the Bardo. This novel explores the way the dead haunt the living—especially how the death of a child haunts their parents—and does it in the context of a fascinating historical figure and time. But we know so much about the Lincolns, and so little about the Shakespeares. Maggie O'Farrell's ability to construct a palpably real emotional life for all the members of the Shakespeare family—but especially for Shakespeare's wife—is just magical. This is a powerful and haunting novel."
— Nina Barrett, Bookends & Beginnings, Evanston, IL
Description
---
NATIONAL BOOK CRITICS CIRCLE AWARD WINNER • NEW YORK TIMES BESTSELLER • "Of all the stories that argue and speculate about Shakespeare's life ... here is a novel ... so gorgeously written that it transports you." —The Boston Globe

In 1580's England, during the Black Plague a young Latin tutor falls in love with an extraordinary, eccentric young woman in this "exceptional historical novel" (The New Yorker) and best-selling winner of the Women's Prize for Fiction.

Agnes is a wild creature who walks her family's land with a falcon on her glove and is known throughout the countryside for her unusual gifts as a healer, understanding plants and potions better than she does people. Once she settles with her husband on Henley Street in Stratford-upon-Avon she becomes a fiercely protective mother and a steadfast, centrifugal force in the life of her young husband, whose career on the London stage is taking off when his beloved young son succumbs to sudden fever.

A luminous portrait of a marriage, a shattering evocation of a family ravaged by grief and loss, and a tender and unforgettable re-imagining of a boy whose life has been all but forgotten, and whose name was given to one of the most celebrated plays of all time, Hamnet is mesmerizing, seductive, impossible to put down—a magnificent leap forward from one of our most gifted novelists.

Don't miss Maggie O'Farrell's new novel, The Marriage Portrait, coming in September!
About the Author
---
MAGGIE O'FARRELL was born in Northern Ireland in 1972. Her novels include Hamnet (winner of the National Book Critics Circle Award), After You'd Gone, The Vanishing Act of Esme Lennox, The Hand That First Held Mine (winner of the Costa Novel Award), and Instructions for a Heatwave. She has also written a memoir, I Am, I Am, I Am: Seventeen Brushes with Death. She lives in Edinburgh.
Praise For…
---
NATIONAL BOOK CRITICS CIRCLE AWARD WINNER • ONE OF THE NEW YORK TIMES 10 BEST BOOKS OF THE YEAR • A NEW YORK PUBLIC LIBRARY BEST BOOK OF THE YEAR • One of Bill Gates's Favorite Books of the Year • Book Club Pick: Duchess Camilla Parker Bowles' The Reading Room

"O'Farrell has a melodic relationship to language. There is a poetic cadence to her writing and a lushness in her descriptions of the natural world. . . . We can smell the tang of the various new leathers in the glover's workshop, the fragrance of the apples racked a finger-width apart in the winter storage shed. . . . As the book unfolds, it brings its story to a tender and ultimately hopeful conclusion: that even the greatest grief, the most damaged marriage, and most shattered heart might find some solace, some healing."
—Geraldine Brooks, the New York Times Book Review

"All too timely . . . inspired. . . . [An] exceptional historical novel "
—The New Yorker

"Magnificent and searing. . . . A family saga so bursting with life, touched by magic, and anchored in affection. . . . Of all the stories that argue and speculate about Shakespeare's life, about whether he even wrote his own plays, here is a novel that matches him with a woman overwhelmingly more than worthy."
—The Boston Globe

"A tour de force. . . . Hamnet vividly captures the life-changing intensity of maternity in its myriad stages—from the pain of childbirth to the unassuagable grief of loss. Fierce emotions and lyrical prose are what we've come to expect of O'Farrell."
—NPR

"O'Farrell moves through the family's pain like a master of signs and signals. . . . In Hamnet, art imitates life not to co-opt reality, but to help us bear it."
—Los Angeles Times

"Wholly original, fully engrossing. . . . Agnes is a character for the ages—engimatic, fully formed and nearly literally bewitching to behold in every scene she's in."
—San Francisco Chronicle

"A moving portrait of a mother's grief. . . . O'Farrell's prose is characteristically beautiful."
—The Wall Street Journal

"Miraculous... brilliant... A novel told with the urgency of a whispered prayer — or curse...  through the alchemy of her own vision, she has created a moving story about the way loss viciously recalibrates a marriage...  A richly drawn and intimate portrait of 16th-century English life set against the arrival of one devastating death."
--Ron Charles, The Washington Post

"What could be more common, over centuries and continents, than the death of a child - and yet Maggie O'Farrell, with her flawless sentences and furious heart, somehow makes it new. This story of remarkable people bereft of their boy will leave you shaking with loss but also the love from which family is spun."
--Emma Donoghue, author of Room

"Grief and loss so finely written I could hardly bear to read it"
--Sarah Moss, author of Ghost Wall
 
"A bold undertaking, beautifully imagined and written"
--Claire Tomalin, author of Charles Dickens: A Life
 
"Heartstopping. Hamnet does for the Shakespeare story what Jean Rhys did for Jane Eyre, inhabiting it, enlarging it and enriching it in ways that will alter the readers view for ever"
--Patrick Gale, author of A Place Called Winter
 
"Exquisite, immersive and compelling… deserves to win prizes"
--Marian Keyes, author of The Break

"It so happens that the child at the center of Hamnet inspired one of civilization's most famous plays, but in Maggie O'Farrell's gifted hands, Hamnet feels as real as my own child.  The raw physical life of O'Farrell's Renaissance England is enthralling.  But the beating heart of this book is Hamnet's mother – an indelible, dauntless woman. What a sensual, full-throated love song to the lost child."
--Amity Gaige

"Hamnet is a beautiful read, a devastating one, intricate, and breathtakingly imaginative.  It will stay with me a long time"
--Rachel Joyce

"I'm absolutely blown away by Maggie O'Farrell's HAMNET. Love, grief, hope, resilience - the world of this novel is so vivid I could nearly smell the grass in the fields, hear the rain in the gutters. In moments where the story shoots up to heaven I was there, too, grieving with these characters, feeling how lucky we all are to be alive, understanding how desperately we want the people we love to be remembered. It's without a doubt one of the best novels I've ever read."
--Mary Beth Keane, author of Ask Again, Yes

"A bold, beautiful, heart-breaking novel. Maggie has taken on both the most famous writer in the world and the mantle of history with effortless grace. In the process she's written the book of her life. I'm wildly jealous!"
--Tracy Chevalier
 
"I don't know how anyone could fail to love this book. It is a marvel: a great work of imaginative recreation and a great story. It is also a moral achievement to have transformed that young child from being a literary footnote into someone so tenderly alive that part of you wishes he had survived and Hamlet never been written"
--Dominic Dromgoole, author of Hamlet, Globe to Globe

"Evocative. . . . [Hamnet] is also life-affirming as it suggests ways art can transcend misfortune." 
—National Review

"Superb. . . . O'Farrell's exquisitely wrought eighth novel proves once again what a very fine writer she is."
—Financial Times
 
"Elliptical, dreamlike. . . . [Hamnet] confirms O'Farrell as an extraordinarily versatile writer, with a profound understanding of the most elemental human bonds—qualities also possessed by a certain former Latin tutor from Stratford." 
—The Observer (UK)
 
"A remarkable piece of work. . . . O'Farrell is one of the most surprisingly quiet radicals in fiction." 
—The Scotsman (UK)
 
"[A] portrayal of grief and pain. . . . O'Farrell describes these agonies with such power that Hamnet would resonate at any time." 
—The Guardian
 
"[O'Farrell is] a writer of rare emotional intelligence whose personal intimations of mortality bear rich fruit in this, her eighth novel." 
—Evening Standard

"This artfully paced novel is an anatomy of grief. . . . Just when the novel's second part seems to be moving to a tragic conclusion, it mounts a stunning redemptive volte-face." 
—The Times Literary Supplement

"This striking, painfully lovely novel captures the very nature of grief."
--Booklist [starred review]
Free Media Mail shipping on U.S. orders over $50
Christmas ordering guidelines
"Ships from warehouse" items to be shipped: Order by Monday, 12/5
"Ships from warehouse" items to be picked-up in store: Order by Monday, 12/12
On hand items: We'll pull items in order of orders received, so keep them coming!