True West: Sam Shepard's Life, Work, and Times (Hardcover)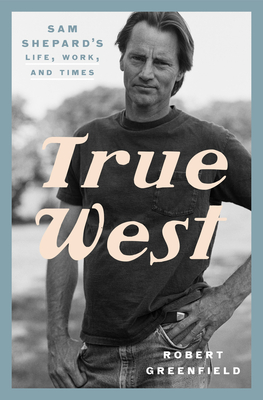 Description
---
NEW YORK TIMES EDITORS' CHOICE • A revelatory biography of the world-famous playwright and actor Sam Shepard, whose work was matched by his equally dramatic life, including collaborations with the Rolling Stones and Bob Dylan as well as tumultuous relationships with Patti Smith, Joni Mitchell, and Jessica Lange

"What [True West] achieves in its finest pages is placing the artist in his time. . . . I was filled with excitement, envy and reverence for the New York City that embraced the young Shepard in the 1960s and early '70s."—Ethan Hawke, The Washington Post

True West: Sam Shepard's Life, Work, and Times is the story of an American icon, a lasting portrait of Sam Shepard as he really was, revealed by those who knew him best. This sweeping biography charts Shepard's long and complicated journey from a small town in Southern California to become an internationally known playwright and movie star. The only son of an alcoholic father, Shepard crafted a public persona as an authentic American archetype: the loner, the cowboy, the drifter, the stranger in a strange land. Despite his great critical and financial success, he seemed, like so many of his characters, to remain perpetually dispossessed.

Much like Robert Greenfield's biographies of Jerry Garcia and Timothy Leary, this book delves deeply into Shepard's life as well as the ways in which his work illuminates it. True West takes readers through the world of downtown theater in Lower Manhattan in the early sixties; the jazz scene at New York's Village Gate; fringe theater in London in the seventies; Bob Dylan's legendary Rolling Thunder tour; the making of classic films like Zabriskie Point, Days of Heaven, and The Right Stuff; and Broadway productions of Buried Child, True West, and Fool for Love.

For this definitive biography, Greenfield interviewed dozens of people who knew Shepard well, many of whom had never before spoken on the record about him. While exploring his relationships with Patti Smith, Bob Dylan, Joni Mitchell, and Jessica Lange across the long arc of his brilliant career, Greenfield makes the case for Shepard as not just a great American writer but a unique figure who first brought the sensibility of rock 'n' roll to theater.
About the Author
---
A former associate editor of the London bureau of Rolling Stone, Robert Greenfield is the author of several classic rock books, among them S.T.P.: A Journey Through America with the Rolling Stones, as well as the definitive biographies of Bill Graham, Jerry Garcia, Timothy Leary, Ahmet Ertegun, Burt Bacharach, and Augustus Owsley Stanley III. An award-winning novelist, playwright, and screenwriter, he has published short fiction in GQ, Esquire, and Playboy. He lives in California.
Praise For…
---
"What Robert Greenfield's new biography, True West, achieves in its finest pages is placing the artist in his time. Greenfield recounts the ebb and flow of Shepard's growth as a playwright, and chronicles how the fame and adulation from his life as a movie actor both propelled and thwarted his gifts as a writer . . . The book is especially successful at bringing the reader into the world that Shepard inhabited as he developed into one of the greatest American dramatists of the late 20th century."—Ethan Hawke, Washington Post
 
"In his eventful life, Sam Shepard managed to write indelible plays while inventing his own brand of iconic American manhood: the rock 'n' roll cowboy playwright. Robert Greenfield's vivid, clear-eyed biography captures both the man and the myth—and, perhaps most important, the writer, who sang a new kind of song in American theater, as raw and searching as the western skies."—Michael Schulman, author of Her Again: Becoming Meryl Streep and Oscar Wars: A History of Hollywood in Gold, Sweat, and Tears

"Telling the tale of a multi-talented man 'always blinded by his own light' is a daunting task, but astute biographer Robert Greenfield handles it beautifully in True West. Written with insight, empathy, and authority, this biography of the protean Sam Shepard presents the man whole, with all his dazzling complexities revealed in full."—Kenneth Turan, former Los Angeles Times film critic and co-author of Free for All: Joe Papp, The Public, and the Greatest Theater Story Ever Told

"Fascinating . . . a masterful look at the wild life of an enigmatic artist that shows how captivating the truth can be."—Kirkus Reviews (starred review)

"[Robert] Greenfield . . . delivers a riveting account of the life of playwright and actor Sam Shepard. . . . Few readers will leave being unimpressed with Shepard, or this biography."—Publishers Weekly


 
We will be open on Memorial Day from 10 AM until 6 PM.
Free Media Mail shipping on U.S. orders over $50