A Short History of Drunkenness: How, Why, Where, and When Humankind Has Gotten Merry from the Stone Age to the Present (Hardcover)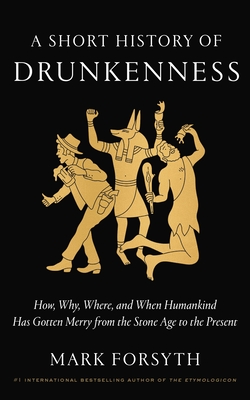 $19.00

Ships from warehouse to store in 1-5 business days
Description
---
From the internationally bestselling author of The Etymologicon, a lively and fascinating exploration of how, throughout history, each civilization has found a way to celebrate, or to control, the eternal human drive to get sloshed

"An entertaining bar hop though the past 10,000 years."—The New York Times Book Review

Almost every culture on earth has drink, and where there's drink there's drunkenness. But in every age and in every place drunkenness is a little bit different. It can be religious, it can be sexual, it can be the duty of kings or the relief of peasants. It can be an offering to the ancestors, or a way of marking the end of a day's work. It can send you to sleep, or send you into battle.

Making stops all over the world, A Short History of Drunkenness traces humankind's love affair with booze from our primate ancestors through to the twentieth century, answering every possible question along the way: What did people drink? How much? Who did the drinking? Of the many possible reasons, why? On the way, learn about the Neolithic Shamans, who drank to communicate with the spirit world (no pun intended), marvel at how Greeks got giddy and Sumerians got sauced, and find out how bars in the Wild West were never quite like in the movies.

This is a history of the world at its inebriated best.
About the Author
---
Born in London in 1977, Mark Forsyth (a.k.a The Inky Fool) was given a copy of the Oxford English Dictionary as a christening present and has never looked back. His book The Etymologicon was a Sunday Times Number One Bestseller and his TED Talk "What's a snollygoster?" has had more than half a million views. He has also written a specially commissioned essay "The Unknown Unknown" for Independent Booksellers Week and the introduction for the new edition of the Collins English Dictionary. He lives in London with his dictionaries, and blogs at blog.inkyfool.com.
Praise For…
---
"This refreshingly guilt-free account of getting sloshed through the ages is a gift to the chalkboard-writers of dive bars the world over, laced as it is with inspirational quotes about the joys of a sniffer."—The New York Times Book Review

"A light-hearted tour . . . Mr. Forsyth has filled a cabinet with drinking curiosities, which plays to the author's strengths . . . His breezy style does offer another tangible benefit for the American reader: It is strewn with the shiny baubles of Britishisms related to drink: whiffled, piss-up, squiffy, trolleyed, sozzled and foozled."—Wall Street Journal

"Hilarious and essential."—Financial Times

"Wildly entertaining."—Dallas Observer

"Mark Forsyth has done a sterling job . . . This is a book of some brilliance—probably best consumed with a restorative glass of something by your side."—Daily Mail

"[With] insightful nuggets of pop-culture history . . . Forsyth, a word addict, writes a bit like the late Kingsley Amis . . . Good fun for tipplers."—Booklist 

"This entertaining study of drunkenness makes for a racy sprint through human history. . . . Thought-provoking."—Sunday Times

"Mark Forsyth has enormous fun breezing through 10,000 years of alcoholic history in a little more than 250 pages."—The Guardian

"Forsyth's jokes are snappy and well-delivered [and his] writing is charged with energy."—Mail on Sunday
 
"Forsyth uses charm and wit to breathe life into the booze-soaked sexual rites of the Ancient Egyptians, the sozzled symposiums that inspired great thinkers like Socrates, and, more recently, the rampant rise of saloon culture in the Wild West."—Eastern Daily Press

"Well researched and recounted with excellent humor . . . [A] delightful romp."—Daily Express

"An entertaining look back at intoxication and inebriation around the world . . . a brief, sometimes bawdy affair, spiked with trivia."—History Revealed

"A jaunty look at what booze has done to civilization."—The Times Saturday Review

"A highly successful blend of the entertaining and the informative."—The Spectator

"A light-hearted booze cruise through the ages."—The Tablet