On Earth We're Briefly Gorgeous: A Novel (Hardcover)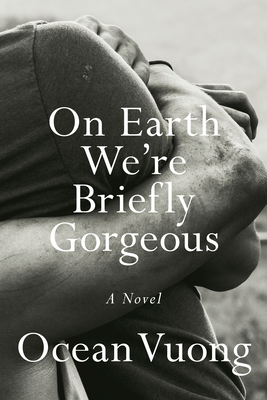 $26.00
Coming soon - PREORDER NOW!
Staff Reviews
---
Sometimes I read a book so amazing but so difficult that I'm not sure whether to recommend it. Ocean Vuong's new novel, On Earth We're Briefly Gorgeous is an example. I've put aside my hesitation because this book is one I will never forget, and I do want you to read it.  It's written as a letter to his mother by a young Vietnamese-American boy—his mother calls him Little Dog—whose family has immigrated to Hartford, Connecticut. He falls in love with an American boy one summer when he's working in a tobacco barn. The language alone would have made me love it, but the relationships between Little Dog and his lover and between Little Dog and his mother and grandmother are startlingly beautiful and moving. (This book will be released on June 4, and QRB will host Vuong on June 7--preorder now for reserved seat tickets.)
— Mamie
On Earth We're Briefly Gorgeous contains many love stories that seem equal parts violent, haunting, and beautiful, but the one the love story that captivated me most was between Little Dog and his grandmother. She is his playmate, protector (sometimes), storyteller and explainer. At the age of three Little Dog moved to Hartford, Connecticut from Vietnam with his mother, grandmother and aunt. The novel is a letter from  28-year-old Little Dog to his illiterate mother, revisiting the years in-between. I don't know what magic Ocean Vuong practiced to make me so completely inhabit the skin of a gay, Vietnamese-American child, teenager, and man, but he did.  If we read, as Anne Tyler has said, to live more than one life, this book succeeded in adding a new one to mine.
— Sarah
Description
---
Named one of the most anticipated books of 2019 by Vulture, Entertainment Weekly, Buzzfeed, Los Angeles Times, Boston Globe, Oprah.com, Huffington Post, The A.V. Club, Nylon, The Week, The Rumpus, The Millions, The Guardian, Publishers Weekly, and more.

Poet Ocean Vuong's debut novel is a shattering portrait of a family, a first love, and the redemptive power of storytelling

On Earth We're Briefly Gorgeous is a letter from a son to a mother who cannot read. Written when the speaker, Little Dog, is in his late twenties, the letter unearths a family's history that began before he was born — a history whose epicenter is rooted in Vietnam — and serves as a doorway into parts of his life his mother has never known, all of it leading to an unforgettable revelation. At once a witness to the fraught yet undeniable love between a single mother and her son, it is also a brutally honest exploration of race, class, and masculinity. Asking questions central to our American moment, immersed as we are in addiction, violence, and trauma, but undergirded by compassion and tenderness, On Earth We're Briefly Gorgeous is as much about the power of telling one's own story as it is about the obliterating silence of not being heard.

With stunning urgency and grace, Ocean Vuong writes of people caught between disparate worlds, and asks how we heal and rescue one another without forsaking who we are. The question of how to survive, and how to make of it a kind of joy, powers the most important debut novel of many years.
About the Author
---
Ocean Vuong is the author of the critically acclaimed poetry collection Night Sky with Exit Wounds, winner of the Whiting Award and the T.S. Eliot Prize. His writings have also been featured in The Atlantic, Harper's, The Nation, New Republic, The New Yorker, and The New York Times. Born in Saigon, Vietnam, he currently lives in Northampton, Massachusetts. On Earth We're Briefly Gorgeous is his first novel.
Praise For…
---
"A candid meditation on masculinity, art, and the inescapable pull of opioids…Vuong peels apart phrases and reconfigures them into new, surprising ideas." —ELLE

"An epistolary ­masterpiece…Fearless, revelatory, extraordinary."—Library Journal (starred review)
 
"Disarmingly frank, raw in subject matter but polished in style and language, On Earth We're Briefly Gorgeous reveals the strengths and limitations of human connection and the importance of speaking your truth." —BookPage 

"[Vuong's] first foray into fiction is poetic in the deepest sense—not merely on the level of language, but in its structure and its intelligence…The result is an uncategorizable hybrid of what reads like memoir, bildungsroman, and book-length poem. More important than labels, though, is the novel's earnest and open-hearted belief in the necessity of stories and language for our survival. A raw and incandescently written foray into fiction by one of our most gifted poets."—Kirkus (starred review)

"Casting a truly literary spell, Vuong's tale of language and origin, beauty and the power of story, is an enrapturing first novel."—Booklist (starred review)

"Sometimes a writer comes along and stops your breath. I'm reading On Earth We're Briefly Gorgeous and there is so little air moving through my body as I read. When writing is this good, who needs air?" —Jacqueline Woodson, author of Red at the Bone

"A bruised, breathtaking love letter never meant to be sent. A powerful testimony to magic and loss. A marvel."—Marlon James, author of Black Leopard, Red Wolf

"This is one of the best novels I've ever read. I always want my favorite poets to write novels and here it's happened. Ocean Vuong is a master. This book a masterpiece. On Earth We're Briefly Gorgeous is an ode to loss and struggle, to being a Vietnamese American, to Hartford, Connecticut, and it's a compassionate epistolary ode to a mother who may or may not know how to read. I dog-eared so many pages the book almost collapsed—I almost did."—Tommy Orange, author of There There
 
"On Earth We're Briefly Gorgeous will be described — rightly — as luminous, shattering, urgent, necessary. But the word I keep circling back to is raw: that's how powerful the emotions here are, and how you'll feel after reading it — scoured down to bone. With a poet's precision, Ocean Vuong examines whether putting words to one's experience can bridge wounds that span generations, and whether it's ever possible to be truly heard by those we love most."—Celeste Ng, author of Everything I Never Told You and Little Fires Everywhere
 
"This book—gorgeous is right there in the title—finds incredible, aching beauty in the deep observation of love in many forms. Ocean Vuong's debut novel contains all the power of his poetry, and I finished the book knowing that we are seeing only the very beginning of his truly magnificent talent."—Emma Straub, author of Modern Lovers and The Vacationers
 
"Ocean Vuong runs up against the limits of language—this book is addressed to a mother who cannot read it—and expands our sense of what literature can make visible, thinkable, felt across borders and generations and genres. This is a courageous, embodied inquiry into the tangle of colonial and personal histories. It is also a gorgeous argument for astonishment over irony—for the transformative possibilities of love."—Ben Lerner, author of Leaving the Atocha Station and 10:04
 
"One is not often given the chance to apply words like "brilliant" and "remarkable" to any novels, certainly not first novels.  Thank you, Ocean Vuong, for this brilliant and remarkable first novel."—Michael Cunningham, author of The Hours

"[On Earth We're Briefly Gorgeous] is one of the most beautiful novels I have ever read, a literary marvel and a work of extraordinary humanity. It is about who we are, and how we find ourselves in our bodies, in each other, in countries, on this earth: truly a masterpiece."—Max Porter, Grief is the Thing with Feathers