On Earth We're Briefly Gorgeous: A Novel (Hardcover)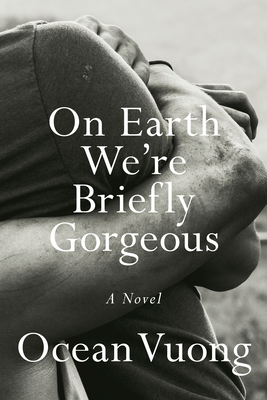 Staff Reviews
---
Sometimes I read a book so amazing but so difficult that I'm not sure whether to recommend it. Ocean Vuong's new novel, On Earth We're Briefly Gorgeous is an example. I've put aside my hesitation because this book is one I will never forget, and I do want you to read it.  It's written as a letter to his mother by a young Vietnamese-American boy—his mother calls him Little Dog—whose family has immigrated to Hartford, Connecticut. He falls in love with an American boy one summer when he's working in a tobacco barn. The language alone would have made me love it, but the relationships between Little Dog and his lover and between Little Dog and his mother and grandmother are startlingly beautiful and moving. (This book will be released on June 4, and QRB will host Vuong on June 7--preorder now for reserved seat tickets.)
— Mamie
On Earth We're Briefly Gorgeous contains many love stories that seem equal parts violent, haunting, and beautiful, but the one the love story that captivated me most was between Little Dog and his grandmother. She is his playmate, protector (sometimes), storyteller and explainer. At the age of three Little Dog moved to Hartford, Connecticut from Vietnam with his mother, grandmother and aunt. The novel is a letter from  28-year-old Little Dog to his illiterate mother, revisiting the years in-between. I don't know what magic Ocean Vuong practiced to make me so completely inhabit the skin of a gay, Vietnamese-American child, teenager, and man, but he did.  If we read, as Anne Tyler has said, to live more than one life, this book succeeded in adding a new one to mine.
— Sarah
June 2019 Indie Next List
---
"Alright 2019, this is the novel to beat. On Earth We're Briefly Gorgeous is the rare novel that makes you experience reading in a slightly different way and shows you that, no matter how many books you've read, something new and uniquely beautiful can still be found. The novel takes the form of a letter written by the main character, Little Dog, to his mother — an immigrant from Vietnam who cannot read. The power of Vuong's poetic writing shimmers with every paragraph, and each phrase is a carefully considered, emotional journey. Grappling with themes of identity, sexuality, addiction, violence, and finding your place in a world where you feel you don't belong, this book already feels like a modern classic, destined to be read and talked about for years to come."
— Caleb Masters, Bookmarks, Winston-Salem, NC
Description
---
An instant New York Times Bestseller! 

Named one of the most anticipated books of 2019 by Vulture, Entertainment Weekly, Buzzfeed, Los Angeles Times, Boston Globe, Oprah.com, Huffington Post, The A.V. Club, Nylon, The Week, The Rumpus, The Millions, The Guardian, Publishers Weekly, and more.

"A lyrical work of self-discovery that's shockingly intimate and insistently universal…Not so much briefly gorgeous as permanently stunning." —Ron Charles, The Washington Post

Poet Ocean Vuong's debut novel is a shattering portrait of a family, a first love, and the redemptive power of storytelling

On Earth We're Briefly Gorgeous is a letter from a son to a mother who cannot read. Written when the speaker, Little Dog, is in his late twenties, the letter unearths a family's history that began before he was born — a history whose epicenter is rooted in Vietnam — and serves as a doorway into parts of his life his mother has never known, all of it leading to an unforgettable revelation. At once a witness to the fraught yet undeniable love between a single mother and her son, it is also a brutally honest exploration of race, class, and masculinity. Asking questions central to our American moment, immersed as we are in addiction, violence, and trauma, but undergirded by compassion and tenderness, On Earth We're Briefly Gorgeous is as much about the power of telling one's own story as it is about the obliterating silence of not being heard.

With stunning urgency and grace, Ocean Vuong writes of people caught between disparate worlds, and asks how we heal and rescue one another without forsaking who we are. The question of how to survive, and how to make of it a kind of joy, powers the most important debut novel of many years.
About the Author
---
Ocean Vuong is the New York Times bestselling author of the critically acclaimed poetry collection Night Sky with Exit Wounds, winner of the Whiting Award and the T.S. Eliot Prize. His writings have also been featured in The Atlantic, Harper's, The Nation, New Republic, The New Yorker, and The New York Times. Born in Saigon, Vietnam, he currently lives in Northampton, Massachusetts. On Earth We're Briefly Gorgeous is his first novel.
Praise For…
---
"Vuong writes about the yearning for connection that afflicts immigrants. But 'ocean' also describes the distinctive way Vuong writes: His words are liquid, flowing, rolling, teasing, mighty and overpowering. When Vuong's mother gave him the oh-so-apt name of Ocean, she inadvertently called into being a writer whose language some of us readers could happily drown in…Like so many immigrant writers before him, Vuong has taken the English he acquired with difficulty and not only made it his own — he's made it better." —Maureen Corrigan, Fresh Air

"With his radical approach to form and his daring mix of personal reflection, historical recollection and sexual exploration, Vuong is surely a literary descendant of [Walt Whitman]. Emerging from the most marginalized circumstances, he has produced a lyrical work of self-discovery that's shockingly intimate and insistently universal…[The] narrative flows — rushing from one anecdote to another, swirling past and present, constantly swelling with poignancy…Vuong ties the private terrors of supposedly inconsequential people to the larger forces pulsing through America…At times, the tension between Little Dog's passion and his concern seems to explode the very structure of traditional narrative, and the pages break apart into the lines of an evocative prose poem — not so much briefly gorgeous as permanently stunning." —Ron Charles, Washington Post
 
"In order to survive, Little Dog has to receive and reject another kind of violence, too: he must see his mother through the American eyes that scan her for weakness and incompetence and, at best, disregard her, the way that evil spirits might ignore a child named for a little dog. There is a staggering tenderness in the way that Little Dog holds all of this within himself, absorbing it and refusing to pass it on. Reading 'On Earth We're Briefly Gorgeous' can feel like watching an act of endurance art, or a slow, strange piece of magic in which bones become sonatas, to borrow one of Vuong's metaphors." —Jia Tolentino, The New Yorker
 
"Ocean Vuong's devastatingly beautiful first novel, as evocative as its title, is a painful but extraordinary coming-of-age story about surviving the aftermath of trauma…Vuong's language soars as he writes of beauty, survival, and freedom, which sometimes isn't freedom at all, but 'simply the cage widening far away from you, the bars abstracted with distance but still there'… The title says it: Gorgeous." —Heller McAlpin, NPR.org
 

"A stunningly written journey that…explores how race, masculinity, addiction and poverty are seen in our country—all topics that feel especially significant today." — WSJ. Magazine

"To read On Earth We're Briefly Gorgeous is to experience a beginning again and again. It is to see the world as an open field, full of possibility." —Rumpus

"A riot of feeling and sensation…delirious and star-bright…Vuong is pushing the boundaries of the novel form, reshaping the definition to fit the contours of his restless poetic exploration, using language to capture consciousness and being. The text spasms with memory like synapses firing in the dark…To read this book is to fill your whole life with it, albeit not briefly. Vuong's is poetry that lingers in the blood long after the words have run out." —Barbara VanDenburgh, USA Today
 
"Vuong is masterly at creating indelible, impressionistic images…Vuong beautifully evokes [Trevor's] seductive power over Little Dog: This is some of the most moving writing I've read about two boys experimenting together…The book is brilliant in the way it pays attention not to what our thoughts make us feel, but to what our feelings make us think. To what kinds of truth does feeling lead? Oscar Wilde famously quipped that sentimentalism is wanting to have an emotion without paying for it, but Little Dog has paid and paid, and the truths arrived at in this book are valuable precisely because they are steeped in feeling." —Justin Torres, The New York Times Book Review
 
"Vuong as a writer is daring. He goes where the hurt is, creating a novel saturated with yearning and ache…He transforms the emotional, the visceral, the individual into the political in an unforgettable–indeed, gorgeous–novel, a book that seeks to affect its readers as profoundly as Little Dog is affected, not only by his lover but also by the person who brought him into the world." —Viet Thanh Nguyen, TIME
 
"The novel is expansive and introspective, fragmented and dreamlike, a coming of age tale conveyed in images and anecdotes and explorations…Just as he fuels his prose with his poetry, Vuong takes what he needs from lived experience to animate his storytelling with visceral beauty and a strain of what feels like uncut truth…For the duration of this marvelous novel, Vuong holds our gaze and fills it with what he wills — the migration of butterflies, love in a tobacco barn, purple flowers gathered on a highway." —Steph Cha, Los Angeles Times
 
"[Vuong is] a remarkable storyteller… Depictions of poverty, queerness, and the immigrant experience are vivid, exacting, and humane… This book is no ordinary novel. This thing feels alive." —David Canfield, Entertainment Weekly
 
"The novel's overarching structure is an ingenious representation of our failure — as members of families and communities, as fellow citizens — to understand one another…[This is] a distinctive, intimate novel that is also a reckoning with the Vietnam War's long shadow…Vuong is a skillful, daring writer, and his first novel is a powerful one." —Kevin Canfield, San Francisco Chronicle

"A bildungsroman that vacillates between moments of piercing tenderness and savage brutality, set against quixotic hopes of the American Dream and the devastation of the opioid crisis. Vuong's deeply felt work might just be the first great fiction of this modern, homegrown travesty, but it's also a story that is enriched by both the beautiful and the ugly currents of American history." —Chloe Schama, Vogue.com
 
"A diary of life on the margins of American society…For all that Vuong has to say about history, queerness, and American culture, everything about his book feels specific and personal." —Boris Kachka, Vulture
 
"Lyrical…With this book, [Vuong] is creating an account of lives that are at once overlooked and thoroughly American. These days, this feels like a political act."—Wall Street Journal
 
"Stunningly lyrical…We are witnessing something necessary and powerful with On Earth We're Briefly Gorgeous, which asks us to search what is human in us and ask what it really means to be alive, to seek truth within the mess that is life." —Philadelphia Inquirer

"Dazzling…We see the power and purifying rage of Vuong's prose." —Julie Wittes Schlack, The ARTery on WBUR.org

"[A] raw, fearless debut…In prose as radiant and assured as his poetry, Vuong explores the ability of stories to heal generational wounds, and asks how we can rescue and transform one another in the wake of unimaginable loss." —Esquire.com
 
"[On Earth We're Briefly Gorgeous] captures a peculiar kind of American immigrant experience with all of its cultural ambiguity and heartbreak intact. For all of its pain, it never loses sight of the privilege of being alive." —Pittsburgh Post-Gazette

"A candid meditation on masculinity, art, and the inescapable pull of opioids…Vuong peels apart phrases and reconfigures them into new, surprising ideas." —ELLE

"An epistolary ­masterpiece…Fearless, revelatory, extraordinary."—Library Journal (starred review)
 
"Disarmingly frank, raw in subject matter but polished in style and language, On Earth We're Briefly Gorgeous reveals the strengths and limitations of human connection and the importance of speaking your truth." —BookPage 

"[Vuong's] first foray into fiction is poetic in the deepest sense—not merely on the level of language, but in its structure and its intelligence…The result is an uncategorizable hybrid of what reads like memoir, bildungsroman, and book-length poem. More important than labels, though, is the novel's earnest and open-hearted belief in the necessity of stories and language for our survival. A raw and incandescently written foray into fiction by one of our most gifted poets."—Kirkus (starred review)

"Casting a truly literary spell, Vuong's tale of language and origin, beauty and the power of story, is an enrapturing first novel."—Booklist (starred review)

"Sometimes a writer comes along and stops your breath. I'm reading On Earth We're Briefly Gorgeous and there is so little air moving through my body as I read. When writing is this good, who needs air?" —Jacqueline Woodson, author of Red at the Bone

"A bruised, breathtaking love letter never meant to be sent. A powerful testimony to magic and loss. A marvel."—Marlon James, author of Black Leopard, Red Wolf

"This is one of the best novels I've ever read. I always want my favorite poets to write novels and here it's happened. Ocean Vuong is a master. This book a masterpiece. On Earth We're Briefly Gorgeous is an ode to loss and struggle, to being a Vietnamese American, to Hartford, Connecticut, and it's a compassionate epistolary ode to a mother who may or may not know how to read. I dog-eared so many pages the book almost collapsed—I almost did."—Tommy Orange, author of There There
 
"On Earth We're Briefly Gorgeous will be described — rightly — as luminous, shattering, urgent, necessary. But the word I keep circling back to is raw: that's how powerful the emotions here are, and how you'll feel after reading it — scoured down to bone. With a poet's precision, Ocean Vuong examines whether putting words to one's experience can bridge wounds that span generations, and whether it's ever possible to be truly heard by those we love most."—Celeste Ng, author of Everything I Never Told You and Little Fires Everywhere
 
"This book—gorgeous is right there in the title—finds incredible, aching beauty in the deep observation of love in many forms. Ocean Vuong's debut novel contains all the power of his poetry, and I finished the book knowing that we are seeing only the very beginning of his truly magnificent talent."—Emma Straub, author of Modern Lovers and The Vacationers
 
"Ocean Vuong runs up against the limits of language—this book is addressed to a mother who cannot read it—and expands our sense of what literature can make visible, thinkable, felt across borders and generations and genres. This is a courageous, embodied inquiry into the tangle of colonial and personal histories. It is also a gorgeous argument for astonishment over irony—for the transformative possibilities of love."—Ben Lerner, author of Leaving the Atocha Station and 10:04
 
"One is not often given the chance to apply words like "brilliant" and "remarkable" to any novels, certainly not first novels.  Thank you, Ocean Vuong, for this brilliant and remarkable first novel."—Michael Cunningham, author of The Hours

"[On Earth We're Briefly Gorgeous] is one of the most beautiful novels I have ever read, a literary marvel and a work of extraordinary humanity. It is about who we are, and how we find ourselves in our bodies, in each other, in countries, on this earth: truly a masterpiece."—Max Porter, Grief is the Thing with Feathers

Coverage from NPR