Rules for Visiting: A Novel (Paperback)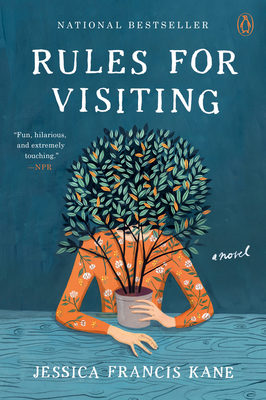 Staff Reviews
---
May Attaway shares the house she grew up in with her aging father, although their relationship is distant.  She watches her neighbors with detachment.  She is a skilled professional gardener who leaves her own yard untended.  She feels she may even neglect her cat.
As May approaches 40 she ponders the value others place on friendship, and her lack of close friends.  She embarks on a personal odyssey to visit four friends from her past.  As she visits each in turn, trying to be a perfect guest, she rekindles old closeness and learns that these women are also struggling daily.  Even people who seem to have everything struggle, but often friendship and love are the rewards.
This book gently explores friendship and personal identity with humor and insight. May is not an epic hero, but we can all learn to keep in touch.
— Anne
A thoroughly delightful book that will make you chuckle and warm your cold, cold heart. If you're looking to cozy up and escape, then here is your ticket. 
May Attaway is a single, 40-year-old professional gardener on a quest to discover the meaning of friendship. Family history, fun botany, and sisterhood travel intertwine in this lovely tale of seek and you shall find. 
This book completely charmed me and I'll be recommending it to many, many friends.
— Peggy
May 2019 Indie Next List
---
"A skillful writer can show how things that seem unrelated are actually intertwined. In this way, Kane quietly reminds us that friendships and plants may be deeply rooted but need tending to bloom completely, that words matter, that going back to their roots may change how we think about what we say, and that a quiet life can be a full one. This gentle book grows on you (the puns just keep coming), but it is a refreshing change from the stresses of our digital age or the angst of so many recent books about contemporary life. Entertaining and erudite, I highly recommend this book."
— Ann Carlson, Waterfront Books, Georgetown, SC
Description
---
"An elegant and deeply moving meditation on friendship, family, and life on earth. Rules for Visiting is a wonderful novel." —Emily St. John Mandel, author of Sea of Tranquility, The Glass Hotel, and Station Eleven

The national bestseller and an Indie Next List pick

Name a Best Book of the Year by O Magazine • Good Housekeeping • Real Simple • Vulture • Chicago Tribune
 
Named a Best Book of the Summer by The Today Show • Good Morning America • Wall Street Journal • San Francisco Chronicle • Southern Living
 
Shortlisted for the 2020 Bollinger Everyman Wodehouse Prize 

Long-listed for the 2020 Tournament of Books

Dry, witty, and unapologetic, May Attaway loves literature and her work as a botanist for the university in her hometown. More at home with plants than people, May begins to suspect she isn't very good at friendship and wonders if it's possible to improve with practice. Granted some leave from her job, she sets out on a journey to spend time with four long-neglected friends.

Smart, funny, and full of compassion, Rules for Visiting is the story of a search for friendship in the digital age, a singular look at the way we stay in touch. While May travels, she studies her friends' lives and begins to confront the pain of her own.

With simplicity and honesty, Jessica Francis Kane has crafted an exquisite story about a woman trying to find a new way to be in the world. This nourishing book, with its beautiful contemplation of travel, trees, family, and friendship, is the perfect antidote to our chaotic times.

About the Author
---
Jessica Francis Kane is the author of This Close, The Report, and Bending Heaven. This Close was longlisted for The Story Prize and the Frank O'Connor International Short Story Prize, and The Report was a Barnes & Noble Discover Great New Writers Selection and a finalist for the Flaherty-Dunnan First Novel Prize from the Center for Fiction. Her stories and essays have appeared in a number of publications, including Virginia Quarterly Review, McSweeney's, The Missouri Review, The Yale Review, A Public Space, and Granta.
Praise For…
---
"When 40-year-old gardener May receives a surprise windfall of one month of vacation from the university where she works, she decides to visit four old friends, each one from different periods of her life. Through this initially simple and irresistible starting point, Jessica Francis Kane investigates the most universal mysteries of all." —Isaac Fitzgerald, Today
 
"This beautiful novel tackles loneliness in the digital age and the lost art of visiting. Introvert May Attaway is granted some unexpected time off as a university gardener and is inspired to reconnect with four once-close friends. May chooses to bypass her friends' perfectly cultivated online lives to instead meet them IRL. Gives a whole new meaning to Instagram vs. reality." —Good Morning America

"This spirit-warming saga, an antidote to the uncivil, is a novel to be read again and again, whenever one needs a reminder to seize the day…Treat yourself to Jessica Francis Kane's novel Rules for Visiting, an elixir in book form about a quest for friendship that could have been written by Jane Austen's great great-great-granddaughter." —O Magazine

"Crackles with wit." —The New York Times

"Full of witticisms and broader life lessons, Rules for Visiting will stay with readers." —Elizabeth Sile, Real Simple

"Kane's understated meditation on loneliness in the digital age [is] just the right kind of narrative, an antidote for our distracted days." —Hillary Kelly, Vulture

"A witty, sometimes melancholy and altogether lovely meditation on love, loss, friendship—and botany." —Wall Street Journal

"Fun, hilarious, and extremely touching . . . its coming out right around Mother's Day is no coincidence . . . I loved May as a character . . . she doesn't need me to like her, though. She has her plants, her father, some new or revitalized friendships, and her own sharp and witty mind to keep her company. She is no Grendel—only a deeply alive human." —Ilana Masad, NPR

"At 40, May Attaway, the protagonist, finds herself alone and feeling profoundly disconnected from her life and from herself. When she receives an unexpected gift of time off, she seizes the opportunity to visit four old friends. May is smart, funny and more than a little prickly. Readers will love her and find her story both moving and reassuring." —Michael Barnard, San Francisco Chronicle 

"Quietly powerful." —The Chicago Tribune

"Impeccably written and surprisingly moving . . . May's journey is lovely and deeply affecting." —Publishers Weekly

"Kane's delightful tale celebrates friendship, family, love, joy in the ordinary, finding peace, and connecting with those around us. Highly recommended for fans of humorous, touching stories about friendship and self-discovery." —Library Journal (starred review)

"In the age of Facebook, the true nature of friendship can seem muddled . . . [May] voices the doubts and dreams of any woman who has questioned what it means to be a true friend. Rich in subtexts and lush imagery, Kane's novel is a sure bet for lively book discussions." —Booklist (starred review)

"Engagingly cleareyed prose about a winningly eccentric heroine in love with trees and literature." —Kirkus

"Jessica Francis Kane's precise and moving Rules For Visiting is an altogether new sort of friendship novel, one about friendships stretched to their limits over time and space, the sort of friendships so many of us count as our closest. Kane's gift for describing beauty and loneliness, the real stuff of life, is unparalleled." —Emma Straub, author of All Adults Here

"An engaging and compassionate portrait of how a root-bound, constricted life can begin to bloom. Drawing inspiration from mythic sources, Kane explores the power of friendship and of our connection to the natural world. Her descriptions of plants are transporting." —Madeline Miller, author of Circe

"There's a wonderful richness here in every sentence—a lyric and ambling directness that immediately feels like visiting with an old friend, and applied to an ordinariness that soon becomes sublime with topics that go anywhere and then always back to the cure this narrator is in search of: a remedy for her hesitation with life, that feels like a much larger disappointment, almost global. The novel, you soon realize, is perhaps the remedy she searches for, and you almost wish you could give it to her. But take this home with you, as this, this is for us." —Alexander Chee, author of How to Write an Autobiographical Novel
 
"Jessica Francis Kane's novel will win your heart: Single, melancholy, resourceful, May Attaway, the 40 year old protagonist of Rules for Visiting, sets out on travels to rekindle her oldest friendships, and thereby to find herself. Wry, witty, ultimately uplifting, this gem of a novel celebrates the gifts in our ordinary lives." —Claire Messud, author of The Burning Girl
 
"In one motion Rules for Visiting can break your heart and lift your spirits up to the sky. Funny, warm, thoughtful, there's a little Olive Kitteridge in this gem of a novel. I did not want this book to end. It is the perfect gift for friends or people you just have to visit (everyone I know is getting this!)" —Julie Klam, author of The Stars in Our Eyes: The Famous, the Infamous, and Why We Care Way Too Much About Them
 
"An elegant and deeply moving meditation on friendship, family, and life on earth. Rules for Visiting is a wonderful novel." —Emily St. John Mandel, author of Sea of Tranquility, The Glass Hotel, and Station Eleven
 
"Jessica Francis Kane has written a vivid, elegant and masterfully constructed novel about friendship and neighbors and our own personal odysseys. This is a deeply smart book, one I had difficulty putting down. There is real wisdom in these pages." —Stuart Nadler, author of The Inseparables