Leading Men: A Novel (Hardcover)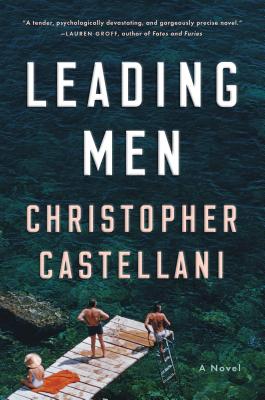 February 2019 Indie Next List
---
"Make yourself an Aperol Spritz (or an entire pitcher) and find a comfortable chair because you're going to spend the afternoon reading Leading Men by Christopher Castellani. Tennessee Williams was a genius — charming, brilliant, and powerful — but he was hell to live with and even harder to love, a challenge even for the man who loved him best, Frank Merlo. Castellani's fourth novel brings to life not only their fraught relationship, but also the gritty glamour of their time. It's a rich and gorgeous party whose guests include Truman Capote, Luchino Visconti, and you. Fortunately, you have that Aperol Spritz. Salut!"
— Michael Barnard, Rakestraw Books, Danville, CA
Description
---
"Blazing . . . casts a spell right from the start." --Dwight Garner, The New York Times

"A timeless and heartbreaking love story." --Celeste Ng, author of Little Fires Everywhere

"An extraordinary book." --Lauren Groff, author of Florida

Illuminating one of the great love stories of the twentieth century - Tennessee Williams and his longtime partner Frank Merlo - Leading Men is a glittering novel of desire and ambition, set against the glamorous literary circles of 1950s Italy

In July of 1953, at a glittering party thrown by Truman Capote in Portofino, Italy, Tennessee Williams and his longtime lover Frank Merlo meet Anja Blomgren, a mysteriously taciturn young Swedish beauty and aspiring actress. Their encounter will go on to alter all of their lives.

Ten years later, Frank revisits the tempestuous events of that fateful summer from his deathbed in Manhattan, where he waits anxiously for Tennessee to visit him one final time. Anja, now legendary film icon Anja Bloom, lives as a recluse in the present-day U.S., until a young man connected to the events of 1953 lures her reluctantly back into the spotlight after he discovers she possesses the only surviving copy of Williams's final play.

What keeps two people together and what breaks them apart? Can we save someone else if we can't save ourselves? Like The Master and The Hours, Leading Men seamlessly weaves fact and fiction to navigate the tensions between public figures and their private lives. In an ultimately heartbreaking story about the burdens of fame and the complex negotiations of life in the shadows of greatness, Castellani creates an unforgettable leading lady in Anja Bloom and reveals the hidden machinery of one of the great literary love stories of the twentieth-century.
About the Author
---
Christopher Castellani is the author of three previous novels (the trilogy A Kiss from Maddalena, The Saint of Lost Things, and All This Talk of Love) and The Art of Perspective, a book of essays on the craft of fiction. He is the son of Italian immigrants, a Guggenheim fellow, and the artistic director of GrubStreet, one of the country's leading creative writing centers. He lives in Boston.
Praise For…
---
"Vividly reimagines the relationship between Williams and Frank Merlo, and offers intricate thoughts about the nature of fidelity, the artistic impulse, and estrangement . . . [Castellani's] scenes glitter . . . This book is a kind of poem in praise of pleasure.  Its author knows a great deal about life; better, he knows how to express what he knows. But this is an alert, serious, sweeping novel. To hold it in your hands is like holding, to crib a line from Castellani, a front-row opera ticket." 
—The New York Times
"A seductive, steamy novel of Tennessee Williams and his lover . . . Castellani's quiet portrayal of Merlo has a deep, aching appeal . . . [His] prose has a beguiling lilt and color, whether he's evoking his characters' evasive or erratic emotions, or conjuring the far-flung locales where these globe-hoppers touch down." 
—The Boston Globe

"Real and imagined lives collide as Tennessee Williams and his longtime lover Frank Merlo befriend a young Swedish woman named Anja on the glittering Italian Riviera in July 1953. Though entirely fictional, the enigmatic Anja, who goes on to reluctant fame and fortune as an actress, propels this story of desire, ambition, and heartbreak." 
—People
"Lyrical, restrained, and affecting. This is a book to savor." —
Taylor Jenkins-Reid, author of Daisy Jones and the Six

"Movie stars in Italy, a longtime affair, and a missing Tennessee Williams play—what more could you want? Christopher Castellani's lush newest novel recreates the glamour of the 1950s while deftly portraying a timeless and heartbreaking love story." 
—Celeste Ng, author of Little Fires Everywhere
"I read Christopher Castellani's 
Leading Men
 in one quiet, sunny, rapt afternoon, and spent hours afterwards just stunned from having been immersed in such a tender, psychologically devastating, and gorgeously precise novel. An extraordinary book." 
—Lauren Groff, author of Fates and Furies and Florida
"Gorgeous and sweeping . . . [a] sumptuous work of historical fiction . . . [
Leading Men
] manages to capture the lightning of these massive artistic figures on the page with such force, it does feel as if you have tiptoed around Williams's desk in Rome while he was busy writing a masterpiece."—
Interview
"Audacious . . . [Castellani's] novel not only exults in the historical synchronicities and proximities he has discovered but catches the reader up in its rapture."
—
The New York Times Book Review

"Touching . . . Castellani knows his people . . . and he knows this world." 
—The Washington Post
"Dazzling . . . [Castellani writes] with an evocative precision that historical fiction often merely aspires to."
 —Entertainment Weekly

"Spectacular… Castellani's novel hits the trifecta of being moving, beautifully written, and a bona fide page-turner. This is a wonderful examination of artists and the people who love them and change their work in large and imperceptible ways." 
—Publishers Weekly, Starred Review
"Castellani . . . [injects] the book with a gravitas and a precariousness that recalls the authorial finesse of his own character, Tennessee Williams, harnessing a talent not only for forming tragic heroes, but allowing them to exhibit the kind of complexity that remains utterly real to readers, that mix of ambition and ambivalence that so often suggests the self who remains unknown to us, the parts of us which we ourselves cannot account for." 
—Brooklyn Rail
"Leading Men
 is a finely-rendered narrative . . . broad in scope and lush in detail, without every tipping into sentimentality. [A] compassionate snapshot of a bygone era and a beautiful, if tragic, story of love and remembrance."
—Lambda Literary
"With imagination and feeling, Castellani reconjures history to reveal the intricate dynamics—loving and passionate, selfless and devastating—among artists and those who nurture them." 
—Annie Bostrom, Booklist
"An intriguing take on Tennessee Williams and his lover of 15 years, Frank Merlo . . . Humane, witty, and bold, this novel imagines the life of a loving but tortured couple." 
—Kirkus Reviews 
"A moving story of love, loss, memory and regret . . .
Leading Men
is a transporting adventure." 
—
Shelf Awareness
"
Leading Men
is glorious, a meditation on the ravages of fame, an investigation into the private lives of public artists, and one of the most moving love stories I've read in ages. It's hard to imagine better company on the page than Tennessee Williams and those who loved and loathed him. By bringing to life these literary visionaries, Christopher Castellani proves himself their eminently worthy heir."
—Anthony Marra, author of The Tsar of Love and Techno
"With echoes of
Tender is the Night
and
The Sun Also Rises
,
Leading Men
tells the extraordinary love story of Tennessee Williams and Frank Merlo. Castellani elegantly weaves together Merlo's final days with memories of a dramatic (and delicious) Italian summer in 1953 that changes his world forever. Throw in an aging Swedish actress, Truman Capote, Italian cinema and the staging (and script!) of a lost Williams play and you have all the ingredients for a literary page-turner.
Leading Men
is about fame and love and forgiveness, about the ravages of time, and how we try to lay claim to the future, while the present slips through our fingers."
–Hannah Tinti, author of The Twelve Lives of Samuel Hawley
"With extraordinary artistry and grace, Christopher Castellani interweaves history and invention to show us both the depths great artists are driven to and the love that draws them back. I know of few books that give such a moving account of the indispensable value of genius and its intolerable human cost. This is a novel of rare insight and beauty, and Castellani is a writer of brilliant gifts."
—Garth Greenwell, author of What Belongs to You
"Leading Men is a daredevil of a novel, like the prettiest boy in the gay bar doing a backflip off a stool and not spilling his drink. Castellani has set his eye on that ineffable profane that is the other face of the divine, in a novel that unites my obsessions with Tennessee Williams, Luchino Visconti, Truman Capote, film, cruising, and Italy, and wraps it up in a love story, but a story of old love--love of a kind we almost never see written." —Alexander Chee, author of The Queen of the Night
"
Leading Men
is a novel as moving as it is entertaining, a book that restored my faith in the old cliche that only through fiction -- by exploring the possibilities of what might have happened -- can we reach the truth. Christopher Castellani has written an astounding novel of great imaginative empathy that, by the end, had this cynic weeping."
 —Peter Orner, author of Love and Shame and Love


"
Leading Men
 stirs up the kind of beautiful trouble we admire in the work of Tennessee Williams.  A clever, allusive, multi-layered novel filled with wit, insight, and heart. I loved it."
 —Justin Torres, author of We The Animals 


"This is a tale of love and loneliness, the personal costs of genius and its attendant fame, and of the ultimate, inconsolable pain of loss. In its depiction of Americans in Europe, its closest literary cousin might be F. Scott Fitzgerald's
Tender Is the Night
." 
—
Library Journal
Free Media Mail shipping on U.S. orders over $50