Grand Union: Stories (Paperback)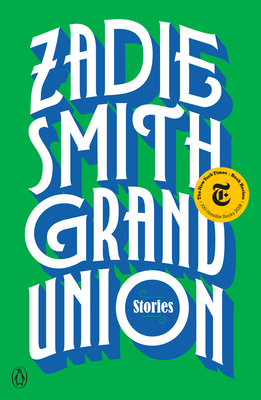 Staff Reviews
---
Pretty much, if Zadie Smith's name is on it, I'm in. I loved Swing Time and Feel Free and signed up as soon as I heard she'd be the keynote speaker at the 2019 Greensboro Bound Literary Festival. She is one brilliant wordsmith, both on paper and in person. I approached her new story collection, Grand Union, with skepticism. How could she be good at everything? She is. I finished the collection at the end of a day full of family and friends celebrating an upcoming birth and woke the next morning to the news that there had been not one, but two mass shootings in the twenty-four hours I had been away from the television. Smith's stories contain visions of the future that echo the horrors of this present; yet she inserts just enough humor to keep me from falling into the abyss. Some of the stories read like free-writes, riffs from the mind of a compelling writer, and others drift into absurdity, like the story of Elizabeth Taylor and Marlon Brando escaping from the carnage of 9/11. And now, I will wait for a collection of poetry from her, because, well, Zadie Smith.
— Mamie
October 2019 Indie Next List
---
"Whether she's telling a very short story about a mother and daughter discussing animal cruelty while on vacation or a longer story about a trio of celebrities on a road trip to escape New York, Grand Union shows that Zadie Smith is as adept with short fiction as she is with the novel. For a form of literature that always seems to enhance the faults of lesser writers, short stories, for Smith, seem only to make her shine brighter than ever."
— Bennard Fajardo, Politics and Prose Bookstore, Washington, DC
Winter 2020 Reading Group Indie Next List
---
"A collection of short stories written throughout Smith's career, file Grand Union under 'reasons we revere Zadie Smith.' She is a master storyteller, and all her skills are on display in these tales that take on love, immigration, motherhood, and racial identity. Each story contains a whole world of characters and places, and your heart will squeeze with the last line of each story."
— Jessica Irish, Bookshop Santa Cruz, Santa Cruz, CA
Description
---
Longlisted for the Carnegie Medal! 

A dazzling collection of short fiction

Zadie Smith has established herself as one of the most iconic, critically respected, and popular writers of her generation. In her first short story collection, she combines her power of observation and her inimitable voice to mine the fraught and complex experience of life in the modern world. Interleaving eleven completely new and unpublished stories with some of her best-loved pieces from The New Yorker and elsewhere, Smith presents a dizzyingly rich and varied collection of fiction. Moving exhilaratingly across genres and perspectives, from the historic to the vividly current to the slyly dystopian, Grand Union is a sharply alert and prescient collection about time and place, identity and rebirth, the persistent legacies that haunt our present selves and the uncanny futures that rush up to meet us.

Nothing is off limits, and everything—when captured by Smith's brilliant gaze—feels fresh and relevant. Perfectly paced and utterly original, Grand Union highlights the wonders Zadie Smith can do.
About the Author
---
Zadie Smith is the author of the novels White Teeth, The Autograph Man, On Beauty, NW, and Swing Time, as well as two collections of essays, Changing My Mind and Feel Free. Zadie was elected a fellow of the Royal Society of Literature in 2002, and was listed as one of Granta's 20 Best Young British Novelists in 2003 and again in 2013. White Teeth won multiple literary awards including the James Tait Black Memorial Prize, the Whitbread First Novel Award and the Guardian First Book Award. On Beauty was shortlisted for the Man Booker Prize and won the Orange Prize for Fiction, and NW was shortlisted for the Baileys Women's Prize for Fiction. Zadie Smith is currently a tenured professor of fiction at New York University and a Member of the American Academy of Arts and Letters.
Praise For…
---
"Zadie Smith is fearless. Her first short story collection, 'Grand Union,' is a soup of contradictions served up with flair. She experiments with form, with language, with conjecture, with the absurd. Tidbits of autofiction, and dashes of speculative fiction are mixed together and seasoned with current events… This is Smith at her best, integrating a compelling story line with perceptiveness and social commentary." — The Washington Post
 
"'Grand Union' is an unusual creature, combining all the experimental exuberance of a writer discovering a form with the technical prowess of one at the height of her abilities. The result is exhilarating. Between the covers of one book, readers will find such disparate forms as allegory, parable, speculative thriller and satire, as well as shorter incarnations of Smith's characteristic social comedy…Smith's voracious intellect is on full display. With vitality and wit, she shuttles between the philosophical universal and the intensely local — a movement formally realized in stories like 'Two Men Arrive in a Village' — between the world and the self…It is a delight to watch Smith play." —San Francisco Chronicle
 
"Thrillingly, the best work in 'Grand Union' is some of the newest. Among its previously unpublished stories and the two most recently published ones, we find the surreal, the nonlinear, the essayistic, the pointillist…Several stories take a mosaic approach, juxtaposing disparate scenes — in one case, venues around New York City involving music — into a brilliant whole. The effect, appropriately, is rather like instrumental improvisation…['Grand Union'] contains some of Smith's most vibrant, original fiction, the kind of writing she'll surely be known for. Some of these stories provide hints that everything we've seen from her so far will one day be considered her 'early work,' that what lies ahead is less charted territory, wilder and less predictable."—Rebecca Makkai, The New York Times Book Review
 
"There's no mistaking the voice, with its mix of assurance and conditionality…Here we see Smith is at her finest, when she reveals what we recognize but do not say. The strength of 'Grand Union' is the way such a sensibility informs these incidental pieces. This is the frisson that drives her writing, the balance between humor and self-laceration that cannot help but extend to us as well." —David L. Ulin, Los Angeles Times

"Delightful…the tales will stay with you long after you've closed the book." —Vogue.com

"An enchanting collection that examines the complexity of contemporary life. This book of short stories, the author's first, refuses to define itself as any one thing.  Instead, Smith allows each story to take on a tone, genre and life of its own…This wild ride that Smith takes readers on is a delight to experience. Her characters are vivid and unique, as are her observations about the state of the world."—Associated Press
 
"A varied and modern collection, suffused with Smith's powers of observation and literary prowess."—USA Today, 5 Books Not to Miss
 
"Nothing so obvious as a single subject or theme links the 19 stories in Smith's first collection of short fiction, Grand Union. Nothing beyond a virtuosity for the form, a powerful imagination, and, as in her five novels and two essay collections, a striking empathy for her characters. But the best stories contained here, the stories that will whiplash readers into cycles of heartbreak, hope, and more heartbreak are those, like 'Two Men,' that illustrate the intrusions, whether grand or diminutive, that disrupt the days, the family circles, the very unions we all hold dear."—The A.V. Club
 
"Just as Feel Free, her NBCC-winning collection of nonfiction last year, made it clear that Zadie Smith is our best living critic, Grand Union will make it apparent she's also one of our finest short story writers, too. Assembling tales from the past two decades with ten brand new ones, Grand Union showcases a huge range of effects, from lyric elegy to high satire and even farce. The compression and swiftness of these tales are opposite skills to the ones Smith has plied in her five, wondrously different novels. Yet to watch these tales unfold is to feel a gladness that only virtuosity—and emotional depth—can ignite."—John Freeman, Literary Hub

"[Smith's] first-ever story collection, Grand Union, offers yet another kaleidoscopic display of her singular sophistication. In these stories (more than half of them previously unpublished), Smith's compositions—rife with ambivalence, in love with ideas, witty and mordant—echo in the head long after the last word…As a whole, Grand Union stands as a glittering affirmation of Smith's virtuosity and range." —O, The Oprah Magazine

"A pithy collection of stories that showcases [Smith's] many strengths. The best of these are tightly coiled, multilayered, rich in description and tangentially topical… [Her best characters] are starkly, brilliantly individuated, and to watch them encounter one another is to be held rapt…Smith is exceptionally skilled at depicting the way people see one another, and frequently misunderstand what they see." —Minneapolis Star Tribune

"A virtuoso performance." –BBC.com

"[The stories] ricochet between, among other settings, 1950s London and modern-day Manhattan. But each demonstrates that Smith continues to be among the most observant voices working today." —Elle

"It feels fitting…that [Smith's] first short-story collection is as eclectic as it is…Taken all together, the book does feel like a kind of grand union: the lucky synthesis of everything swirling inside Smith's big, beautiful brain." —Leah Greenblatt, Entertainment Weekly

"These masterful tales impress, engage and occasion¬ally infuriate as Smith brings her dazzling wit and acute sensitivity to bear… All genres are Smith's to play with." —BookPage (starred review) 

 "Fury, heartbreak, and drollery collide in masterfully crafted prose that ranges in effect from the exquisitely tragic lyricism of Katherine Mansfield to the precisely calibrated acid bath of Jamaica Kincaid as Smith demonstrates her unique prowess for elegant disquiet." —Booklist (starred review)

"A gorgeous mix of genres and perspectives." —New York Post, The Fall Books Everyone is Talking About

"All provocative, incisive, and revealing Smith's prodigious talent, which she refuses to limit to any singular genre or subject, instead choosing to range from dystopia to realism, offering sly commentary on the lives we live today, and what might be in store for our futures." —NYLON, The 34 Books You'll Want To Read This Fall
 
"Grand Union applies [Smith's] sharp skills of observation and her playful wit…The virtuoso Smith doesn't stick to one genre. Dystopia and horror sit adjacent to historical fiction in this energetic collection. Her fans will appreciate her rigorous engagement with identity, class, family and place."—New York Observer, The Must-Read New Books of Fall

"Nineteen erudite stories wheel through a constellation of topics, tones, and fonts to dizzying literary effect…Wit marbles Smith's fiction…Several of Smith's stories are on their ways to becoming classics." —Kirkus (starred review)

"Smart and bewitching…The modern world is refracted in ways that are both playful and rigorous, formally experimental and socially aware…Smith exercises her range without losing her wry, slightly cynical humor. Readers of all tastes will find something memorable in this collection." —Publishers Weekly (starred review)

Free Media Mail shipping on U.S. orders over $50