Those We Thought We Knew (Hardcover)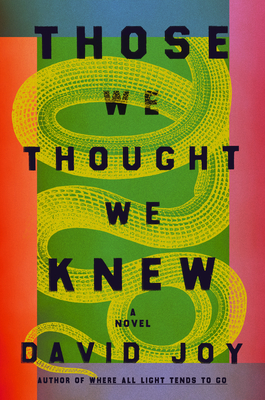 Staff Reviews
---
Raw, gritty and masterful, Daivd Joy's latest novel is set in his beloved Appalachian mountains among folks who believe their town is peaceful and nurturing. But that facade is lifted when Toya Gardner, a young Black artist, comes to stay with her grandmother at the family homestead to finish her MFA thesis project. She dares to expose parts of the town's history, and present, that many refuse to see. Tensions rise, violence threatens, and the pressure builds so palpably that sleeping is elusive - for me and the law keepers. As Sheriff John Coggins and police detective Leah Green work to contain the threats to their community, they are forced into a reckoning of their own. Joy's exceptional skill led me to a reckoning of my own that went down hard, but I am better for it. 
— Belinda
Description
---
"A beautifully fearless contemplation." –S. A. Cosby

From award-winning writer David Joy comes a searing new novel about the cracks that form in a small North Carolina community and the evils that unfurl from its center.

Toya Gardner, a young Black artist from Atlanta, has returned to her ancestral home in the North Carolina mountains to trace her family history and complete her graduate thesis. But when she encounters a still-standing Confederate monument in the heart of town, she sets her sights on something bigger.

Meanwhile, local deputies find a man sleeping in the back of a station wagon and believe him to be nothing more than some slack-jawed drifter. Yet a search of the man's vehicle reveals that he is a high-ranking member of the Klan, and the uncovering of a notebook filled with local names threatens to turn the mountain on end.

After two horrific crimes split the county apart, every soul must wrestle with deep and unspoken secrets that stretch back for generations. Those We Thought We Knew is an urgent unraveling of the dark underbelly of a community. Richly drawn and bracingly honest, it asks what happens when the people you've always known turn out to be monsters, what do you do when everything you ever believed crumbles away?
About the Author
---
David Joy is the author of When These Mountains Burn (winner of the 2020 Dashiell Hammett Award), The Line That Held Us (winner of the 2018 SIBA Book Prize), The Weight of This World, and Where All Light Tends to Go (Edgar finalist for Best First Novel). Joy lives in Tuckasegee, North Carolina.
Praise For…
---
One of:
CrimeReads's Most Anticipated Crime Fiction of Summer 2023
BookRiot's Most Anticipated Releases for the Second Half of 2023

"[David Joy] is a man who sees his homeplace clearly and who writes like his hand was touched by God." –The New York Times
 
"A refreshing departure…Joy has a knack for heightening intrigue…. He's like a magician playing a shell game, and it's an effective way to keep readers on their toes. The book is filled with gorgeous prose, particularly when Joy turns his considerable talents toward descriptions of the natural world." –Atlanta Journal Constitution

"Unflinching and timely…Joy has mastered the high-stakes, page-turning Appalachian-noir style, and through this lens, the preconceived notions of life in the mountains are overturned." –Christian Science Monitor

"[A] searing stunner of a book...It's like a Nina Simone song that contains 'an infinite sort of sadness,' yet closes with a promise of hope." –Minneapolis Star Tribune

"[Joy's] a brisk plotter, well versed in mountain lore, with a sure ear for unvarnished, unstereotypical mountain dialect." –Wilmington Star-News

"Gripping, gritty, suspenseful, and fearless." –Garden & Gun

"David Joy uses both familiarity and pain to unearth the trust of our humanity in nuanced ways and manages to create a voice all his own….[A] page turner." –Southern Review of Books

"[A] thought-provoking read that deftly explores racism's deep and complicated roots." –theSkimm
 
"David Joy's new book blends Southern Gothic Noir and classic whodunit style with a complex intersection of race, friendship and history." –Blue Ridge Public Radio
 
"Joy is a master of pacing, creating tightly wound prose, frequently delivering a gut punch and unanticipated plot twist in a single, well-crafted sentence…. Those We Thought We Knew is much more than a riveting murder mystery. It's a gorgeous narrative that explores how racism, pride, and lack of communication poison and destroy relationships and communities." –Salvation South
 
"With short, biting chapters and multiple leads and points of view to follow, Joy details the unravelling of a community." –Chapter 16

"Joy weaves the stories together and comes out the other side with a richly-layered vision of a small town living through the broader crises of a divided nation increasingly enamored with violence." –CrimeReads
 
"Those We Thought We Knew [is] about an enlightened insight into the human condition." –Smoky Mountain News

"[A] wild read…Joy has a special way of capturing the communities in the mountains of North Carolina." –BookRiot

"[A] salient novel...Through rich character introspection and acidic dialogue, Joy masterfully encapsulates the larger conversation about America's hidden past occurring in the real world in real time." –Booklist

"The mystery at the novel's heart plays out in an unexpected way, with Joy employing a deft touch to the plotting....An emotionally complex procedural that goes to unexpected places." –Kirkus Reviews

"[A] powerful novel that pushes beyond Joy's rural noir to confront timely issues." –Library Journal

"Joy [gets] the reader invested in his characters and conveys a clear sense of small-town life." –Publishers Weekly

"Those We Thought We Knew is a beautifully fearless contemplation. The best novels ask the hard questions and task us to come up with answers. Joy is asking the hardest question and daring us to answer truthfully." –S.A. Cosby, author of Razorblade Tears and All the Sinners Bleed

"In every line of this outstanding novel, you feel David Joy's deep connection to the mountains he comes from and the people who live there. With his faultless ear for dialogue and exceptional sense of place, he has crafted a beautiful literary crime thriller about belonging and betrayal in rural America." –Paula Hawkins, author of The Girl on the Train and A Slow Fire Burning

"Those We Thought We Knew is a screaming wound bleeding fiery poetry. This is a brilliant novel about racism, generational trauma, reckoning with the past, and the way awfulness tends to hide in the places you least expect it. A heartfelt, brutally honest portrait of the heart and roots of the North Carolina mountains that echoes the entire country. Powerful. Timely. Necessary. Read it." –Gabino Iglesias, author of The Devil Takes You Home

"In Those We Thought We Knew, community is a double-edged sword: a source of comfort, memory, and belonging, but also treacherous terrain where the roots of intolerance and old ways of thinking run deep. Joy takes us into the hearts and minds of characters of all stripes—bad actors and do-gooders, cynics and true-believers—in this revealing portrait of modern America. Not many writers could write so unflinchingly or so honestly. Those We Thought We Knew is a book for our time: poignant, fearless, and best of all, true." –Natalie Baszile, author of Queen Sugar and We Are Each Other's Harvest

"Those We Thought We Knew is a dark cyclone in search of truth. Spinning the gritty complexities and colors of human nature with beautiful, immersive descriptions of the land, Joy writes both holiness and irreverence with the same weight and care. A writer to be trusted, he is one of our best." –Leesa Cross-Smith, author of Half-Blown Rose
Free Media Mail shipping on U.S. orders over $75