We are offering FREE media mail shipping on books. We are open from 10am-7pm Monday through Saturday and 10am-6pm Sunday. Phones may not be answered due to a high volume of calls.
The Bullet Journal Method: Track the Past, Order the Present, Design the Future (Hardcover)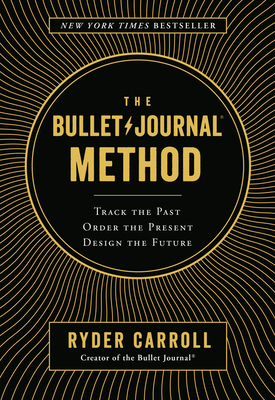 Staff Reviews
---
If you're anything like me, you have spent much of your life buying too many journals and dedicating each to a different subject or task, creating chaos and cross-referencing galore.
Do not let Pinterest and Instagram scare you away — Ryder Carroll, the original creator of The Bullet Journal Method, explains in great detail how to start a simple, practical, time- and effort-saving organizational system that allows you to focus on the things that matter. It is straightforward, no frills, and already making a huge difference in my work and life!
— Amber
Description
---
New York Times bestseller! A powerful goal-setting and time-management system for anyone trying to organize their lives by the founder of the enormously popular Bullet Journal® planner.

For years Ryder Carroll tried countless organizing systems, online and off, but none of them fit the way his mind worked. Out of sheer necessity, he developed a method called the Bullet Journal that helped him become consistently focused and effective. When he started sharing his system with friends who faced similar challenges, it went viral. Just a few years later, to his astonishment, Bullet Journaling is a global movement.

The Bullet Journal Method is about much more than organizing your notes and to-do lists. It's about what Carroll calls "intentional living": weeding out distractions and focusing your time and energy in pursuit of what's truly meaningful, in both your work and your personal life. It's about spending more time with what you care about, by working on fewer things. His new book shows you how to...

  *  Track the past: Using nothing more than a pen and paper, create a clear and comprehensive record of your thoughts.

  *  Order the present: Find daily calm by tackling your to-do list in a more mindful, systematic, and productive way.

  *  Design the future: Transform your vague curiosities into meaningful goals, and then break those goals into manageable action steps that lead to big change.

Carroll wrote this book for frustrated list-makers, overwhelmed multitaskers, and creatives who need some structure. Whether you've used a Bullet Journal for years or have never seen one before, The Bullet Journal Method will help you go from passenger to pilot of your own life.
About the Author
---
Ryder Carroll is a digital product designer and inventor of the Bullet Journal. He's had the privilege of working with companies like Adidas, American Express, Cisco, IBM, Macy's, and HP. He's been featured by the New York Times, Los Angeles Times, Fast Company, Bloomberg, Lifehacker, and Mashable.
Praise For…
---
"Ryder has done an extraordinary job in sharing a comprehensive and hands-on methodology to implement the powerful practice of externalizing our thinking. This book is a great treatise and manual for freeing and directing our consciousness, with lots of tips about how to play in that big and wonderful game." —David Allen, author of Getting Things Done

"Bullet journaling is one of the most elegant and effective productivity systems I've ever encountered. It will not only help you get more organized but will also help you become a better person. I highly recommend this book (and the method it details) for anyone looking to get more out of life." —Cal Newport, author of Deep Work

"Whether you are an avid journaler or have always wanted to explore the benefits of journaling, The Bullet Journal Method simplifies the power of putting pen to paper and will undoubtedly transform your life, in more ways than you can imagine." —Hal Elrod, author of The Miracle Morning

"Like to-do lists? Then you'll love The Bullet Journal Method." —Jeff Haden, author of The Motivation Myth