FREE Media Mail shipping on eligible items! We are open for browsing by appointment from 10am-7pm M-S and 10am-6pm Sundays. Email books@quailridgebooks.com for a reservation. Phones may not be answered due to high volume of calls.
No Slam Dunk (Hardcover)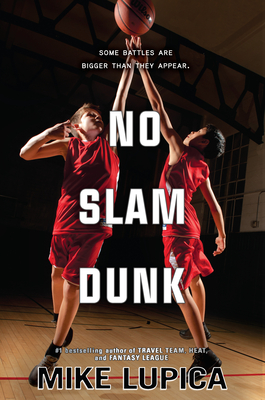 $17.99
Available from warehouse in 1-5 business days
Description
---
A fast-paced, heartfelt story for basketball fans that proves being a good teammate remains the most important quality in basketball--and in life, from New York Times bestselling author Mike Lupica.

Wes' father always told him that there was only one ball in basketball. That you had to know when to take it yourself and when to give it up, that finding the right balance was key. So at every practice and game, Wes tries his best to be a good basketball player and, above all, a good teammate.

As the season kicks off, Wes finds that not everyone on his team has the same idea. All-star player and the Hawks' point guard, Danilo "Dinero" Rey seems determined to hold the spotlight and the ball, even if it means costing his team the game. If Wes is to lead the Hawks to the playoffs, he'll need to find new ways to dish out an assist--even if it means his most important one comes off the court.

In No Slam Dunk, #1 New York Times bestseller Mike Lupica demonstrates once again that there is no children's sports novelist today who can match his ability to weave a story of vivid sports action and heartfelt emotion. A touching story about teamwork and family, of selfishness and generosity, No Slam Dunk shows that even in the face of adversity, giving your best is the surest way to victory.

Praise for Mike Lupica:
-"Lupica is the greatest sports writer for middle school readers."--VOYA on True Legend
-"Lupica will win a Pulitzer for his sportswriting one day (he should have won it already)."--The New York Times on Heat
About the Author
---
Mike Lupica is a prominent sports journalist and the New York Times-bestselling author of more than forty works of fiction and non-fiction. A longtime friend to Robert B. Parker, he was selected by the Parker estate to continue the Sunny Randall series.
Praise For…
---
"Combining contemporary issues with basketball action, this middle-grade novel will be a sure-fire hit withreaders who love sports."-- Booklist

"Boys, especially reluctant readers, will gravitate to this addition in Lupica's sport genre books."--School Library Connection

"Lupica handles complex issues of scarred veterans, fathers and sons, and the difference between competition and battle with ease, making the familiar story of the redemptive power of sports feel new." --Kirkus

"A book that kids will definitely step off the court to read." --VOYA