Anna Karenina (Dover Giant Thrift Editions) (Paperback)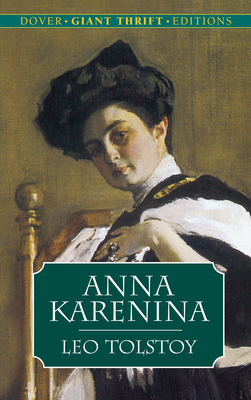 Staff Reviews
---
A well respected translator of Russian fiction, Schwartz was determined to give us Anna Karenina as Tolstoy wrote it: In the simple, unadorned language he preferred. I found this translation immensely powerful - bringing me to tears at times.  It is also illuminating -revealing nuances in the characters I'd never before grasped. The cogent introduction by Gary Saul Morson,  which summarizes the novel's central themes, provides a great starting point for book club discussion. 
— Samantha
Description
---
Tolstoy's tumultuous tale of passion and self-discovery marks a turning point in the author's career. His compelling, emotional saga recounts the effects of nonconformist behavior -- a society woman's adulterous affair and a landowner's unconventional quest for a meaningful existence -- against a backdrop of late 19th-century Russia.
About the Author
---
Novelist, essayist, dramatist, and philosopher, Count Leo Tolstoy (1828-1910) is most famous for his sprawling portraits of 19th-century Russian life, as recounted in Anna Karenina and War and Peace.