We are offering FREE media mail shipping on books. We are open from 10am-7pm Monday through Saturday and 10am-6pm Sunday. Phones may not be answered due to a high volume of calls.
Comfort Food Fix: Feel-Good Favorites Made Healthy (Hardcover)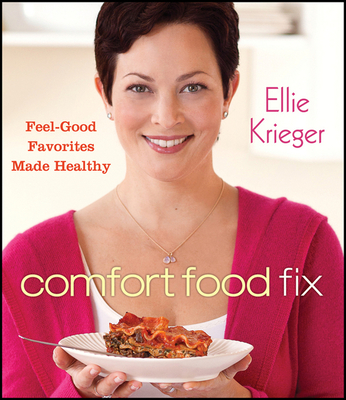 Description
---
Comfort food made healthy, from New York Times bestselling author Ellie Krieger
In Comfort Food Fix, Ellie Krieger presents a healthier take on classic American comfort food—without sacrificing the comfort part. These 150 soul-satisfying recipes include such hearty favorites as meatloaf, lasagna, chicken potpie, crab cakes, and mashed potatoes, but without all the calories and saturated fat.
With simple tricks and tips, Ellie serves up healthy delights like delicious sweet potato casserole with just a third of the calories and amazing buttermilk waffles with just a fraction of the fat. With full nutrition information for every recipe and gorgeous full-color photos that are sure to whet any appetite, Comfort Food Fix is the perfect cookbook for healthy eaters with healthy appetites.
Ellie Krieger is the host of the popular show Healthy Appetite, which airs on the Cooking Channel, and the author of the New York Times bestsellers So Easy and The Food You Crave
The book features 150 delicious comfort food recipes that are lower in calories and fat than you would ever guess based on how great they taste
50 lavish full-color photographs beautifully illustrate finished dishes
When it comes to healthy cooking, Ellie Krieger is the chef you can trust. In Comfort Food Fix, she takes the guilt out of guilty pleasures.
About the Author
---
New York Times best-selling author and registered dietitian ELLIE KRIEGER was the host of Food Network's Healthy Appetite, which also aired on the Cooking Channel. She regularly contributes to CNN and USA Today, and appears often on national morning shows.
Praise For…
---
Bringing sensibility to sensory pleasures, this accessible, health-minded cookbook is a welcome resource in a burger and bacon-obsessed moment. Recognizing that there are good biological and emotional reasons why we seek out starchy, hearty, creamy dishes to sate ourselves, dietician and Food Network star Krieger (The Food You Crave), sees no reason why anyone should have to give them up wholesale. The goal, then, is to reduce fat, sodium and sugar without sacrificing flavor. Krieger avoids using artificial sweeteners and egg replacers—instead, she relies on what she terms the 15 Fix Factors to make her recipes healthier. These include substituting low-fat milk, evaporated milk and Greek yogurt for cream; baking breaded dishes instead of frying; adding smaller quantities of real, extra-flavorful cheeses and employing trimmed lean cuts of meat. Mango Stuffed Challah French Toast is lightened up with light ricotta, low-fat milk and nonstick cooking spray for a calorie savings of 150, while chicken parmesan loses 210 calories with light bread crumbs, egg whites, nonfat milk and part-skim mozzarella. With a nod to the cultural relativism of "comfort food," Krieger's repertoire runs the international gamut, from Easy Cassoulet to Kasha Varnishkas to Banana Pudding with Vanilla Wafers. Krieger's simple, time-conscious recipes with easy-to-find ingredients will satisfy sophisticated eaters and down-home palates alike. Photos. (Oct.) (PublishersWeekly.com)