Bibi: The Turbulent Life and Times of Benjamin Netanyahu (Hardcover)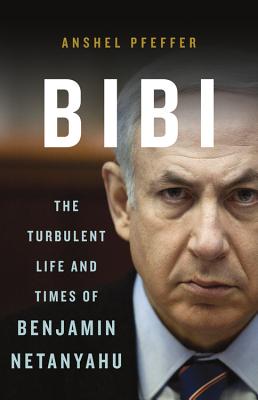 $42.00

Ships from warehouse to store in 3-6 business days
Description
---
A deeply reported biography of the scandal-plagued Israeli Prime Minister, showing that we cannot understand Israel -- its history, present, and future -- without first understanding the life and worldview of the man who leads it

Benjamin Netanyahu is embroiled in numerous scandals, all of his own making, and may soon be ousted from the office he has held longer than any prior Israeli Prime Minister outside of David Ben Gurion. But Bibi, as he is known by friend and foe alike, is no stranger to controversy. For many in Israel and elsewhere, he is an embarrassment, a threat to democracy, even a precursor to Donald Trump. He nevertheless continues to dominate Israeli public life -- and he may yet survive his current crises, the most challenging of his career. How can we explain Netanyahu's rise, his hold on Israeli politics, and his outsized role on the world's stage?

In Bibi, the Haaretz journalist Anshel Pfeffer argues that we must view Netanyahu as representing the triumph of the underdogs in the Zionist enterprise. Born in 1949, one year after the state of Israel itself, Netanyahu came of age in a nation dominated by liberal, secular Zionists. Yet Netanyahu's grandfather and father bequeathed to him a brand of Zionism integrating Jewish nationalism and religious traditionalism, and he identified with the groups at the margins of Israeli society: right-wing Revisionists, orthodox, Mizrahi Jews, and small-time professionals living in the new towns and cities dotting the Israeli landscape. Netanyahu cultivated each faction individually and then fused them into a coalition that has frequently proven unstoppable in Israeli politics.

Netanyahu is also a child of America, where he spent many years as a young man, and where he learned the techniques of modern political campaigns as well as the necessity of controlling the media cycle. The product of the affluent East Coast Jewish community and the Reagan era, Netanyahu's politics and worldview were formed as much by American Cold War conservatism as by his family's hardline right-wing Zionism.

As Pfeffer demonstrates in this penetrating biography, Netanyahu's influence will endure even if his career soon comes to an end. The Israel he has helped make is a hybrid of ancient phobia and high-tech hope, tribalism and globalism -- just like the man himself.


About the Author
---
Anshel Pfeffer has covered Israeli politics and global affairs for two decades. He is a senior correspondent and columnist for Haaretz and the Israel correspondent for the Economist. He lives in Jerusalem.
Praise For…
---
"Superbly timed...insightful...Pfeffer is one of the smartest and most prolific of Israel's younger generation of journalists...Bibi, obsessed by hostile 'left-wing media,' complained preemptively that this biography would be a cartoon. It is not: it fleshes out a superficially familiar and invariably quotable figure with a wealth of background information and analysis that provide necessary and, of course, often highly critical context...This book is a necessary contribution to understanding a high-profile and internationally contentious figure and the fractured country he has led for so long."—Ian Black, New York Times

"[Pfeffer is] one of Israel's best informed writers...[Bibi is] a must read for everyone who is interested in the undercurrents of today's Israeli society"—Tom Segev, Economist

"Readers who are rooting either for or against
Netanyahu will find that Pfeffer's reporting quenches their thirst for the
complete picture of his rise to power."—Commentary

"A perceptive
history of a beleaguered nation and one deeply flawed leader."—Kirkus Reviews

"Weaving together stories from Netanyahu's time in America and Israel, and from his family history, military service, and political career, Anshel Pfeffer's fascinating and insightful Bibi paints a portrait of the indomitable outsider who became Israel's three-time prime minister. Pfeffer's riveting account illuminates the ways in which the man leading Israel today is both a product and a beneficiary of bitter divides that have shaped the nation's politics from its earliest days."—Tamara Cofman Wittes, Senior Fellow in Middle East Policy at the Brookings Institution

"In a career that
could yet make him the longest serving Prime Minister in Israel's history,
Benjamin Netanyahu turned out to be much more than the temporary speed bump in
Israeli politics his critics once imagined. In this lively and trenchant
biography, Anshel Pfeffer explains why and how Bibi came to dominate and embody
the changing face of the remarkable and divided nation he still leads."—Aaron David Miller, Vice-President and Middle East Program Director at the Woodrow Wilson Center

"Certain to elicit both consternation and praise, Anshel Pfeffer's Bibi: The Turbulent Life and Times of Benjamin Netanyahu is a fascinating exploration of the complex ideological and familial foundations that continue to shape the thinking and governing of the man who may soon become Israel's longest serving Prime Minster. This is a book that will lead both Bibi's friends as well as his foes to see him a new--and infinitely more nuanced--light."—Daniel Gordis, author of Israel:A Concise History of a Nation Reborn

"Anshel Pfeffer has done something hard to do. He's given us an understanding, even compassionate, portrait of Benjamin Netanyahu--the family, the formative experiences, the logic of his belligerent ideology--while keeping his distance from Netanyahu's stances and exposing many of the unpleasant truths that lie beneath the surface Netanyahu works so hard to polish. Not coincidentally, Pfeffer has also given us a short-hand account of Israel's political history. Pfeffer is essential reading in Haaretz. His book gives Western readers some idea why."—Bernard Avishai, author of TheHebrew Republic
We will be closing at 8pm on Friday, 9/22 due to severe weather.
Free Media Mail shipping on U.S. orders over $75